Want to stop yelling at home? You're not alone.
Some of us grew up in ultra loud households where raised voices were just the normal form of communication. Alternately, some of our families channeled Leave It to Beaver and made sure that all arguments were handled in hushed tones behind closed doors. Today, regardless of your upbringing, with the insane amount of pressures and expectations, you probably find yourself boiling over. Do you yell, and then feel like a terrible parent? Or do you bottle it up and later find yourself crying in the closet?
Listen, yelling happens to us all. Whether you're a reformed yeller, current yeller, or closeted yeller – yelling is a reaction to overstimulation, it's NOT a character trait. So stop beating yourself up and listen in to the No Guilt Mom podcast this week as JoAnn and Brie discuss their personal differences when it comes to yelling, share some personal tales, and most importantly, provide strategies to help prevent future verbal explosions, as well as how to repair your relationship with your kids after such an incident.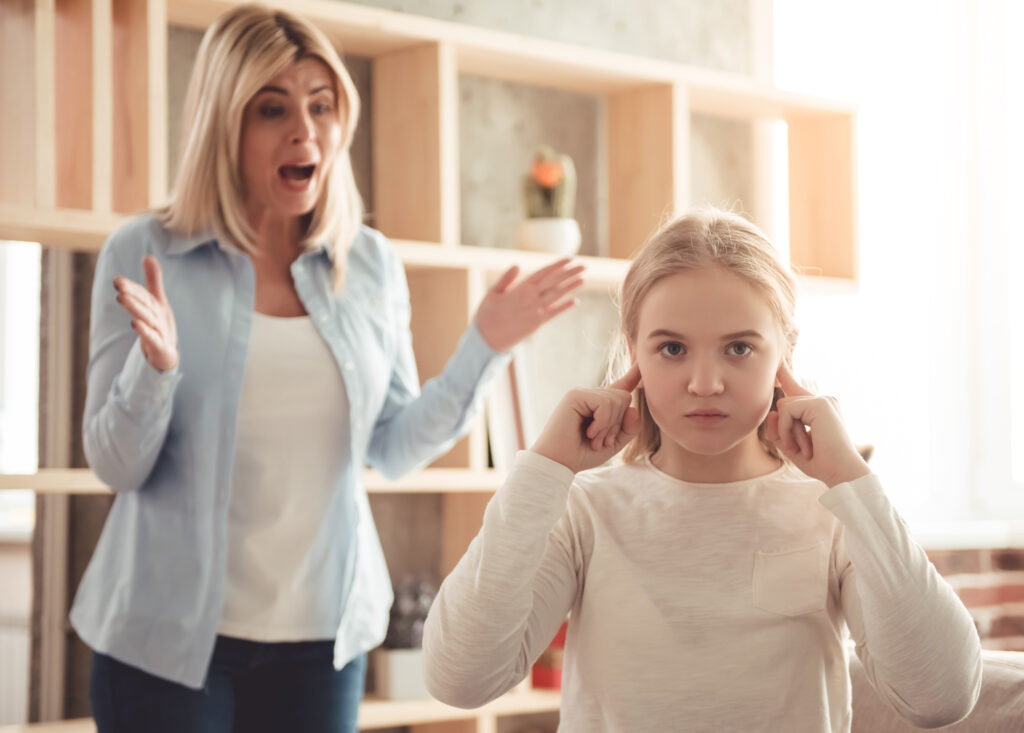 In this episode of the No Guilt Mom podcast you'll learn:
Yelling doesn't make you a terrible mom and it's not a personal character trait,
How outside factors including sensory overload and your "body budget" can have an impact on your reactions,
Why being aware of what's going on around you when you're feeling frustration is the key to curbing the need to yell,
Strategies you can use to help you not yell when you reach your tipping point, and
How to handle the situation after you do yell (because it happens to all of us!)
Resources we shared in this episode:
Patient Parent Challenge – Join us this April for a month long challenge that will give you the strategies you need to have a calmer and more peaceful home by changing the way you react to your kids' behaviors.
Balance VIP Coaching for Moms – Are you stressed out, feeling like you're doing it all on your own? Through personal coaching and accountability, you will break through your overwhelm and follow through with your goals to be the happy mom you were meant to be In this exclusive coaching program for women!
Beyond Behaviors: Using Brain Science and Compassion to Understand and Solve Children's Behavioral Challenges by Dr. Mona Delahooke
No Guilt Mom YouTube Channel Check us out and subscribe to be notified every time we have new videos added for parents and kids!
Download the transcripts HERE
Don't forget to Rate & Review the podcast!
We'd love to hear your thoughts on the podcast! If you could take a moment to Rate & Review the No Guilt Mom Podcast on Apple here we'd be so grateful! Not sure how to do it? We've got you covered! Check out this short video on how to leave a review.
Listen on Spotify? You can rate us there too!
Check out our latest podcast episodes:
Title:
Podcast 176: How to Stop the Yelling
Last Updated:
March 20, 2023