Podcast Episode 181: 4 Tips to Stop the Technology Tantrums
Whether or not you've heard our take on technology use, you've probably experienced how divisive this issue of screen time and behavior can be. Screens surround us and moms have it hard when it comes to managing behaviors. As the typical "default" parent, we're the ones that feel the burden of setting and enforcing limits. And this only gets harder when someone else chimes in with their opinion, whether it's a well-meaning MIL or a stranger on the internet.
Here are our 4 tips on setting realistic limits and taming tantrums:
1. Agree on limits together at a pre-planned time (not in the midst of or immediately following screen use). We're big fans of asking kids of all ages to come up with what they feel are the positives and negatives of screen time and help structure the limits from there.
2. Use an outside device or app to enforce the agreed upon limits to prevent yourself from getting stuck acting as the tracking police.
3. It's ok to say no when you see your child turning into a little screen demon (refer to those agreed upon limits), and it's also okay for one-off exceptions when it comes to granting additional time.
4. Welcome negotiation (after all, we do want our kids to enter the real world being able to advocate for themselves) but remember that negotiating means you should also be getting something out of the deal.
In this week's podcast episode JoAnn and Brie walk you through each step in detail and share their personal (and passionate!) feelings about the importance of supporting first and offering advice later, how all of us are susceptible to getting sucked into screens and melting down when they're taken away, and the importance of rest and unfair demonization of tv.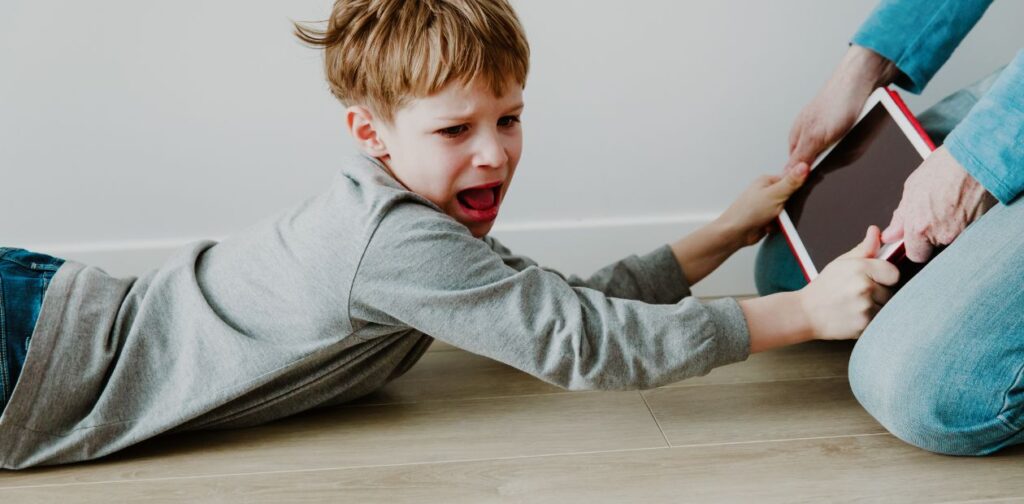 In this episode of the No Guilt Mom podcast you'll learn:
The tantrum your child throws when you take away technology is not necessarily caused by an addiction to their screens. 
Why you shouldn't take on everyone else's judgment when establishing and enforcing your own family's tech rules.
How to have a smart screen time discussion with your kids and agree on limits together. 
Resources we shared in this episode:
Digital Detox Challenge – Join us this May for a 30-day digital detox challenge that will give you the strategies you need to take a break from technology and your phone.
Balance VIP – Are you stressed out, feeling like you're doing it all on your own? Through personal coaching and accountability, you will break through your overwhelm and follow through with your goals to be the happy mom you were meant to be In this exclusive coaching program for women!
Rest Is Resistance: A Manifesto by Tricia Hersey
No Guilt Mom YouTube Channel – Check us out and subscribe to be notified every time we have new videos added for parents and kids, as well as video footage from our podcast episodes!
Download the transcripts HERE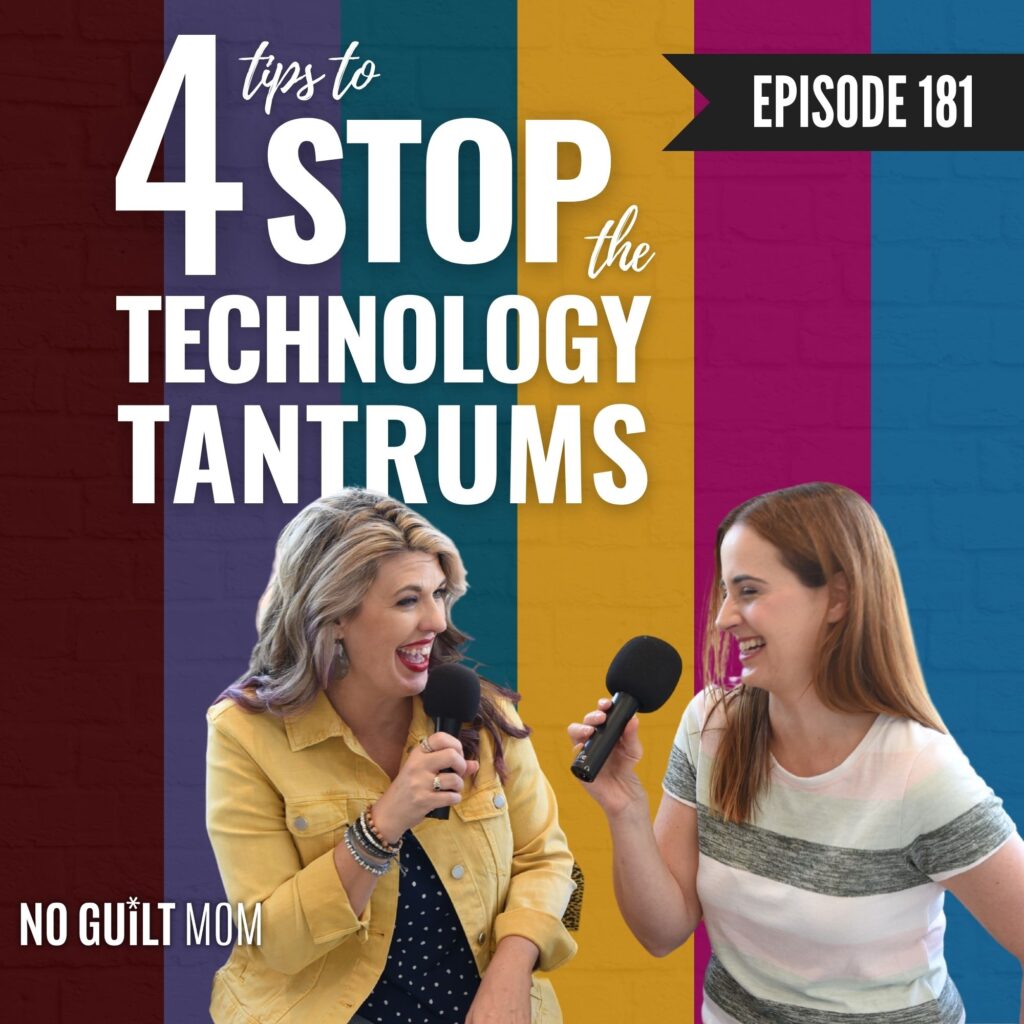 Don't forget to Rate & Review the podcast!
We'd love to hear your thoughts on the podcast! If you could take a moment to Rate & Review the No Guilt Mom Podcast on Apple here we'd be so grateful! Not sure how to do it? We got you covered! Check out this short video we made to show you how.
Listen on Spotify? You can rate us there too!
Check out our latest podcast episodes:
Title:
Podcast Episode 181: 4 Tips to Stop the Technology Tantrums
Mentions:
behavior problems, how to reduce screentime, limiting screentime for kids, mom life, parenting tips, screen time, screentime, tantrums
Keywords:
Screen time and behavior problems
Last Updated:
April 24, 2023