7 Tips to Calm Toddler Tantrums in Public
Sometimes a toddler tantrum comes out of nowhere and some days you know that one is inevitable.
Regardless, they are usually never fun and leave us feeling slightly helpless as parents.
And when one happens in public, oh the pain. Oh the agony!
Now, we're not only concerned about calming our child but we the also worry about others critiquing our parenting skills.
These strategies will put you back in control of the toddler tantrum and also help you raise a responsible human being.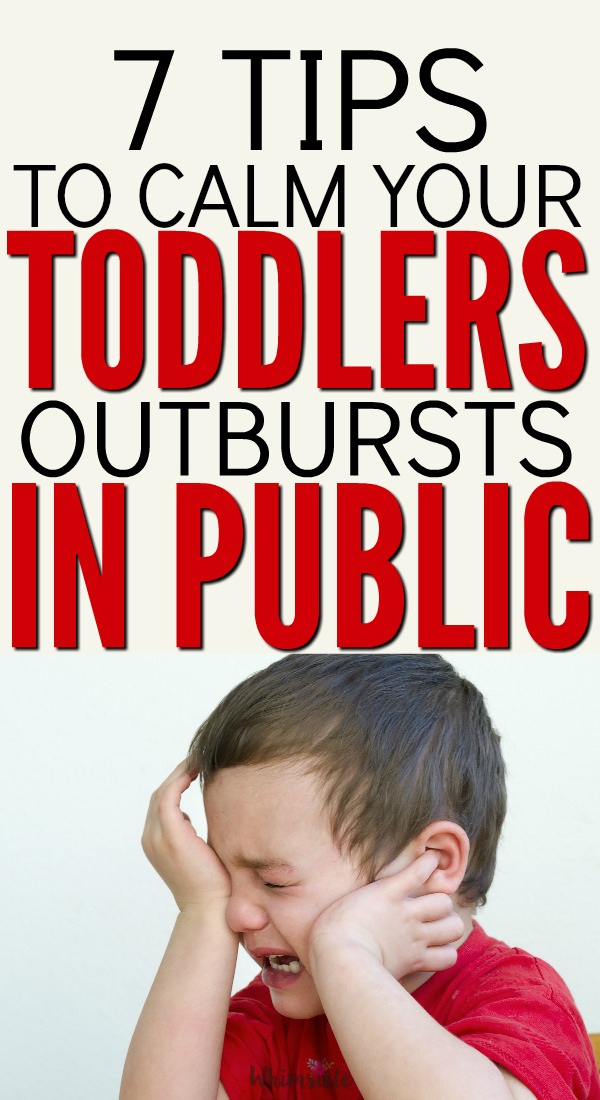 Don't stress
No parent is going to judge you (or at least they shouldn't) if your two-year-old throws himself down face first on the floor of Target and refuses to move. It doesn't mean you can never take your child shopping again or that you are doing something wrong. All a tantrum means is that the kid has a loss of control and has no idea how to appropriately deal with the situation.
When your kid has a tantrum simply think of two things: remain calm, show them this isn't an appropriate way to deal with the problem and use a strategy de-escalate the situation.
Take a picture

Ok, I joke. Don't take a picture. Completely insensitive on my part, yes?
Child crying on the floor in Target and I pull out my phone, snap a picture and post it on Instagram.
But the fact is that this behavior is universal to EVERY PARENT with a toddler.
When my 2-year-old son refused to move, I got so many looks of sympathy from other parents coming in. And if you are like me and that was the third time that day that my son threw a tantrum as soon as we entered a store, feel free to snap a quick picture before heading over to deal with the situation.
It will be perfect for his high school years.
There are also strategies you can use when your child is happy that will make tantrums less likely.
From my experience as a teacher, I can tell you that the techniques I used during the good times were FAR MORE effective at curbing problem behavior than the strategies I used for tricky situations. That will always be the case.
Acknowledge Why They're Mad
As parents, we usually know what is bothering our kid. In this situation, my son wanted me to carry him on his hip while shopping. I gave him the choice of the shopping cart or walking. He chose neither and instead flopped down near the entrance and refused to move. I bent down to his level on the floor, got about a foot away from him and said softly,
"I know that you want me to carry you right now and that you are very upset about that.
Give them a Choice
Of course it doesn't end there. Next, I gave him a choice.
"You can either walk or ride in the cart"
Both options were scenarios that I could live with. I really wanted to get my Target shopping done so I didn't say we would leave and go home, because that's what he wanted. He would have chosen that in an instant and it I would have been, "Damn! Toddler got me again." (He gets me enough as it is.)
I never offer a bribe either. Every time I interact with my kids I'm training them and they're training me. If I offered him a candy for being "good" and riding in the cart, he would then expect that next time we went to Target. Then, the tantrum nightmare would never cease. Candy would become a given every time we go to Target and frankly, I go to Target so much I think my son's teeth would disintegrate.
Since he still wouldn't move, I had a couple of options, I could..
Make the Decision for the Kid
Since I can't MAKE him walk, I could have picked him up, plopped him in the cart and strapped him in. However, I know my son. He is not one to give up the crying when he doesn't get his way. I learned this from a little Mother's Day boat trip where he hated wearing a life jacket. That Target trip would have been miserable with him screaming bloody murder as I pushed that red cart down the aisles.
Wait out the tantrum in a quiet place
Going out to the car is another option. Once he's distracted and calm, he usually becomes a much more reasonable baby. That requires going out to the car though and since it's 110 degrees and it would require me carrying him anyways, I chose…
Use EXTREME caution on this final way..
Leave Them
Some kids might call your bluff on this, but it has always worked on Dude and it worked with my daughter at this age too. I see it as, if he wants to throw a tantrum, he can do it on his own. So I got up and told him,
"Ok, see you later. I'm going shopping"
And I walked away.
Well, actually I ran and hid behind a shelf when he wasn't looking. I then heard a "Ma? Ma?". He picked himself up and scuttled in my direction. When he reached me, I asked him if he wanted to ride in the cart or walk. He chose the cart and off we went on a happy shopping trip.
The funny part is that at the end of our trip, we ran into another mom with a toddler. The toddler was screaming. As we passed, the mom glanced at Dude, looked at her son and asked, "Why can't you be good like him?" It took all of my willpower not to pull out my phone to show her what he doing just 20 minutes ago. By acknowledging he was mad, giving him a choice and then taking action I was able to stop the tantrum and continue in blissful Target shopping.
Stop, Relax, Stay a While! Here a few posts I know you'll LOVE!
Title:
7 Tips to Calm Toddler Tantrums in Public
Keywords:
toddler tantrum
Last Updated:
December 3, 2020