With all those free apps for preschoolers out there, is it really worth paying for ABC Mouse? Here's everything you need to consider.
For review purposes, ABC Mouse provided me with a complimentary year subscription for my son.  Also, as a heads up, the links in this post may be affiliate links – meaning I earn a small commission if you decide to purchase.  However, it costs you nothing extra.  All opinions here are my own.  I appreciate your support!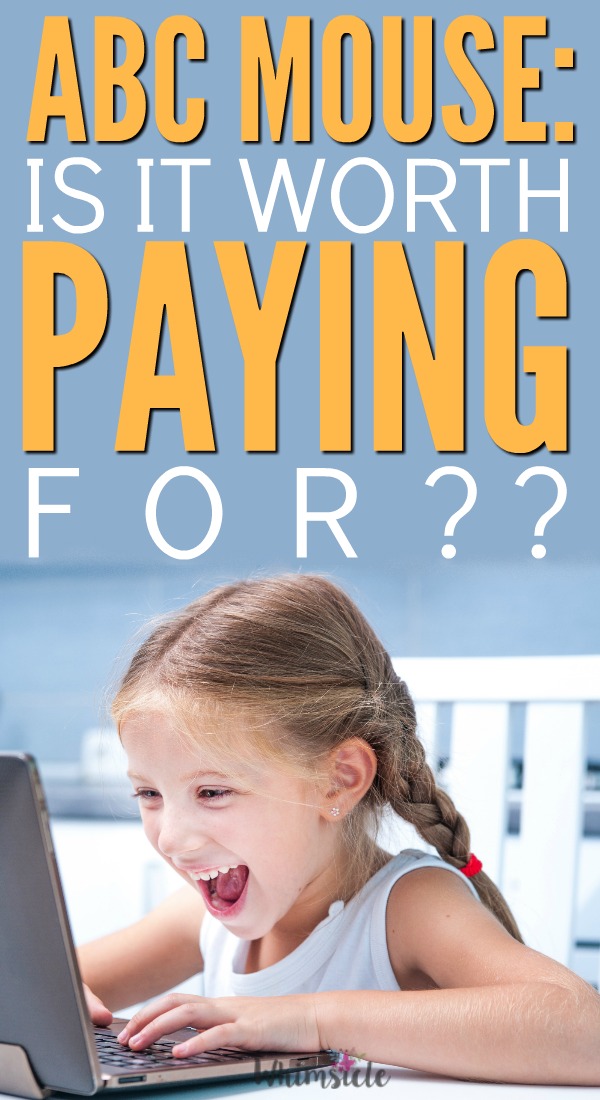 Honestly, I didn't want to try ABC Mouse.
I used to get so mad at some of the commercials that advertised it in between episodes of Peppa Pig.
A teacher appeared on screen saying how using ABC Mouse in the classroom helped her see such an improvement in students reading and math skills. I mean…of all the Kindergarten activities!
My face became hot. (I know…I can be quite uppity.)
But as a former teacher who worked so hard dialing into students strengths and designing learning for them, I thought…
Why isn't this teacher teaching instead of using an app??
Kick my uppity self right now. Hello judgy Mc-judgyface. Actually, I yelled at the TV every time this commercial came on. My daughter came to know my rant and started saying the same thing about ABC Mouse.
When ABC Mouse approached me about trying it out, my finger went directly to the message, tapped on it and got ready to swipe to the right to delete from my inbox. But… I stopped.
Hey… the little voice in my head whispered… what if you're wrong and it's actually good? (Those little voices can be quite annoying at times)
OK. FINE. I'll try it.
What to Explore in ABCMouse.com
I logged in and created a profile for my four-year-old son, Erik, The whole process was pretty simple.
I created an avatar for him. Also, got to choose the ethnicity and gender of his teacher avatar, or select a random one. I went for random.
Then, I went right to the assessment section for parents.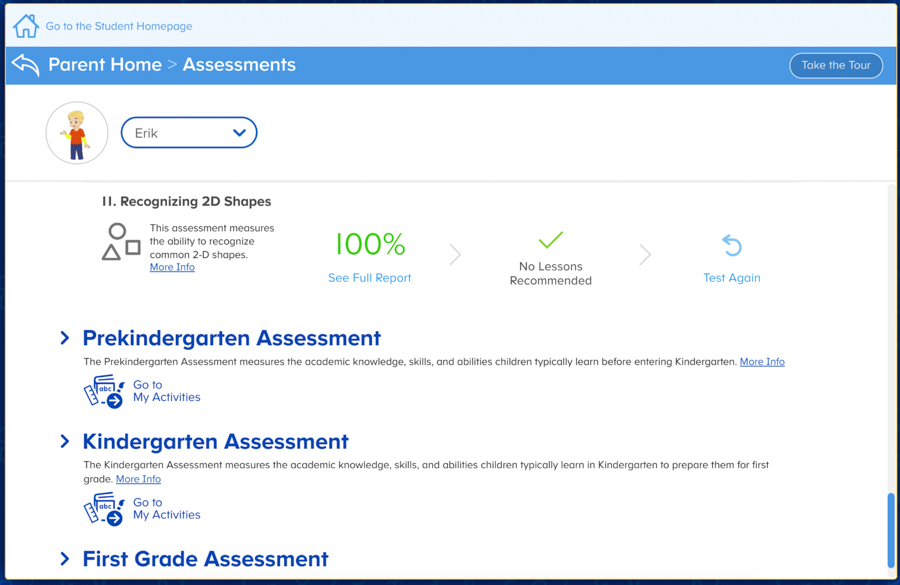 I'm a lover of data, data, data and I wanted to see exactly what my son knew. Yes, testing… this will be fun!
Ya… my child didn't think so.
ABC Mouse has about 10 tests each taking about 5 minutes a piece. My son only had the patience to sit through one.
One!?! Ack! How will I get my data? How will I raise him up and maximize his time??
Oh ya… I can be intense. There's a reason that I see a psychiatrist. (And I have no shame!)
Since I know that adaptability can be an issue for me and also that forcing my son to do something is a sure fire road to him hating it… I gave up some control.
Instead, we logged into the classroom portion and perused the town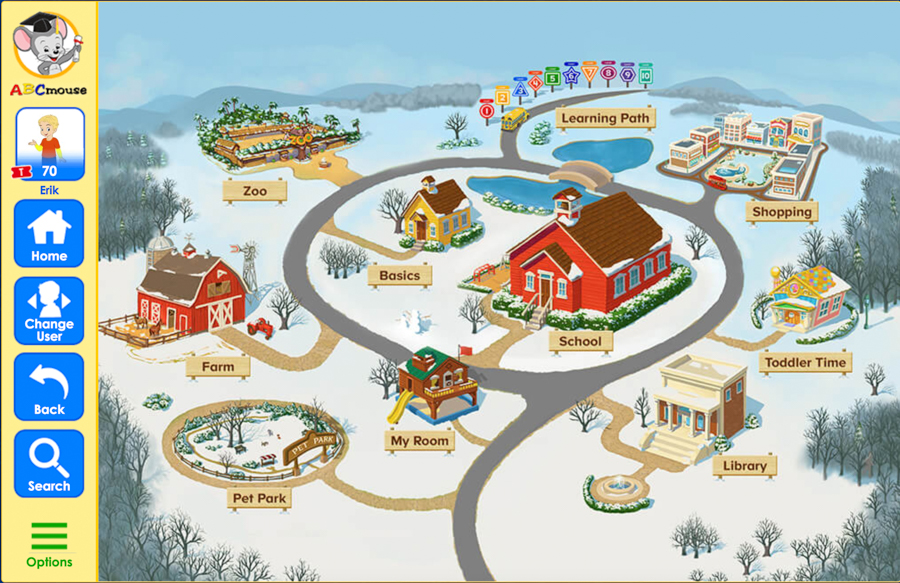 We started on his Learning Path which is basically a set of activities aligned to skills in his grade level.
We watched a song, traced a few red "A's" and then my son found an activity he could latch onto it.
Puzzles.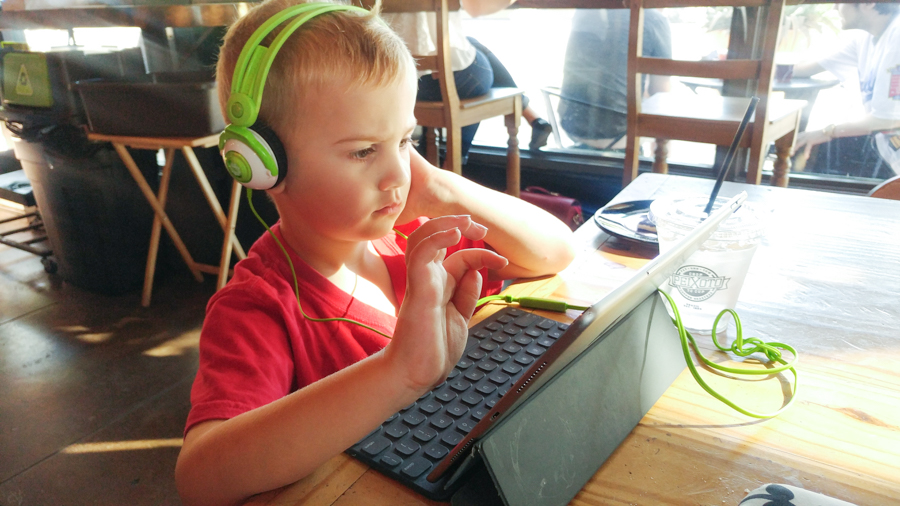 And oh, did he do a ton of puzzles.
So many in fact, that I wondered, "Wait, are all these puzzles going to increase his academic skills? What about reading… and math??"
Thankfully, I didn't push it. Because soon he burned out on puzzles and went to the library.
He found a book on the Golden Gate Bridge in San Francisco.
Remember how we used to have books on tape that told us when to turn the page?
This ABCMouse.com library is the digital equivalent.
He read the Golden Gate Bridge book so much that he can recite it pretty much from memory.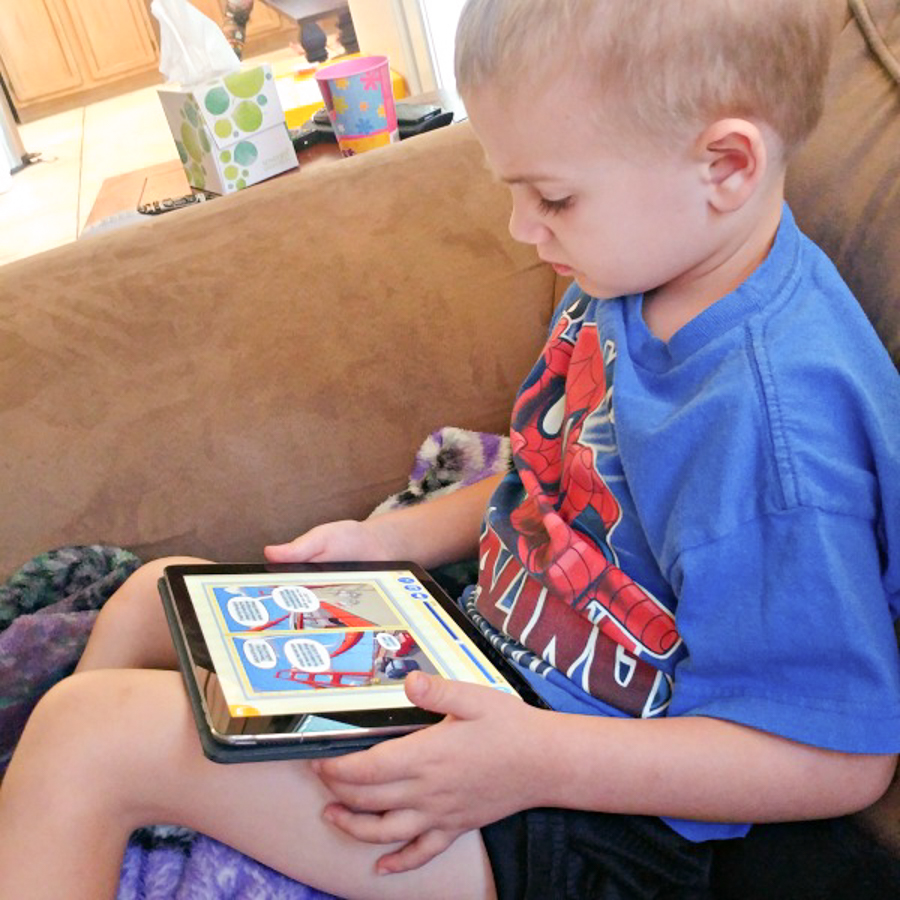 Here I was patting myself on the back. My four-year-old son knows all about the Golden Gate Bridge AND where to find San Francisco on a map.
That's when I began to warm up to ABC Mouse.
But since I know you are skeptical too, let's start with a few obvious drawbacks of the app. That way, if they seem too big for you, you can stop reading now.
Drawbacks
Only available with a WiFi or data connection
If you want to travel and don't have data or WiFi, the app will not work. It derives all of it's curriculum from an extensive online collection.
That doesn't work when you are in the car pickup line waiting for big sister to get out of school.
It does make the perfect activity if you want to go chill at a coffee shop though. I did this recently and got to work for a full 20-minutes before my son tapped me on the arm wanting to leave.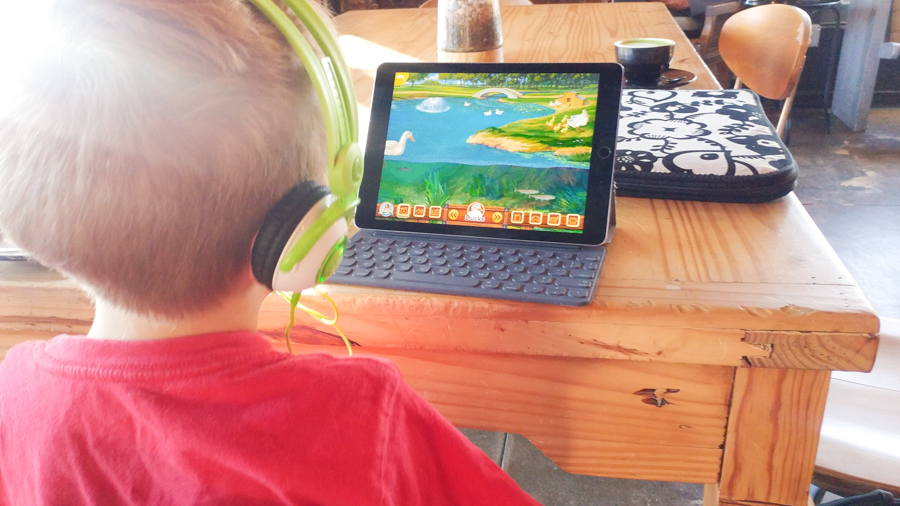 20 minutes of complete concentration magic. As a mom, you know how much of a gift that is.
Kids can be resistant to try some of the activities
Anything new with kids can be stressful. Especially if you have a strong-willed child.
You know what I'm talking about.
"Hey, sweetie… why don't we try a matching game?"
Child collapses into inconsolable heap. "NO!! I don't want to do this anymore. I don't want to do a matching game."
How dare you suggest such an unreasonable possibility.
Like me, you might feel that you won't get the full benefit of a purchase if you don't take advantage of everything it has to offer.
It's like your stressed-out Dad at Disneyland.
"First, we need to get to Splash Mountain before the lines get too long. Then, we'll go get our passes to the Cars ride all the way over in California Adventure… then come all the way back to catch the noon parade."
Pretty soon, amped up on churros, every single child in the family melts down, the exhausted parents hate the vacation and no one goes to Disneyland again.
EVER.
Instead, when we become less focused on the outcome and more intentional about living in the moment everyone has more fun.
That's how to approach ABC Mouse.
For your child to get the most benefit out of it, you need to leave her to explore it at her own pace.
If you can't do that, it's not for your family.
Focused on an extrinsic rewards
I'm big on extrinsic vs. intrinsic rewards. Research has found that kids who rely on intrinsic rewards (the joy and feeling of accomplishment) are generally more successful that those who let extrinsic rewards (prizes) drive them.
A big early motivator that I found to get my son to complete activities in ABCMouse.com was that he earned tickets – very similar to those paid out in arcades.
With tickets, kids can go shopping in the town plaza to buy furniture for their virtual bedroom, pets to care for or even virtual toys.
It's quite cool, actually.
But, something nagged at me that he was doing an academic activity to get a prize.
(Remember, I told you…I get uppity)
But…BUT….
These tickets keep my son logging in. He looks forward to buying a race car bed for his virtual room or picking up a new virtual goldfish.
And the more he logs in, the more his skills improve. So, extrinsic reward for the win.
Benefits of ABC Mouse
Books, Books and more books
Oh my goodness, the library of cool books on ABCMouse.com amazes me!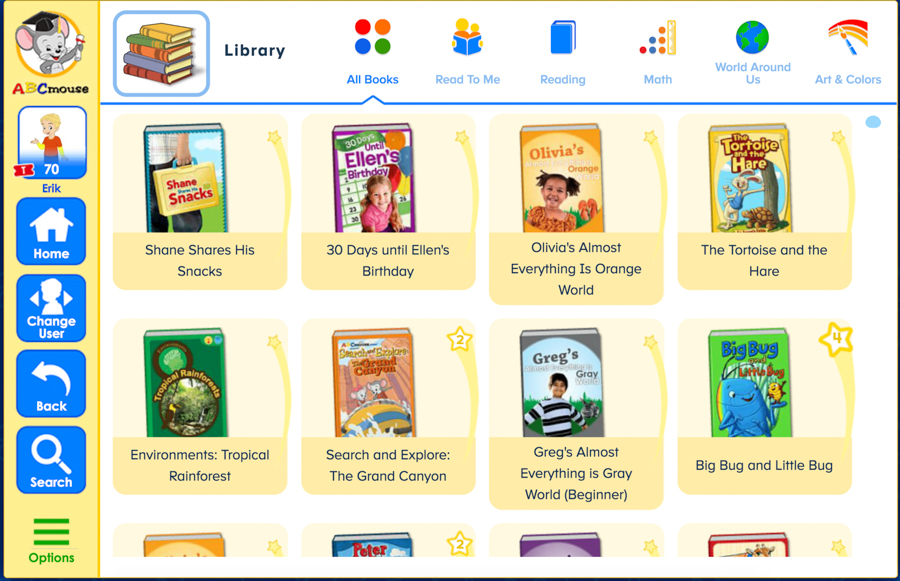 Not to mention that every single book is tied to an academic skill such as geography, or comparing the size of objects or learning more about penguins.
My son chooses one and then the app reads it to him – highlighting every word as read and turning the page.
There's even music built in. The Golden Gate Bridge book included a song sung by the three mice: A-B-C, 1-2-3 and Do-Re-Me. Cute, right?
Not just focused on testable skills
As much as I tout being academically driven, I do hate this current testing culture.
Many teachers are forced to teach to the test. Their jobs and paychecks are tied to whether their students master reading, writing and math.
As a result, science, social studies, art and music are rarely taught.
I love that ABCMouse.com is very well-rounded. Yes, your child can practice her ABC's and read. But she can also…
….go to the zoo.
….learn how to take care of the classroom pet.
… piece together a puzzle
… color
… play games.
Discover the Skills Your Child Needs to Master
I love data. I've said this before.
What's very cool is that ABCMouse adjusts its activities to your child's level.
If you find that in one of the assessments, your son can't tell more from less, you can choose to assign him fun games that help him develop that skill.
You can also tell his preschool teacher – or future Kindergarten teacher – what skills challenge him so can reinforce those skills in the classroom as well.
In fact, ABC Mouse has a curriculum designed for kids from 3-years-old all the way to 2nd grade.
It's how ABC Mouse and the classroom can magically meld together into a scrumptious grow-kid's-academic-potential sundae.
I really didn't need to yell at the TV whenever an ABCMouse.com commercial came on. In fact, I apologize.
Overall, we love our ABC Mouse subscription. More than anything else, using it has increased my son's interest in the world. He wants to travel and learn more about penguins because of his experiences in the app.
But, if you are skeptical like I was, go sign up for a free 30-day trial.
That little voice might whisper to you, too.