In Phoenix, our hiking season comes in winter rather than summer. The weather turns cooler and every single person in the city ventures outdoors. Thankfully, we have tons of hiking opportunities for lots of family fun in Phoenix that kids can also enjoy. Hole in the Rock is one of those.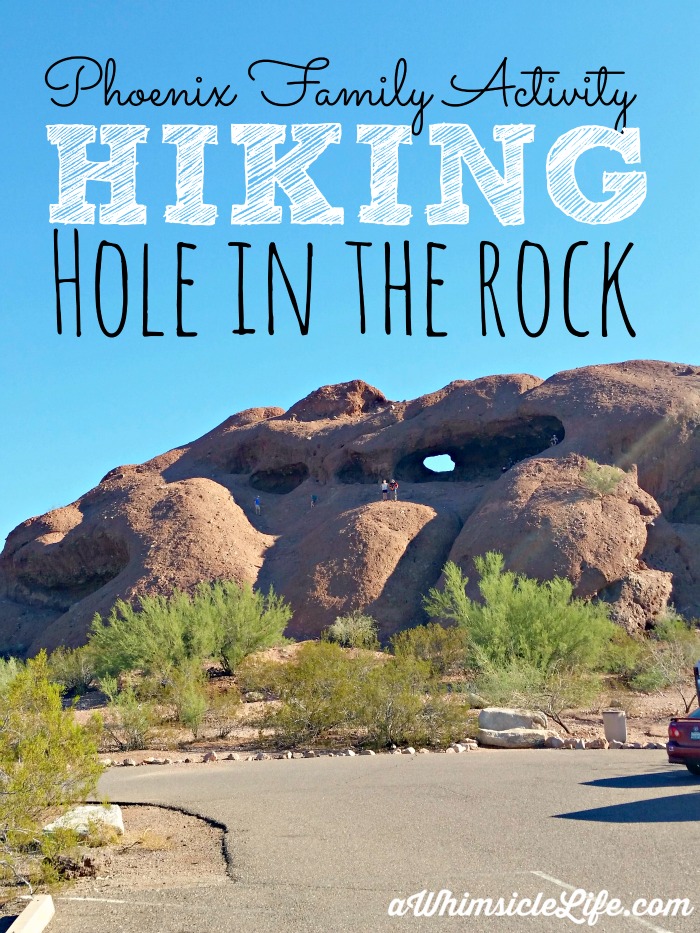 Smack dab in the middle of the city, right next to the zoo lies a fantastic yet doable hike for young ones. Hole in the Rock is an easy yet well marked trail that leads to a gorgeous outlook. When you reach the top, you can watch as planes take off from Sky Harbor and pick out different locations in the east valley such as the 202, ASU and more.
I took my six-year-old daughter on this hike one morning. She stomped out of her bedroom and dragged her backpack across the floor.
"I hate hiking, " she told me.
"I know. I know," I replied, "This one is really cool though. I swear you'll like it."
A low grumble trailed after her as she crawled into her booster seat. I promised her a Starbucks donut for breakfast and the grumbles stopped.
Directions
To find Hole in the Rock, follow the signs to the Phoenix Zoo and turn east into the parking lot off of Galvin Parkway. Immediately after you turn, look for a sign that points the way to the Papago Park picnic areas and turn left. Follow the one-way traffic circle through the park until you see the parking lot immediately in front of Hole in the Rock.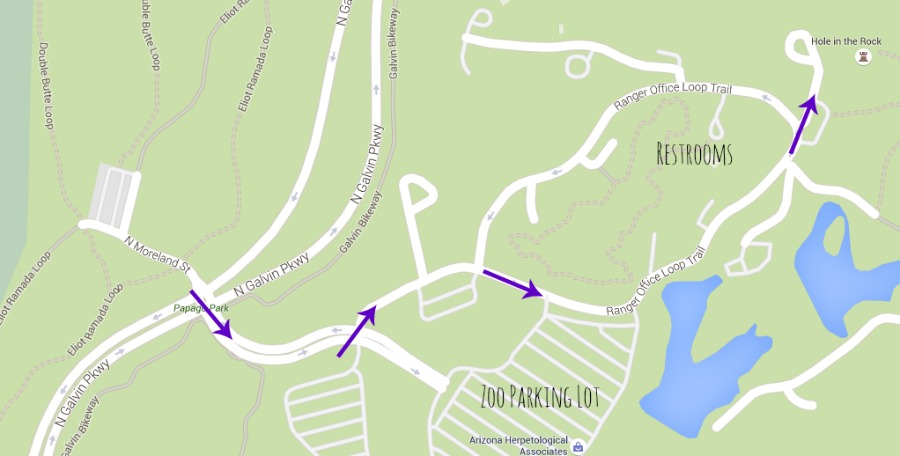 The Hike
We climbed out of our car and I heard my daughter grumbling again. I pointed to the trail head and tried to distract her with interesting points along the way. She didn't fall for it.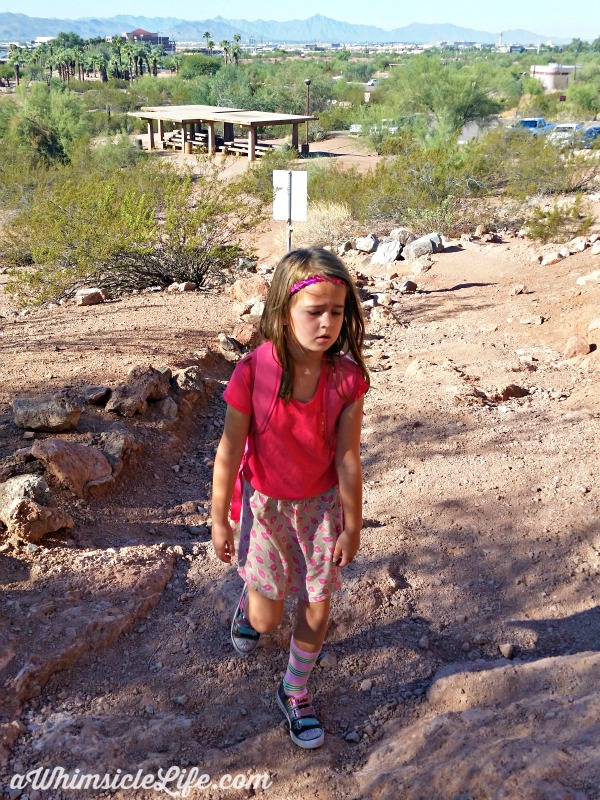 The trail ascended up and then down around the back of the butte. I thought I missed a turn, but thankfully another woman on the trail reassured us that, yes, we were going the right way.
When we turned the corner and saw the stairs,my daughter's grumbles transitioned into straight out whining. I coaxed her up, telling her she would love it.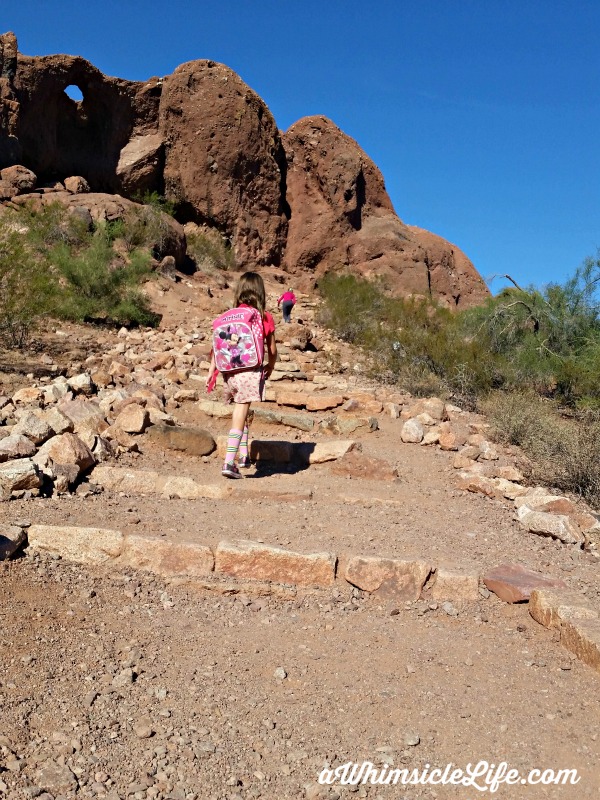 We made it to the top and she fell silent. In that one view, I fully explained to her my love of hiking and I didn't need to say a word.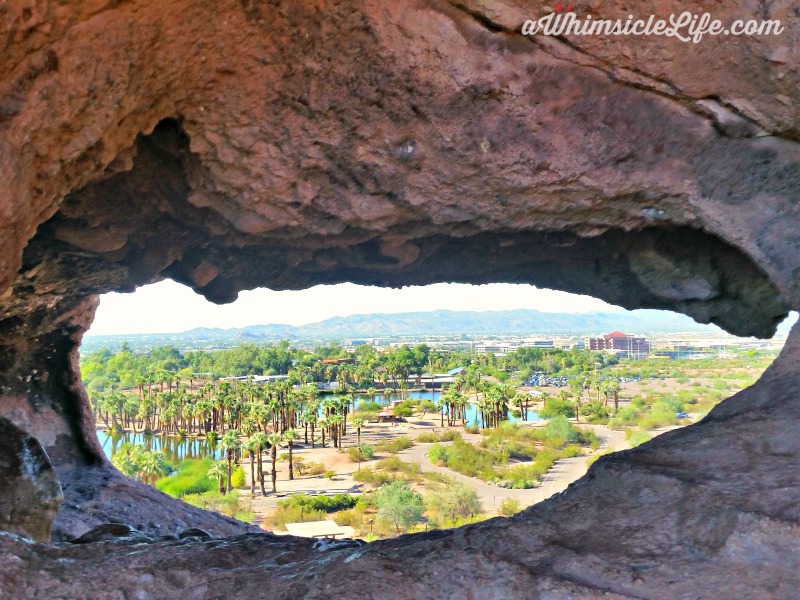 She and I ate our Starbucks breakfast perched on a carved rock bench and looked out onto the city.
We watched as other kids climbed up and down the front face of the butte. Honestly, watching them almost gave me a heart attack. My gosh! They acted like little mountain goats and even though its something I would have done as a kid I could only imagine horrible falls.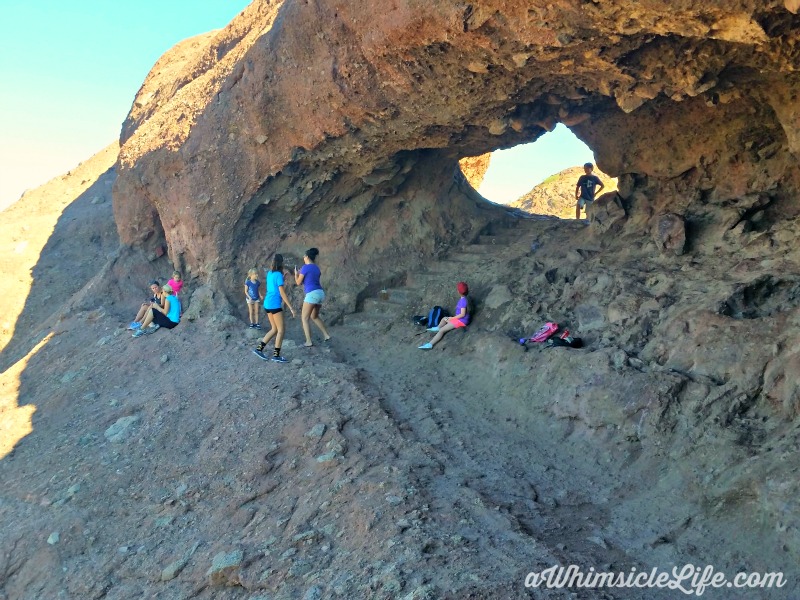 My daughter fell in love with hiking to high places that day. We explored more of Papago Park. I let her venture off trail to find this secluded spot.
We brought my hubby and two-year-old son back to Hole in the Rock that weekend. My two-year-old wanted carried up the steps during the last part of the hike but once on top, immediately fell in love with the view. Thankfully, he wanted to stay close to us and not wander too close to the edge.
If you plan a trip to Papago Park, make sure to pack a water bottle and get ready to explore. I suggest closed toe shoes and wearing layered clothing – such as a light jacket over a t-shirt. Papago Park has a few more easy hikes in the area – such as Governor Hunt's Tomb, that you may also want to explore. The park also hides a few geocaches. Happy Hiking!