Time to get outdoors! The Phoenix Desert Botanical Garden has miles of beautifully designed trails that are perfect for outdoor adventures. It is one of the many fun family activities in Phoenix! Plus, I have a way you can get in for free.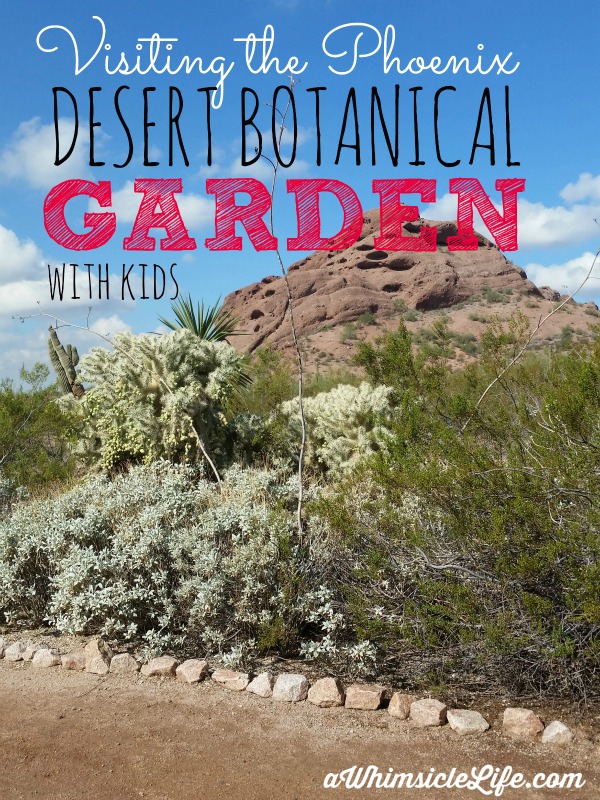 I've lived in Phoenix for over ten years and had never visited the Desert Botanical Garden until this past week. I heard of the garden's beauty. Many friends told me the wonderful sights there. However, at the admission price of $22 for adults, I couldn't justify the cost since I knew my two-year-old son would come along. A two-year-old's attention span is very limited.
Thankfully, the Desert Botanical Garden has a Culture Pass! The morning of our visit, we stopped by our local library and checked out our 2 free admissions. As a word of warning, your library card only allows you to check out one Culture Pass per week – and that is per family. So you can't use your library card and, say, your daughter's library card to gain admission for four – trust me, I tried.
The garden lies in Papago Park just slightly north of the Phoenix Zoo. Parking is relatively easy, however I suggest circling the lot to grasp its layout and make sure you get a close space to the entrance. Trees obscure much of the view and you may end up parking farther away than you need to.
Large Chihuly glass sculptures grace the entrance. Majestic and beautiful, these three structures amazed me! Just the skill required to construct these out of glass!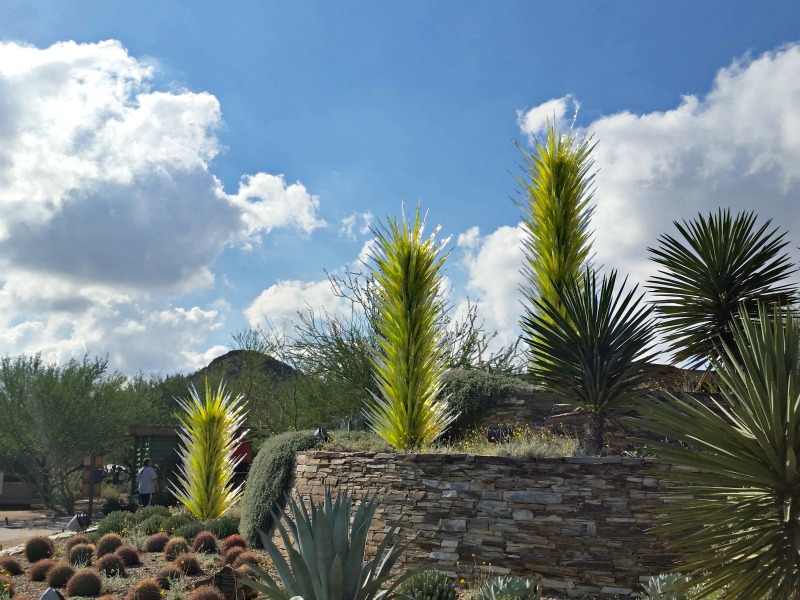 I found it simple to check in with the Culture Pass. I simply handed the slip of paper through the ticket window and the attendant handed me my receipt.
The garden consists of five trails. We explored two of them: The Desert Wildflower trail located right off the entrance and the Plants & People of the Sonoran Desert Loop trail which the guide recommended as excellent for kids.
To the left of the entry gates, lies a kiosk where you can grab a Desert bingo sheet for kids to complete as you travel through the gardens. This includes easy objects to find such as a hole in the ground or bite marks on plants.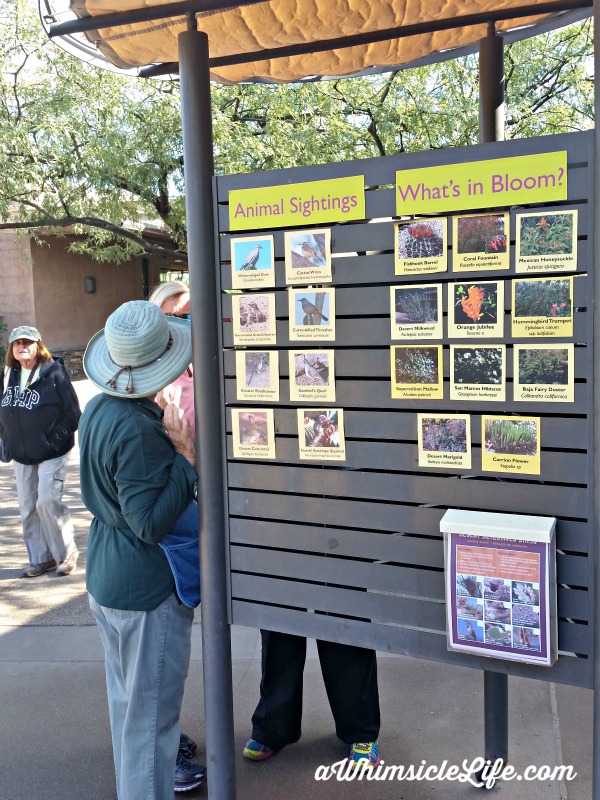 You can also download this Botanical Garden Activity Sheet from Expect More Arizona for a list of activities to complete.
I pushed my son through the Desert Discovery trail and we viewed tons of cactus varieties, wildflowers and gorgeous views of the butte.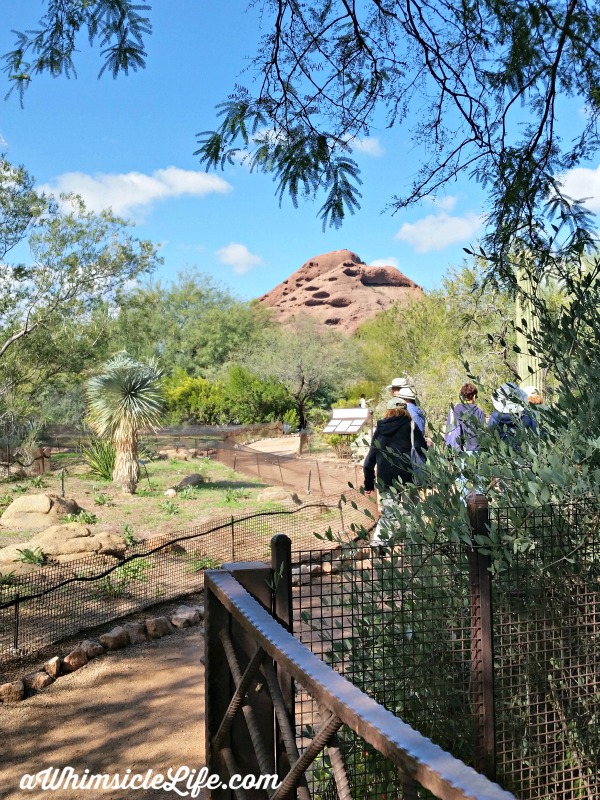 The trail hosts a hummingbird section, butterfly garden and bee area. The plants nested in each of these areas attract that specific desert dweller. We spied a butterfly fluttering from flower to flower. Not any others though because my son wouldn't allow me to hang out in one area for too long.
I did teach him the word "cactus" in this trail. We spotted a lot of these prickly buggers.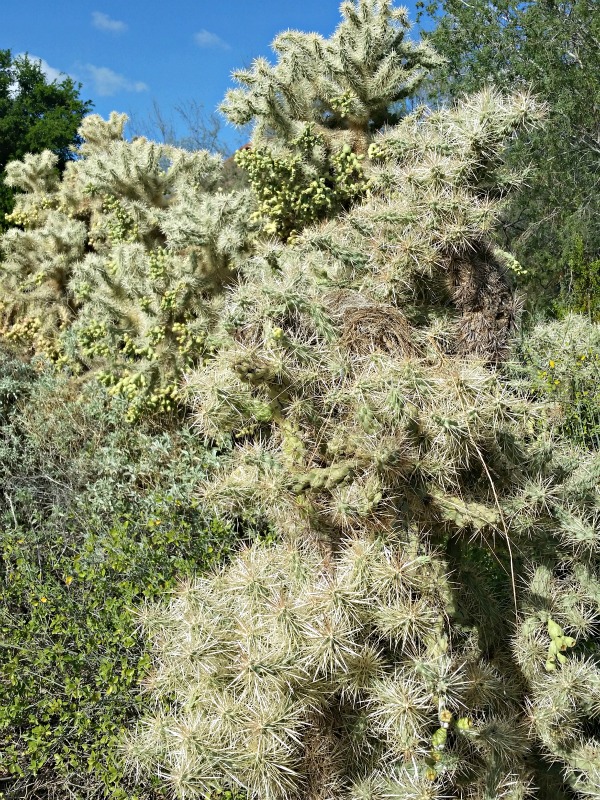 While hiking a few weeks earlier, my daughter accidentally brushed against one of these and experienced the misery of spines attached to her calf. My son remembered this and each time he saw a prickly pear he told me in a sympathetic voice, "Owwie, sissie." This path holds so many of these succulents that every two steps and he cried and pointed, "Owwie, sissie." He needed a new vocabulary word.
The Plants and People of the Sonoran Desert trail allowed him to roam free and explore. Along the trail, we explored different desert environments and learned about the native people who live there. I loved learning about how people used plants as the structure for housing – such as this hut.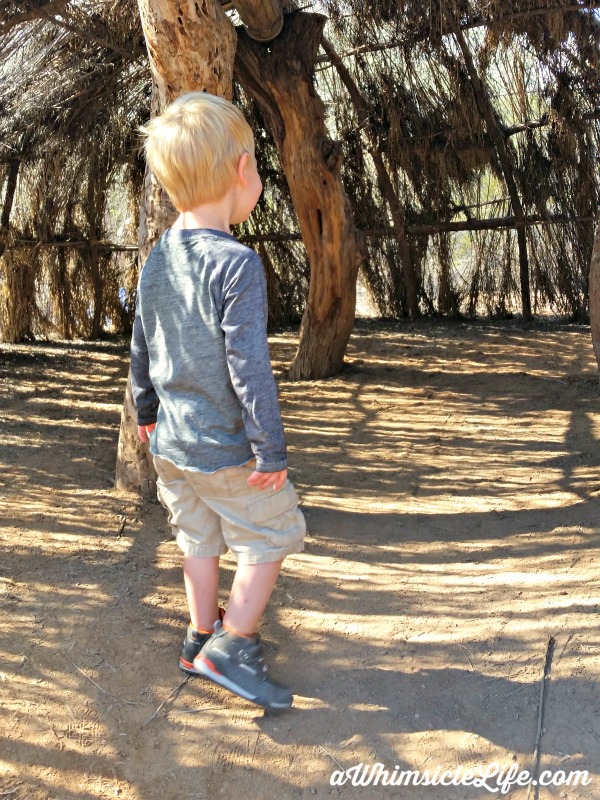 We stopped for lunch at the Garden's Patio Cafe. The cafe had a few kids options available for about $4 a piece. My son chose to eat Macaroni & Cheese. I chose the Santa Fe Wrap for $8 which also included a small potato salad.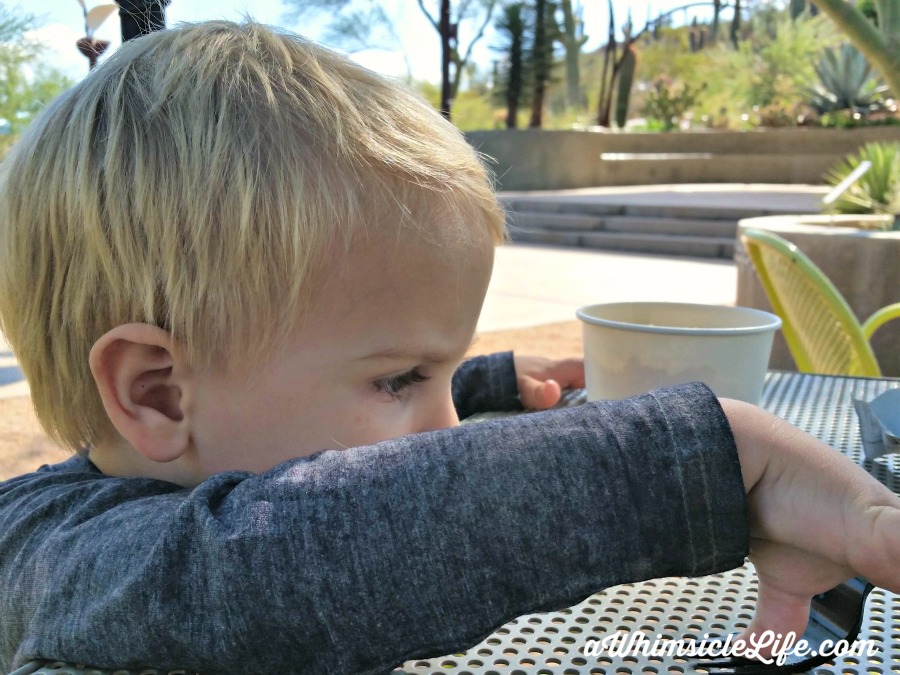 The outdoor dining area provided a sublimely picturesque lunch, however I felt that the food was overpriced for the quality. A small bottle of water also set us back about $3. My advice is to pack your own lunch and use the tables near the Patio Cafe to dine. Also, bring a water bottle to refill as they have water filling stations located all over the gardens.
The Culture Pass gave us a beautiful way to explore the Desert Botanical Gardens. If you have young kids, I recommend this option. Older children may gain more by bring a camera along and capturing the garden's beauty that way. You will see so many photographers throughout the park. The garden holds a plethora of educational opportunities but I feel you need to go with a plan to enjoy it to the full extent. Else, you may feel like you are just viewing a bunch of cactus.
Title:
Desert Botanical Garden
Keywords:
Desert Botanical Garden
Last Updated:
November 6, 2015