Arizona Museum of Natural History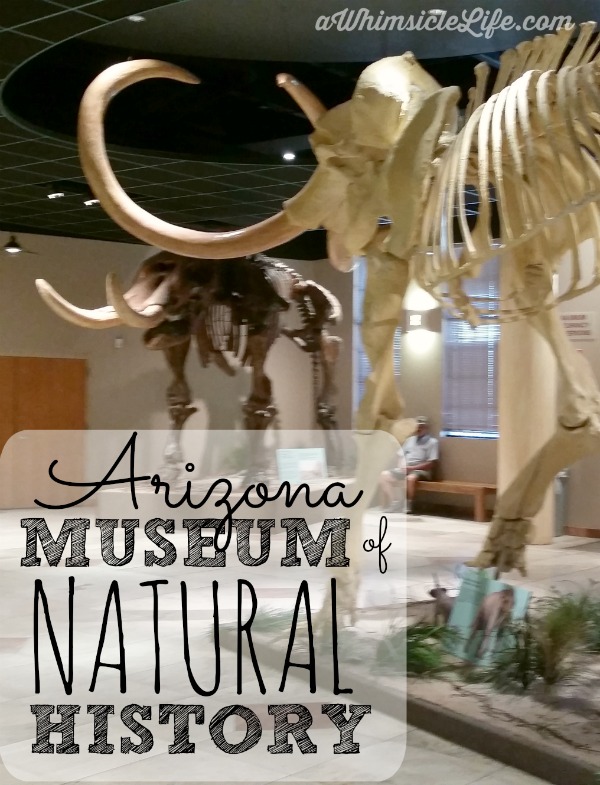 Dinosaur skeletons? Check. Trek through the Lost Dutchman Mine? Done. Pretend to lock my kids in an authentic territorial jail cell? Dare I say it? Priceless 🙂
I've heard whispers about the Arizona Museum of Natural History in Mesa, but I've never found the time to go there. Ok, really my toddler was so much of a handful that I didn't want to let him loose in a museum environment where something might break. Now that he's nearing the 2 year mark, I took the risk.
The museum's admission desk was located in the Cenozoic lobby. Large mammoths greeted us from a prehistoric age. I found out later that these particular mammoths died about 15,000 years ago. I paid the admission for Llama and me and found out that Dude was free since he was under 2. The woman who greeted us gave two small sealed baggies. Confused, I asked what they were for. Gold panning, of course.
Gold panning? Really?!!!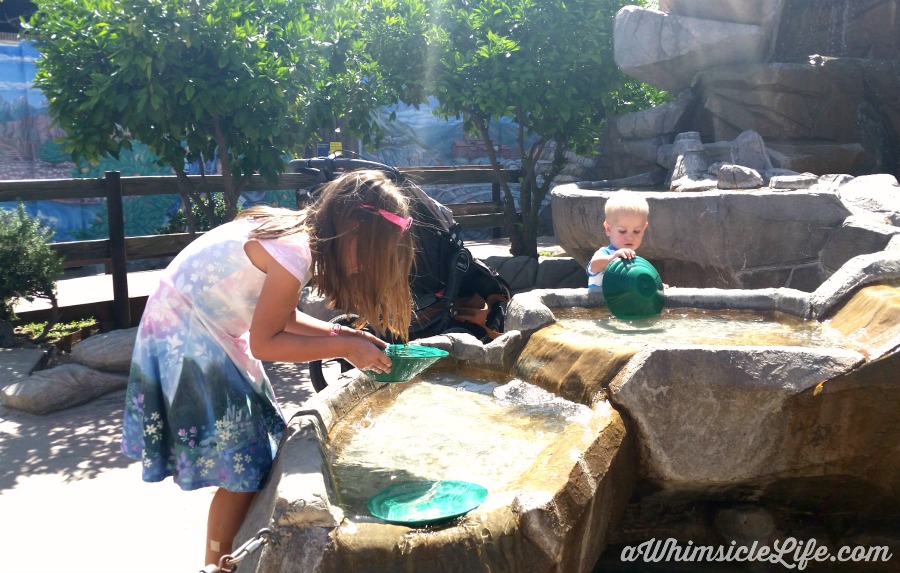 Located in a courtyard in back, this fountain let my kids experience panning for gold. When we visited the sand was well stocked with tiny gold nuggets. My daughter found quite a few to take home. She panicked five times while we were there because she thought she lost her bag. My son just loved to splash in the water.
We also excavated ancient dinosaur skeletons in the courtyard.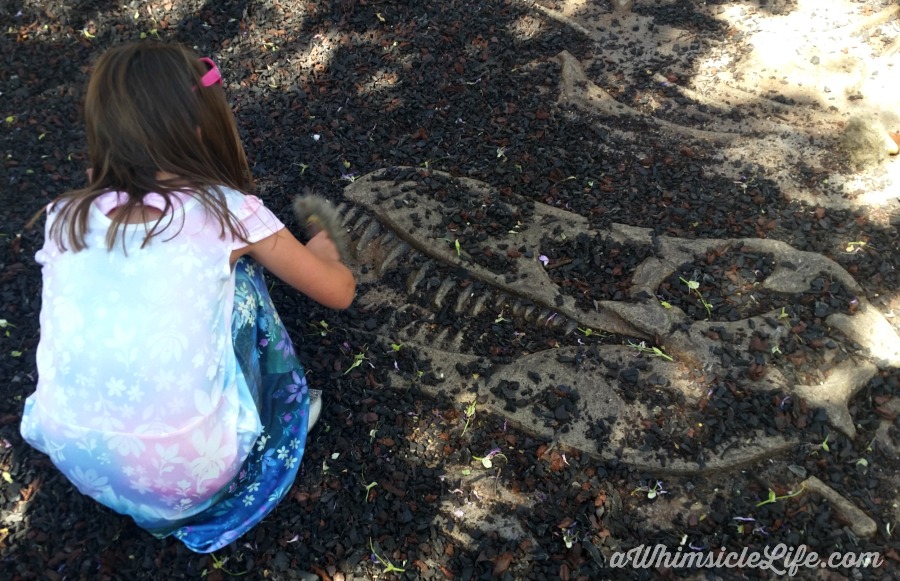 Inside the building, we explored actual jail cells from Arizona's first territorial prison. Even though this museum wasn't established until 1977, the core of the museum is a 1937 WPA era building. The original structure held Mesa's city hall, courts and police. These jail cells are the real deal.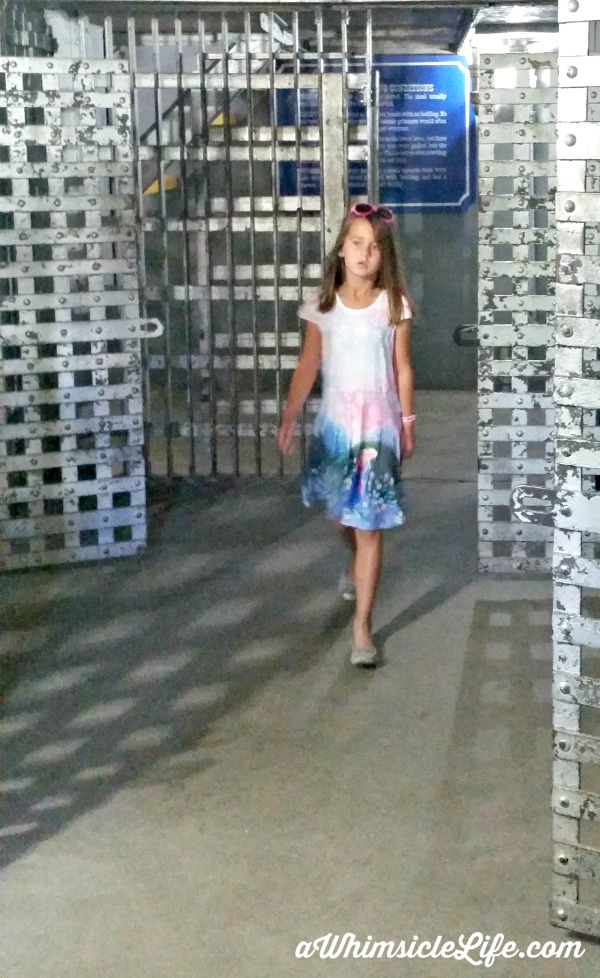 Llama was not a fan of the prison or the mine. A little too dark and scary for her taste. But she loved the area of the museum dedicated to movies.
And then we crossed back over Cenozoic lobby into this:
Dinosaur Mountain spanned three stories of the museum and was simply amazing. We wove in and out of the exhibits and every time we caught sight of Dinosaur Mountain, we all just stopped and stared.
We finished off our trip with a very low key visit to Exploration Station.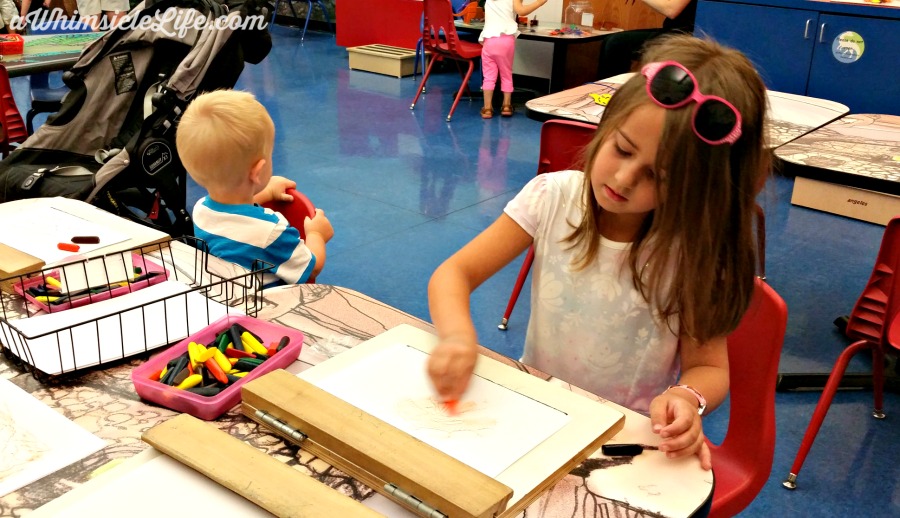 Here kids can draw, read stories and engage in lots of fun hands-on activities. There were tons of volunteers in this room ready to help kids whenever they needed it.
A few tips before you go:
There is no food available for purchase nor is any food or drink allowed in the museum. Make sure you eat before you go.
Allow approximately 2 hours to see every exhibit and play.
You can find a few parking spots available at the parking garage next door. However, I suggest parking across the street (Pepper Place)in the lot behind Milano Music.
My daughter is begging me to go back to the museum during a school break. Between the dinosaurs, panning for gold and the prison, I'm quite excited to go back too!
Title:
Arizona Museum of Natural History
Keywords:
arizona museum of natural history
Last Updated:
August 3, 2015