We received a complimentary meal in the American Girl Bistro in Scottsdale.  I was not expected to review it, so the choice to write about our experience is mine.  All opinions are mine alone. 
Ever since the American Girl Store opened its doors in Scottsdale, my daughter and I have been dying to dine in the bistro.  We adored the accents of pink, the glass chandeliers and dolls at every table.  Here's what you need to know before dining.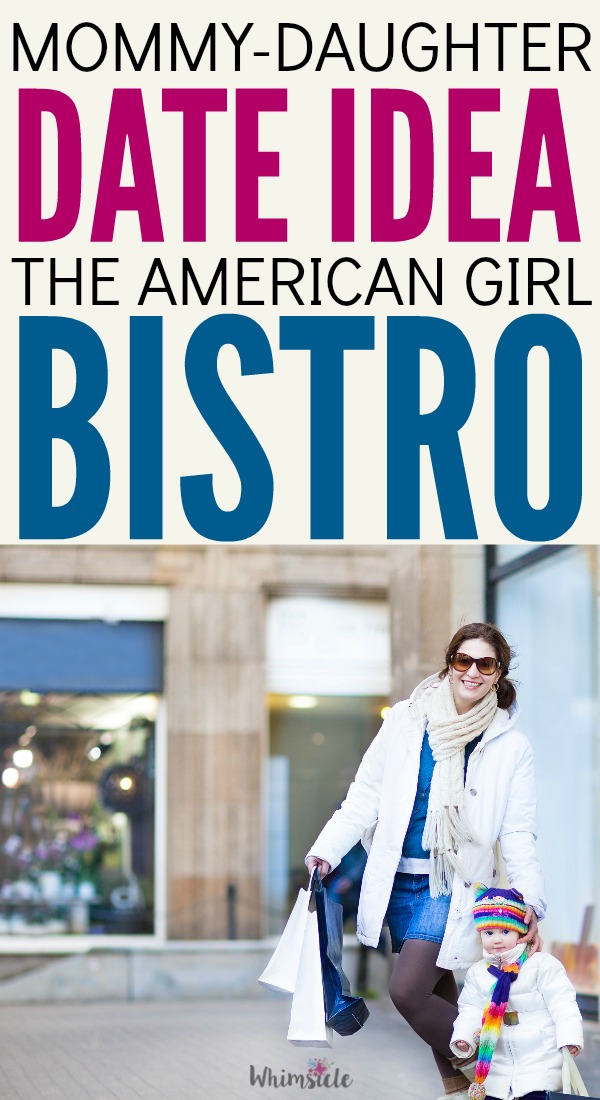 Make a reservation
The Scottsdale American Girl Store opened in August to grand fanfare.  Since it is so new, the demand to eat in the Bistro is very high.  If you would like to dine on a weekend, it's recommended that you make your reservation a month in advance.  Getting in during the week is definitely easier.
My daughter and I dined on a Wednesday and found that the bistro was relatively empty around 11AM.  It was fully packed when we left around noon.
Reservations are incredibly easy to make.  You can schedule through the website HERE.
Don't worry about having an American Girl Doll
Do you need an American Girl doll to eat in the bistro?  I racked my brain before our visit thinking about appropriate substitutes.  Maybe that doll dressed in an American Girl shirt? My worries were unfounded.
As soon as we checked in at the hostess station, the hostess asked us if my daughter would like to choose a doll to dine with.  A loaner doll!  How cool is that?
The hostess led us to the counter and clipped the doll in between us.
Kids get plenty of keepsakes
Our place setting included a beautifully bound menu with a napkin placed on top.  The napkin was tied with a pink bow that was actually a keepsake ponytail holder.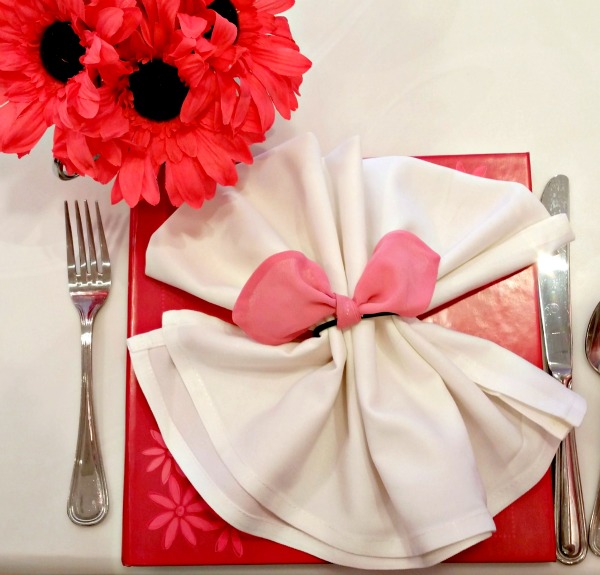 My daughter immediately asked for mine and I tied the bows into her pigtails.
I ordered a water to drink and my daughter requested a Sprite.  When our server brought us our drinks, she also brought a little cup and saucer for the doll.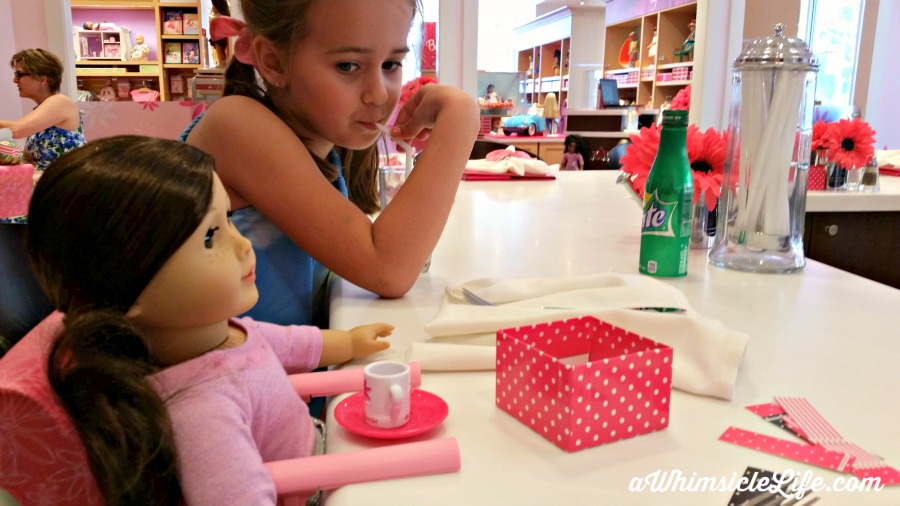 The cup and saucer is a keepsake to take home.  And yes, my daughter did serve her doll a little bit of her Sprite.
Play a Table Game
Our server gave us a pink box dotted with polka dots that held various question cards.  These are table talkers.  We took turns pulling questions out of the box and asking each other stuff like, "What dream do you have over and over again and what do you think it means?"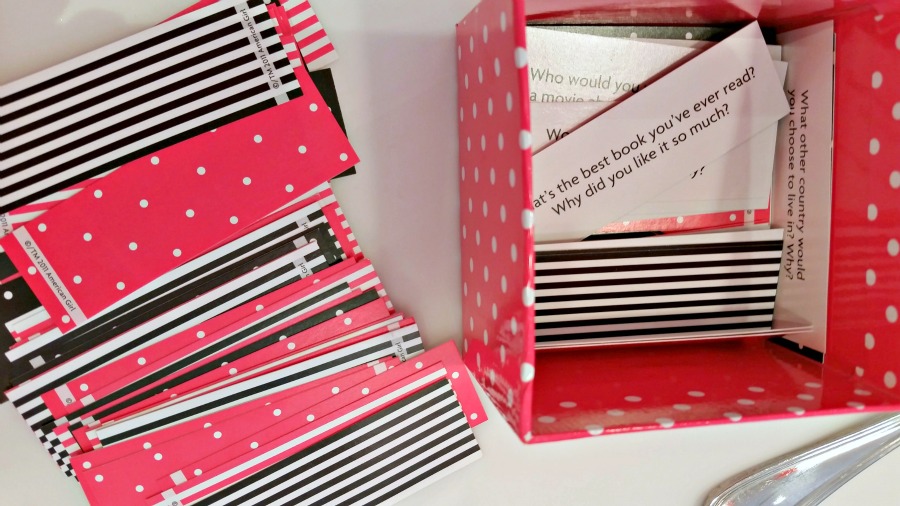 The questions were fun and inventive.  I learned so much about my daughter and got to tell her a little bit about me as well.  We liked these table talkers so much that I made a set for ourselves.
Know the American Girl Bistro Prices
I expected the menu to be a lot more expensive than it was.  The prices are comparable to an Olive Garden in terms of the adult entree prices.  Keep in mind that there is no kids menu since the entire menu caters to kids.  The entrees that kids order are the same price as adult entrees.
Picky eaters will definitely find something they like here.  Pizzas, pasta, chicken strips and salads are all available.
Portions are large
Get ready for this.  You do get your money's worth.
We ordered the soft pretzel bites as an appetizer.  The honey mustard dip was more sweet than tangy.  My daughter couldn't stop raving about these.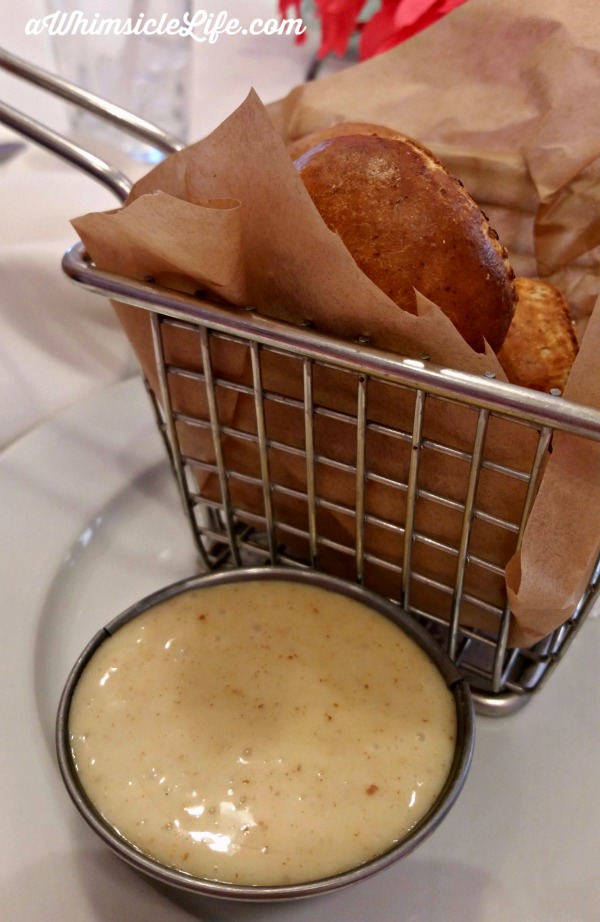 For our entrees, my daughter ordered the cheesy cheese pizza and I a salad.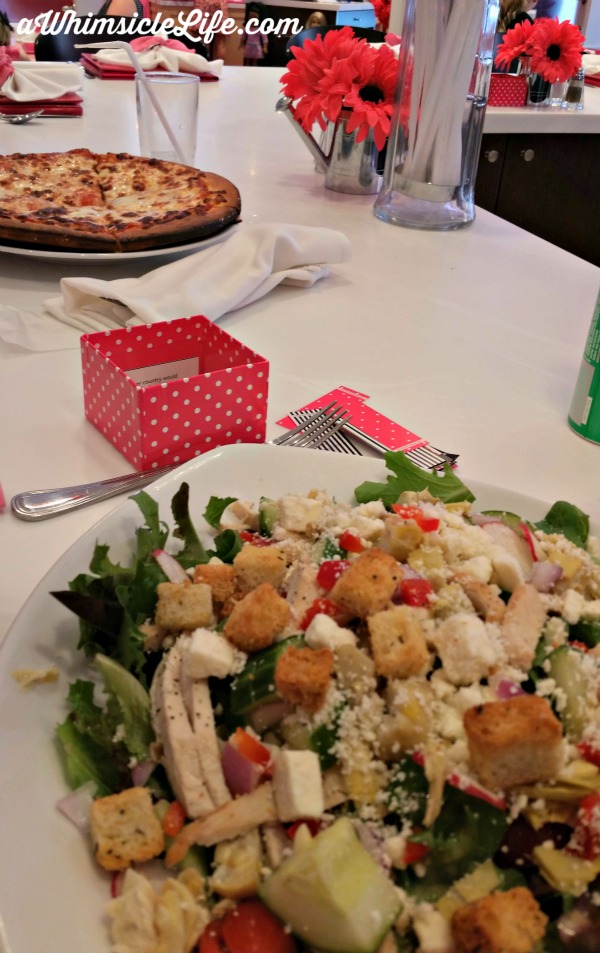 Both were delicious! And as you can see we had plenty for leftovers.
Save room for dessert
The bistro has an extensive dessert menu.  You can order milkshakes, cupcakes or even a brownie sundae. We chose to share a Cookies and Cream Milkshake.  It wasn't too rich and made a great ending to our meal.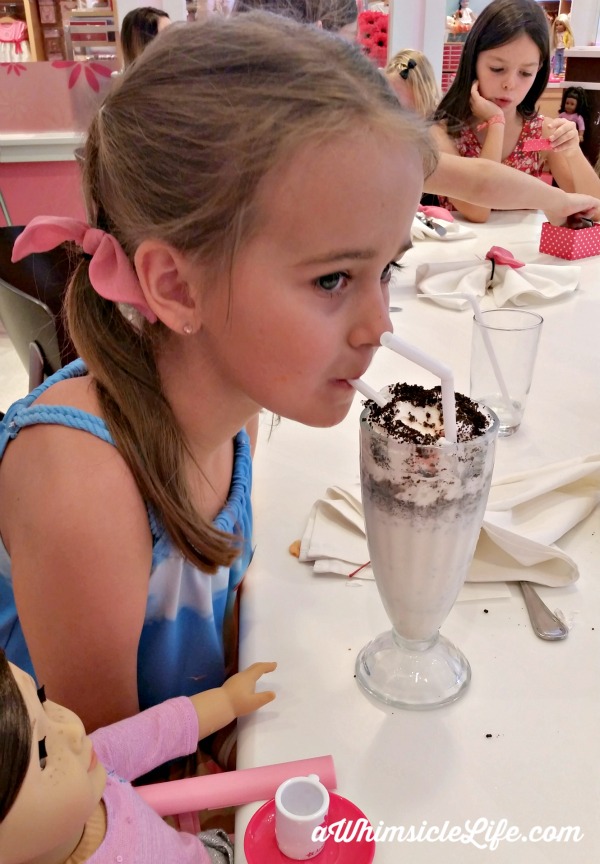 Let the Bistro know about allergies
While there is not a specific allergy menu, the bistro staff does do their best to accommodate everyone.
When you make your reservation, leave a note about any specific allergies people in your party might have.  That information will be given to your server.
The bistro has many gluten free pizzas and pastas available.  Dairy free is a little harder. If someone in your party has a difficult allergy, the reservations department can email the bistro chef who will then call you to discuss your situation.  He or she can then prepare a meal specifically for your needs.
Celebrate a special occasion
If you would like to celebrate a birthday, the bistro has a specific package for that.  For $30 for girls and $20 for adults, you will get an appetizer, entree, birthday cake, ice cream, and a tiara for the birthday girl (and doll!).  And of course, the entire staff will sing happy birthday to your birthday girl!
Should I bring my son?
During our time in the bistro, I saw one family who brought along a boy about 8 years old.  The boy accompanied a large group of girls and was absorbed in his electronic game the entire time.
I hesitate defining outings by gender lines.  Boys are of course welcome here! It comes down to the particular child. If this experience sounds like something your son or nephew would enjoy, bring him!
My daughter told my hubby that the American Girl Bistro was the fanciest restaurant she has ever been to.  We both had an amazing time. It's the only fancy experience that I know in the Phoenix area that caters directly to kids.
Find other Kid Friendly Restaurants in Phoenix here. 
Title:
Mommy- Daughter Date Idea: The American Girl Bistro
Keywords:
American Girl Bistro
Last Updated:
January 22, 2018