Stitch Fix Time! If you are new to my
Stitch Fix posts
, Stitch Fix is an online service where you input your sizes and style preferences. A personal stylist then selects five pieces specifically for you and ships them to your door. You have three days to try on them on and send back whatever you don't like. With two kids, this service suits me perfectly. As you will see, my son requires a lot of my attention.
This is my fourth Fix. As the service gets to know you based on feedback you give, your selection of clothes improves. This is wonderful because Stitch Fix gives you a 25% discount if you buy all the pieces. Improve it did. I bought it all this time! Below, I listed all of the original prices next to the pieces as well as the price I paid with the "buy it all" discount.
Here is what I got:
Dress:
Tart Reina Abstract Chevron Racerback Belted Maxi Dress,
Stitch Fix (
$168
, $126)
Necklace: Whimsicle
Last fix I was given
this maxi
, which I wasn't a fan of, so I was initially wary about trying this one on. I loved it! The main difference was the neckline. I am overly conscious about the size of my chest since I've been nursing. The scoop neckline in this dress minimizes my bust as well as shows off my collar bone. Super flattering! I loved it. The price was a little bit of a shock, but it feels so good on! Worth the money in my opinion.
Piece #2 & #3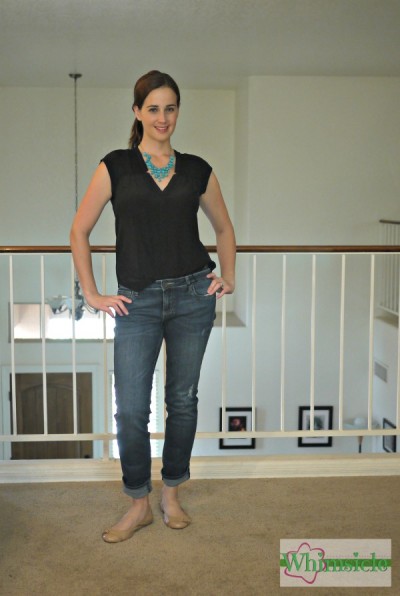 Top:
Daniel Rainn Rylin Pintuck Detailed Silk Blouse
, Stitch Fix (
$78
, $58.50)
Jeans:
Kut From the Kloth Kate Distressed Boyfriend Jean
, Stitch Fix (
$78
, $58.50)
Near the shoulders, this top has beautiful pleating which descends to that tiny v-cutout you see by my neckline. Those details make it more than the typical black blouse. As for the jeans, they are some of the most comfortable jeans I've worn. In my last fix, I received
a pair of jeans
that were distressed like these but, unfortunately, way too tight. Love the look of this outfit. It has the relaxed, yet put together look that I am after.
I admit, I had some help styling this from the note from my stylist. She also told me that this would look great on top of it:
Piece #4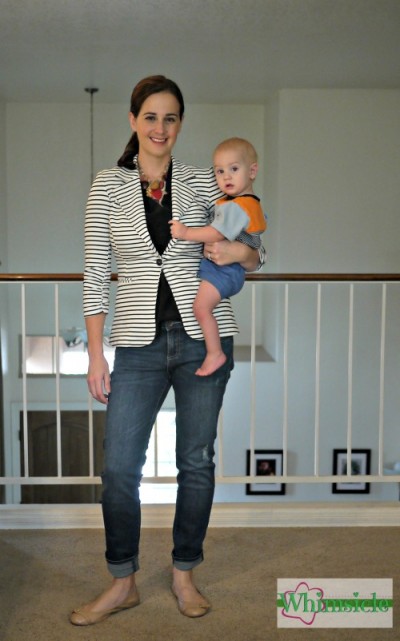 Blazer: Market and Spruce Benson Striped 3/4 Ruched Sleeve Blazer, Stitch Fix ($78, $58.50)
Necklace: Express
I requested a blazer with this fix to wear on business meetings for Whimsicle. Honestly, I've never owned a blazer that I liked. They have all fit poorly or looked a little…blah. This one is amazing! I love the horizontal stripes, the cut is super cute and the 3/4 sleeves make it very modern. The only drawback is that the fabric is a little heavy and hot. If I plan to be outside for any length of time, the blazer will have to come off.
Skirt: The Limited
Necklace: Kate Spade
My daughter says I look like a teacher in this outfit. Highest compliment there is 🙂
Piece #5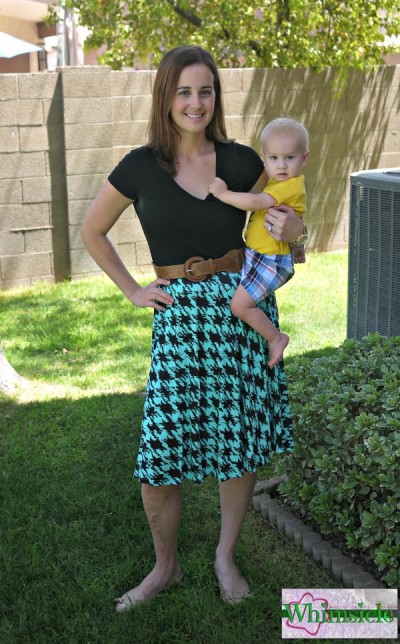 Top: Mossimo, Target
Belt: Secondhand from My Sister's Closet, Chandler, AZ
Skirt:
Papermoon Kellie Houndstooth Print Swing Skirt
, Stitch Fix (
$58
$43.50)
I also requested a colorful skirt in this Fix. This is such a fun print, the fabric is light and I love the color. It's also long enough that I can wear it around the kids and not worry about being too demure when I pick-up toys from the floor.
If you are interested in trying Stitch Fix, which I highly recommend, please consider using my
referral link here
. I receive a $20 credit when you get your first box – which will help me fund more Stitch Fix posts!
Do you love Stitch Fix? Check out other bloggers' Stitch Fix posts in the Linky below.