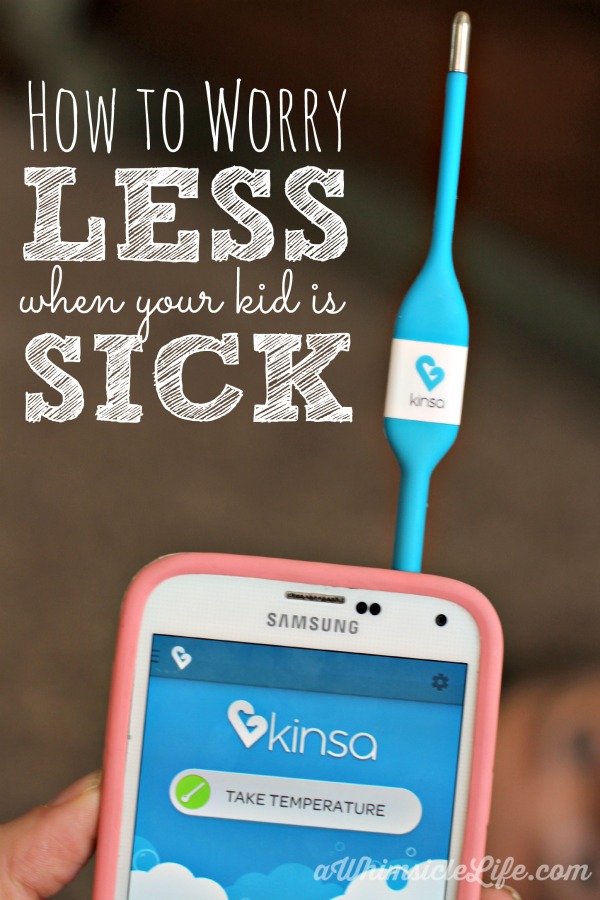 I was first introduced to Kinsa at the Mom 2.0 conference. As soon as I heard about what this thermometer and app could do, I could see its potential. I know that it will alleviate a lot of my stress and worry when my kids get sick. This is a sponsored post on behalf of Kinsa. All thoughts and opinions are 100% my own.
As a mom, I can always tell when my son or daughter is off. They don't smile as much. They lay down on the couch and their eyes slightly glaze over. My lips immediately go to their forehead to check for any signs of fever. Then, I start asking my friends: Has your kid been feeling well? Have you heard of anything going around? I want to know what they have and fast.
Should I take her to the doctor now? Is this just a minor case of dehydration? Usually no one has any information for me.
"No, my kid hasn't been sick."
Or, "Oh ya, one of my friend's kids had a fever a few days ago and they took him out of school. "
But what was it? I ask.
"I dunno… just a fever."
I call the doctor to ask for advice. Just in case. Once the nurse told me a stomach bug was going around and to just keep my child hydrated.
I had no idea there was a stomach bug going around. I wonder how many other people knew about the stomach bug.
What if you could know? What if you could know before your child even got sick so that you could suggest more hand washing, make sure you and your child stay well hydrated and keep your nutrition and sleep in check?
There is a new app and thermometer that has the potential to do just that.
In short, Kinsa is a flexible thermometer that plugs into your cell phone. Because it uses the cell phone screen and technology, it is lightweight, flexible and durable. This thermometer survives being dropped, bent and handled by a toddler. Also, it requires no batteries since it is completely powered by your cell phone. To use it, you download a free app from either the App store or Google Play. The app guides you through set up.
When you want to take a family member's temperature, simply select their name and plug in the thermometer. Tiny bubbles pop up on the screen to pop while the temperature is being taken.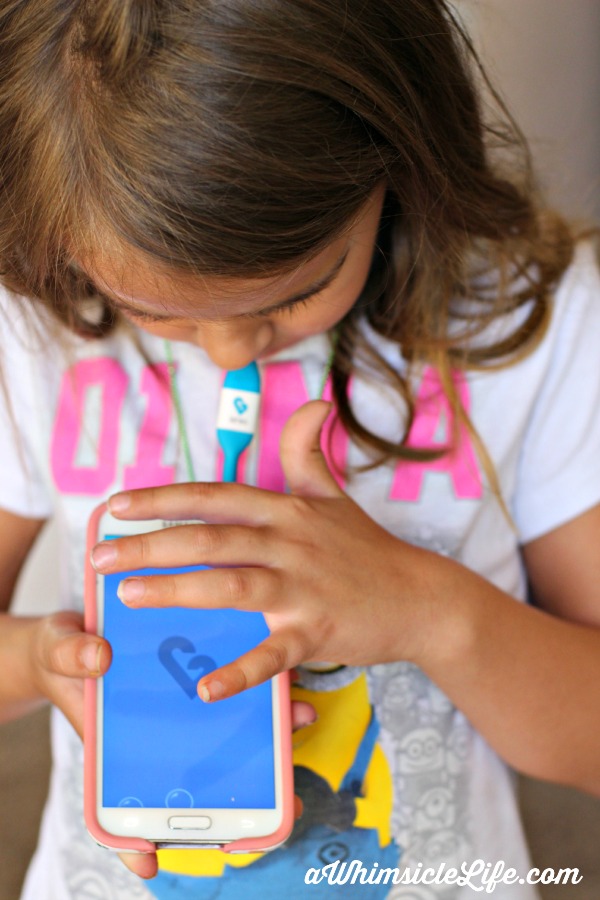 The reading will appear in about 10 seconds. From there, you can tap any other symptoms your child has and input any medicine you give as well.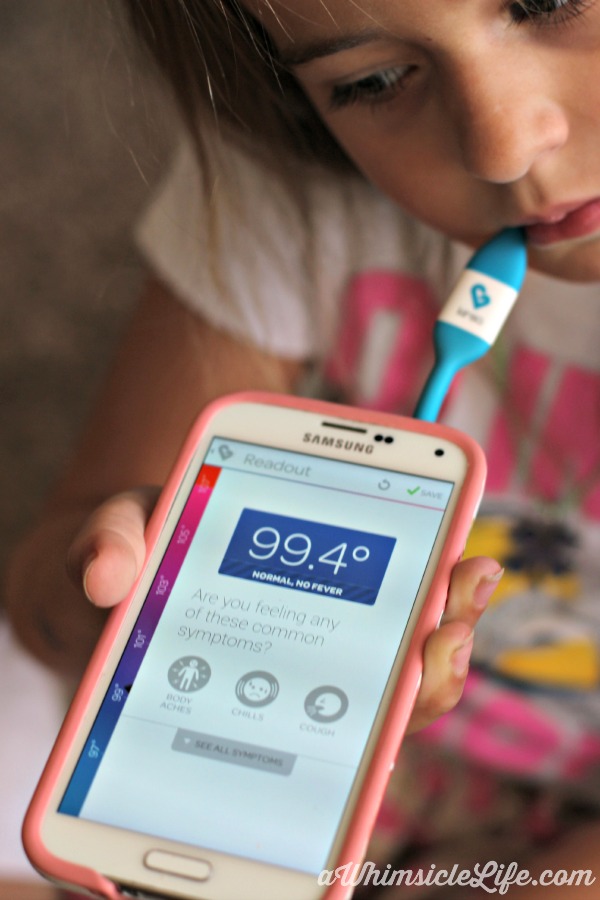 The app keeps those records for you which you can then share with a doctor.
Here's how easy it is to take a temperature:
Now the phenomenal advantage of this thermometer being on your cell phone is that you can share the symptoms your child is experiencing with a private group. For instance – the parents in your child's class. Your child's symptoms are shared anonymously as part of a group report. With just one look, you can check the status of the group, how many kids have fevers and how the other kids are feeling.
You can also start a conversation with other parents in the group. Sharing information and knowing how other families react to the same illness not only boosts your response but connects you the classroom community – which I love.
Once enough people adopt Kinsa in your city, you can also check the health of your region. This helps you become of aware of a bug before it even hits your school.
I am beyond excited to introduce Kinsa to you! We took it on our recent Walt Disney World vacation because it was so compact and lightweight to carry. Thankfully, we didn't need it, but I had peace of mind knowing we had a thermometer with us.
Kinsa can completely change how we respond when our children are sick. We will be better informed, have all their symptoms and medication dosages at our fingertips and always have a reliable, indestructible thermometer on hand.
Click here to purchase your own Kinsa Thermometer.