We received two family season passes to use to review Vertuccio Farms. All ideas and opinions are entirely our own.
Nestled between Warner and Elliot on Power road lies Vertuccio Farms. Driving past the unassuming front, I would never imagine how much fun my family could have on a few acres of farmland. Now is the time to visit because Vertuccio Farms is currently hosting their Fall Festival and Corn Maze.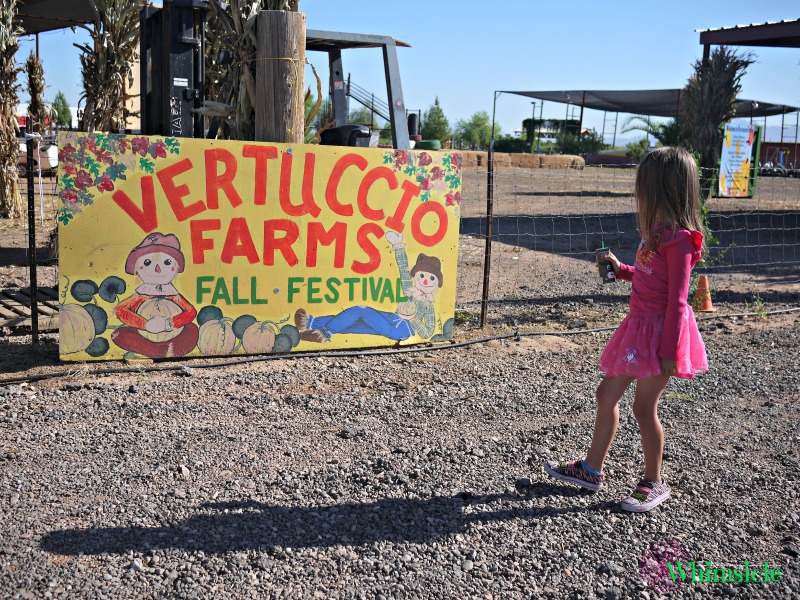 We went to Vertuccio on a Wednesday morning, arriving right at 9AM when the Fall Festival opened. Looking at the massive parking lot, separated by little flags, I was happy that we got there early. Vertuccio Farms has planned for lots of people and crowds. I was very impressed with the ticketing area. While you wait to pay for your $9.00 ticket which includes all attractions including the extreme air pillow, mini hay rides, pedal races, and more, your kiddos will be entertained watching the flat screen television playing kid shows!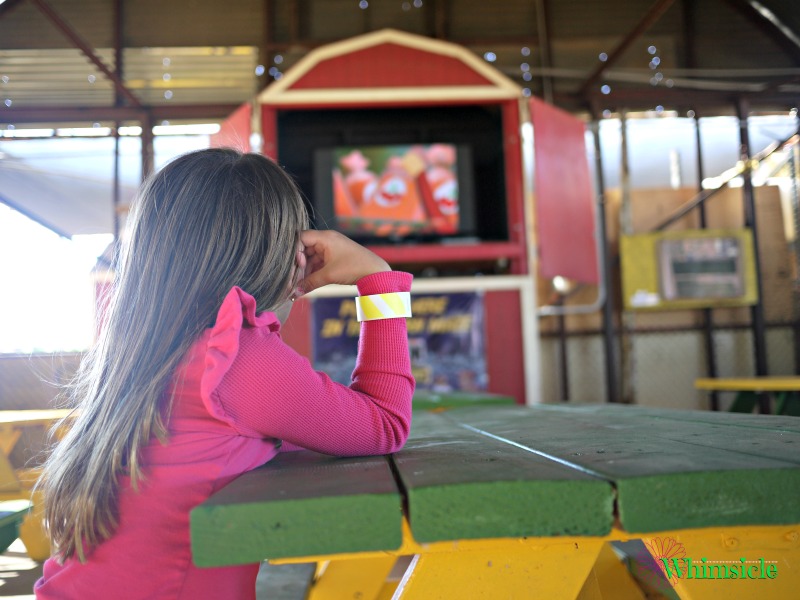 The extreme air pillow was the hit of the day. We literally could have spent all day jumping on this one of a kind bouncer. We were lucky enough to pick a day with no field trips scheduled. If you have little kiddos that you worry about sharing the space with some older friends, Vertuccio is always kind enough to provide that information if you call. However, safety is never a concern because we saw lots of staff members around. One very sweet staff member in particular who was observing the pillow, helped track down Buddy when he wandered off to the bathroom.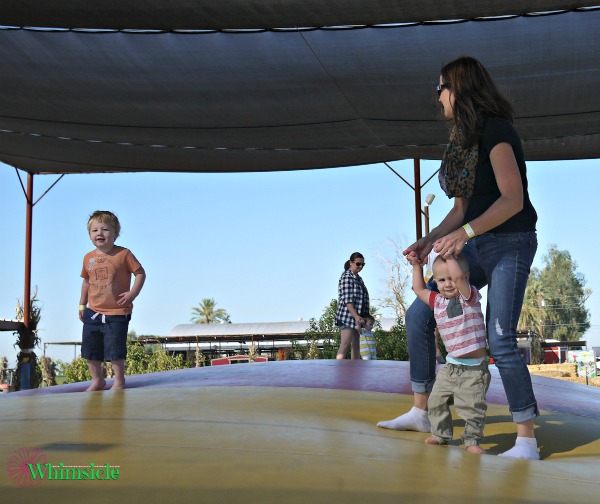 These tubes slides are genius! They don't look like much to the eye, but they are so fun. Buddy chickened out, but Llama and Biggie had a ball climbing the stairs and making their way down the tubes. They are the perfect combination of control and speed so they aren't as overwhelming as the height makes them look.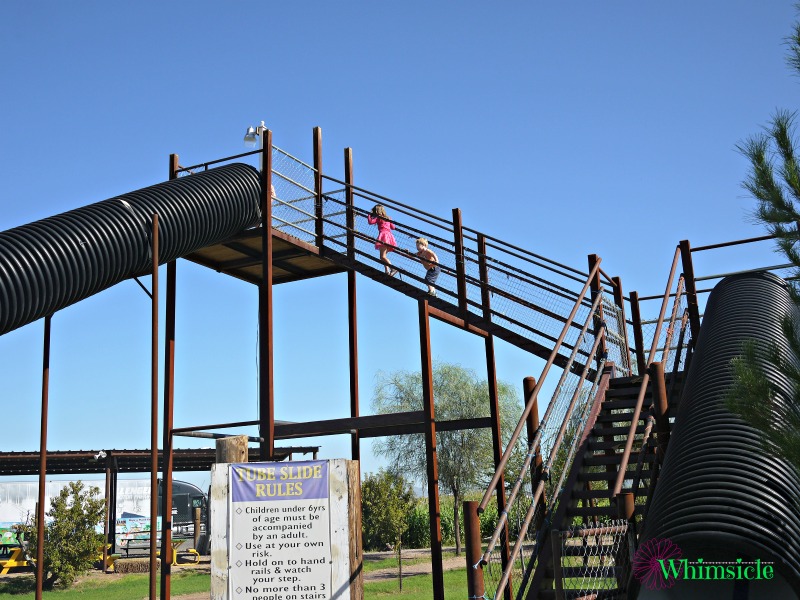 After we took our turn on the slides, who could resist a pull on the tractor? The zips and zags and round-a-bouts make for such an exhilarating ride. All five kids were beaming…and even the tall kids (us moms).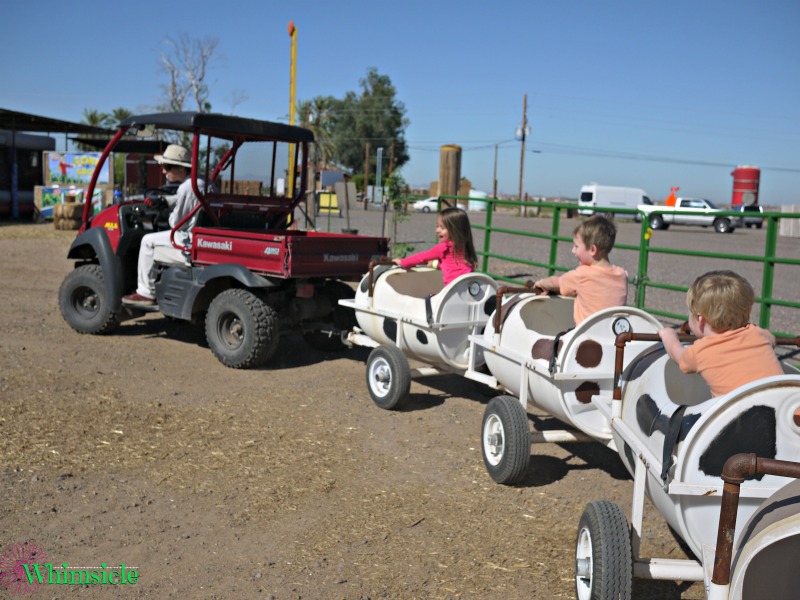 I have visited Vertuccio in the past, but something I was so pleased to find were new attractions. It's always nice to have one or two new, exciting things to look forward to each year. These "pony" rides were new for us and so fun. The kids burned off energy "riding" the ponies while us mamas watched them topple over…and crash into each other… and run over the babies (sigh).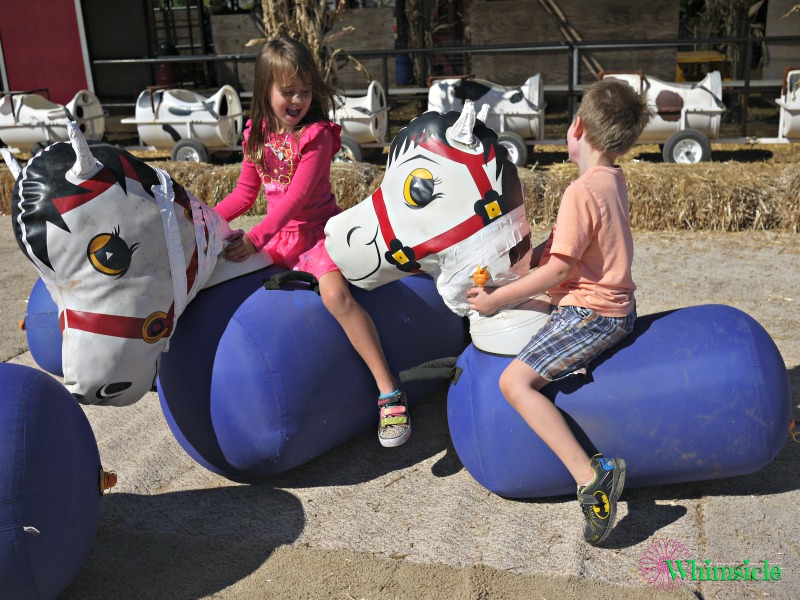 The Farm Animals area is the perfect size for our youngsters. There are enough animals to look at and feed, but not to many too be overwhelmed. The turkey took a liking to our kids. Every time he bellowed his turkey gobble, the kids screamed and giggled. We must have spent at least 10 minutes staring at the turkey.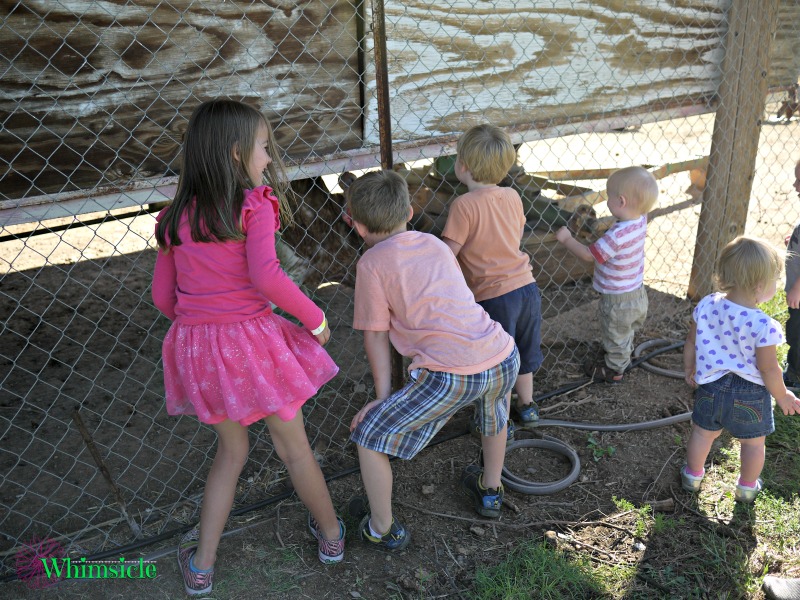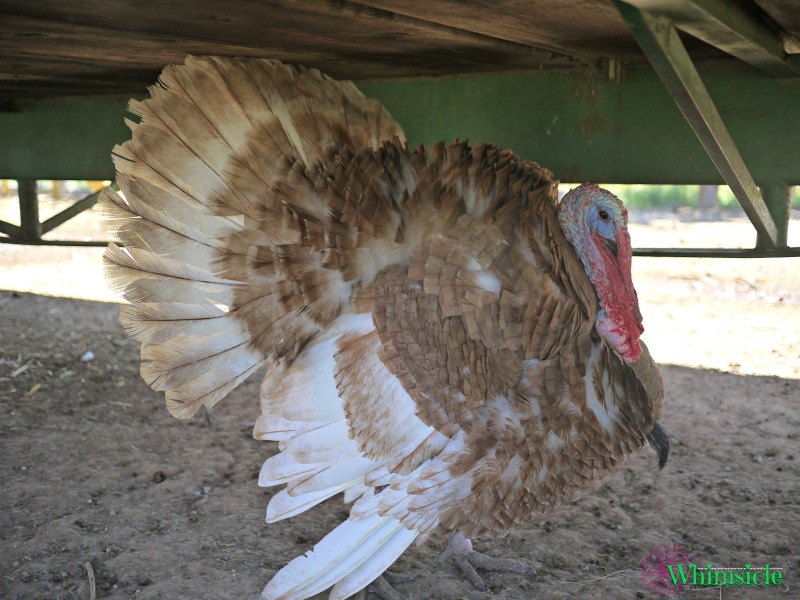 Surprisingly, pumpkin basketball kept Llama and Biggie entertained while JoAnn and I wrangled up the babies and distributed snacks and drinks. The seasonal details such as a pumpkin back board and orange basketballs are the simple things that stick in my mind about Vertuccio. Nothing is too small to be overlooked as part of the full farm experience.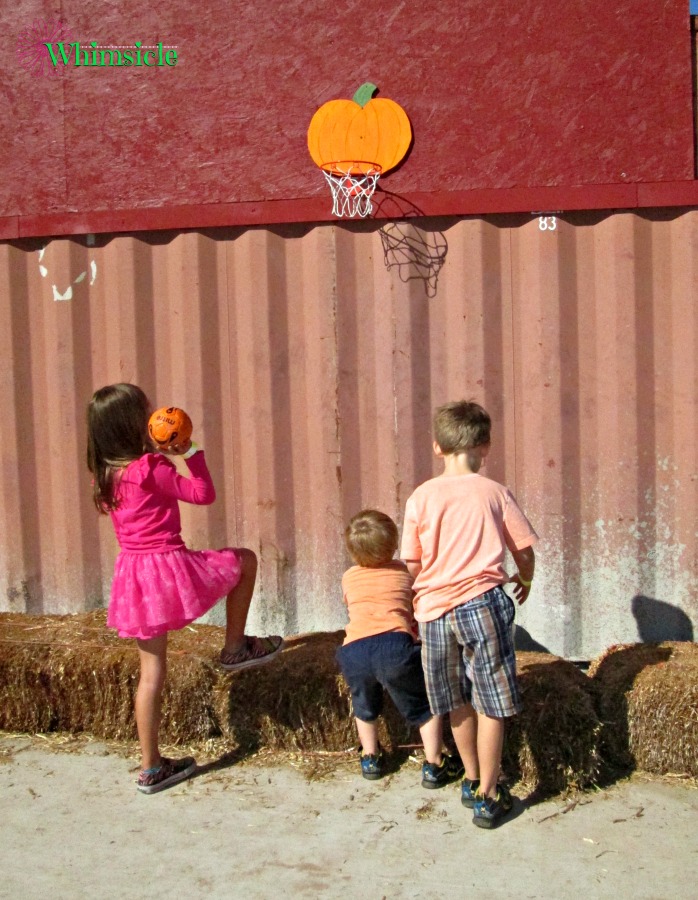 We had never seen these water pumps before, but they made for a nice refreshing break from the sun. Biggie put the ducks in his row and pumped the water continuously to get them across.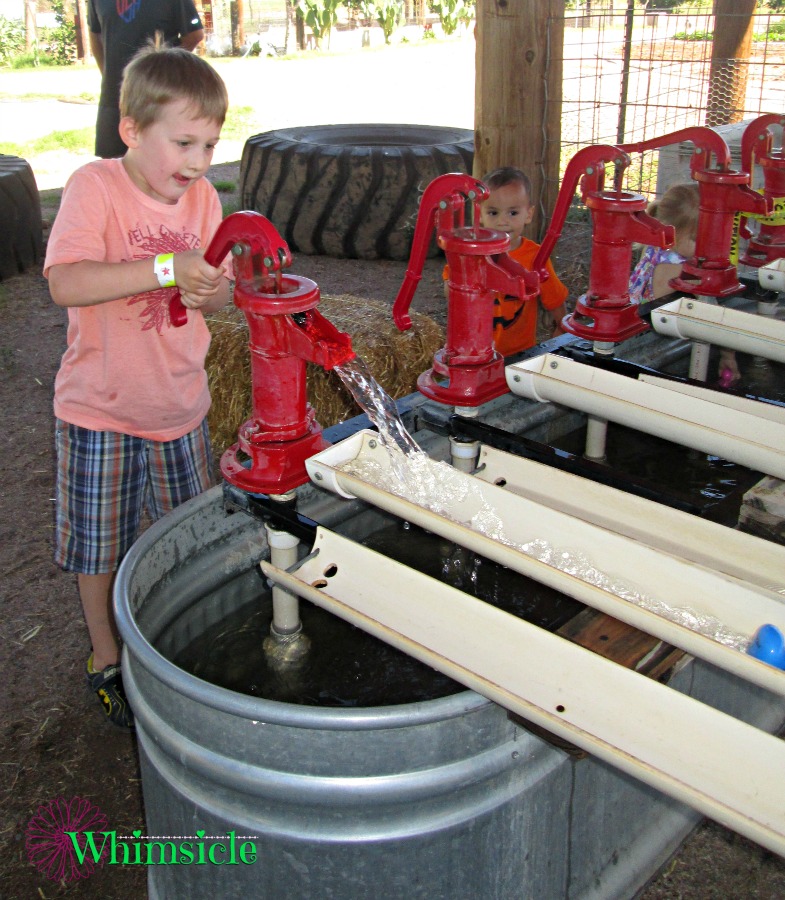 On your way out, don't forget to pick up a pumpkin. They range from small for $1.00 and go up in price as the pumpkin goes up in size. From past experience, these are pumpkins worth the money. They have lasted days after carving and I definitely plan on picking them up on our next visit. They also sell hay bales for $12 and corn stalks for $6.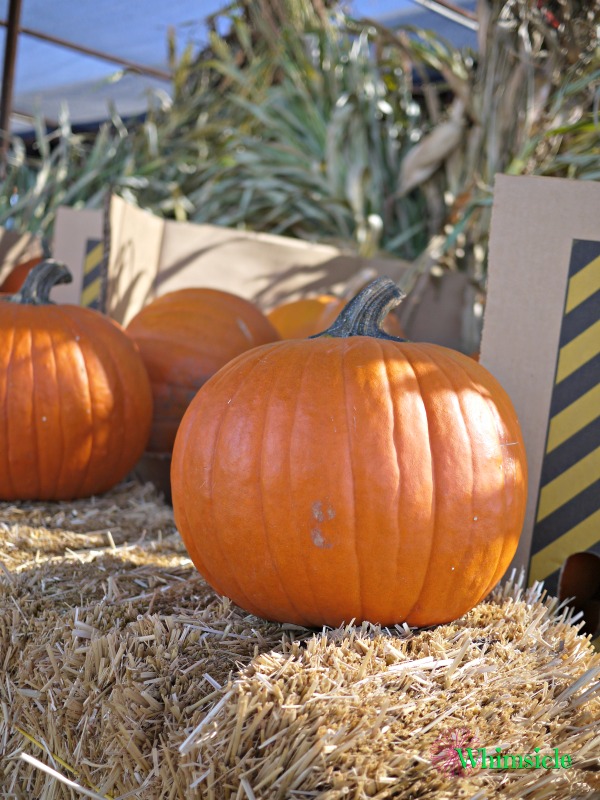 An awesome NEW feature at Vertuccio Farms is their "Tuesday Toddlers". Kids ages 3 and 4 are BOGO with their parent from 9am-3pm every Tuesday. If you are looking for something new to do a Vertuccio, check out their Mac Kid Day on Oct 15th from 9am-1pm. If you can't make it this year to fall festival, Vertuccio offers their Peach and Play experience in the spring.
Vertuccio Farms in located at 4011 S. Power Rd. Mesa, AZ 85212 and are open Monday-Thursday 9am-9pm ; Friday-Saturday 9am-10pm; Sunday 10am-6pm.
We had a wonderful time playing at the farm! Vertuccio Farms and Whimsicle want to give you and your family the opportunity to play as well!
Enter to win 4 PASSES to Fall Festival at Vertuccio Farms!