Podcast Episode 128: How 15 Minutes Can Change Your Life with Cara Harvey
To-do lists. Are they a necessary evil?
How many times do you look at your to-do list at the end of the day and feel like a failure? Even though you have the best intentions, to-do lists always seem to get longer, not shorter.
Sometimes it's because your dog rummaged through the trash and cleaning that up took 20-minutes out of your work time.
Other times its because you budgeted 30-minutes to clean out your closet, but it ends up taking 3 hours!
The truth is: you can't bend time to your will and telling yourself that "you don't want it bad enough" brings on more shame than change.
That's why we are talking to our friend Cara Harvey about her new book The 15 Minute Formula and how to ditch the hustle mindset and instead create schedules, goals, and routines that fit into our busy lives – without the overwhelm or the burnout!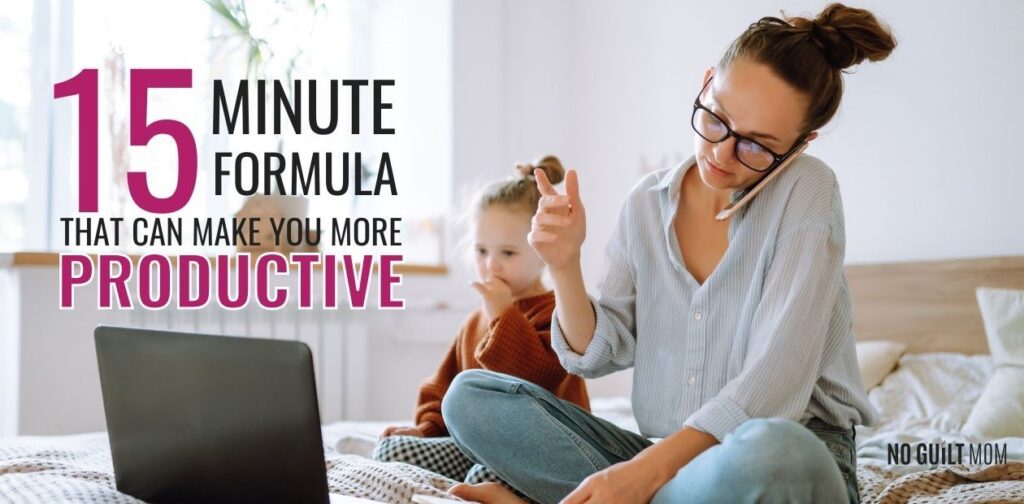 In this episode of the No Guilt Mom podcast you'll learn:
How the phrase "just prioritize it" is a disservice to moms
Why simply relying on our motivation to help us achieve our goals doesn't work
What are "micro priorities"
How can 15 minutes really change things for the better
Here's a glance at this episode…
[8:59] Learn, Plan and Do and why it's better than to-do lists
[12:51] Finding your 3 things to focus on
[14:27] ] How 15 minutes gives you traction
[19:56] The Microwave Minute and how it helps you manage your time as a mom
Resources We Shared In This Episode:
The 15 Minute Formula: How Busy Moms Can Ditch the Guilt, Say Yes to What Matters, and Conquer Their Goals by Cara Harvey
Cara Harvey's A Purpose Driven Mom
A Purpose Driven Mom Podcast Episode 51-Helping Your Kids Become More Independent with JoAnn Crohn
Sibling Adventure Missions The Sibling Adventure Missions are 14 fun missions for siblings to do together. Each mission starts with video instructions that introduce kids to the mission and helpful hints to guide them though.
Calm & Happy Parenting Time to get your kids to listen and help out more without the fighting! This is your complete solution to shift the responsibility of "doing everything for everyone" to your family and to give you the kind of relationship you want with your kids and the entire family!
No Guilt Mom YouTube Channel Check us out and subscribe to be notified every time we have new videos added for parents and kids!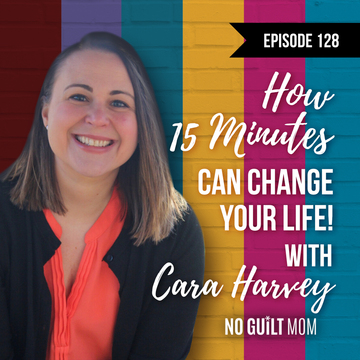 Don't forget to Rate & Review the podcast!
We'd love to hear your thoughts on the podcast! If you could take a moment to Rate & Review the No Guilt Mom Podcast on Apple here we'd be so grateful!
Check out our latest podcast episodes here!