How to get family to help around the house (when they've been doing nothing)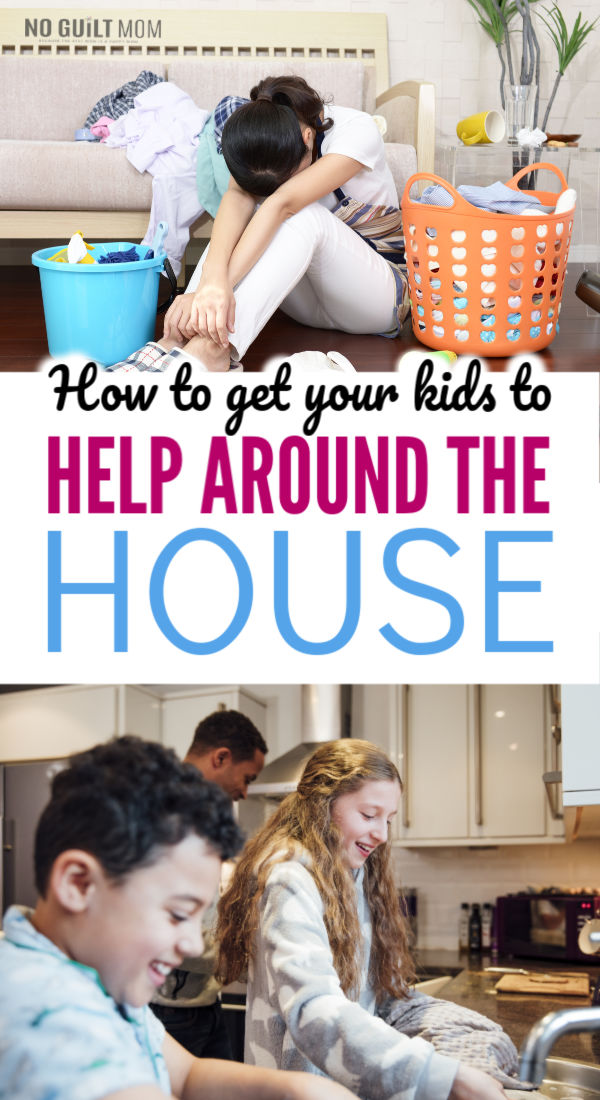 Picture this.
You come home to dishes piled on the counter, your child's clothes hamper overflowing with dirty clothes and the dog staring at you. telepathically trying to tell you she's hungry.
No one else in your family seems to see it.
Your kids happily walk in after school, throw their stuff on the floor and think that the magical cleaning fairy somehow cleans it up.
Why can't anyone in your family take the initiative to clean up but you?
I get that. I've felt that.
It's not like you haven't tried either. You've tried the pretty chore charts. You even offered to pay them!
But, nothing's worked.
You may have been making the same mistake I was…
Read: I let my kids get away with not doing household chores and its going to change
Change happens in little bits
I expected too much, too soon.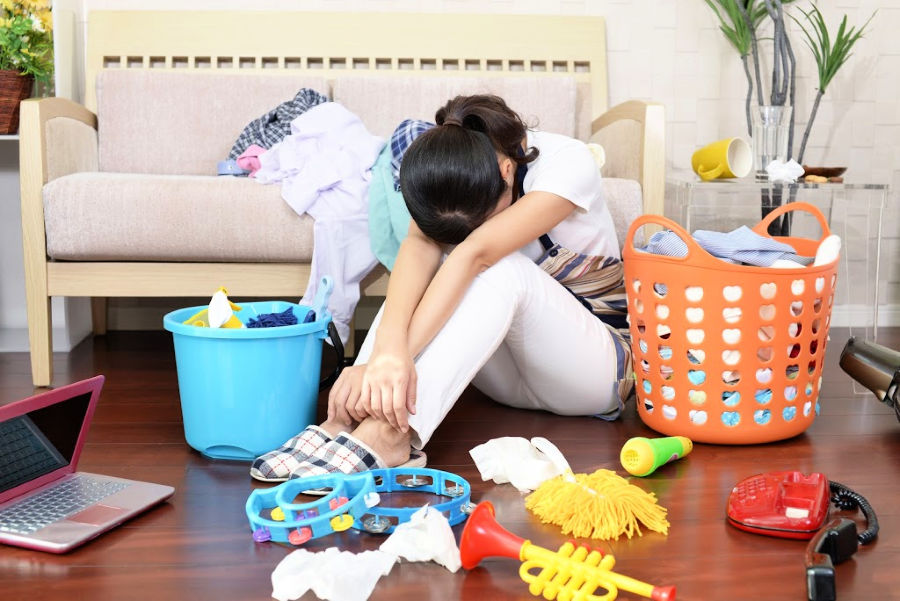 I thought that if I put that multi-colored chore chart up for the 10 chores that I wanted my kids to do around the house, then my kids would check it off and do it.
What I didn't expect was how much pushback I would get:
How many fights my son would start with his sister.
The ways my kids would feign incompetence and tell me how much help they needed.
It was overwhelming for me, so I quit the chore charts thinking that it would just be easier to do all this myself.
You don't have to do it all yourself.
Here's how we turned the chore game around in our house and how you can do the same in yours.
Read: Get Kids to do Chores: 5 Ways to Respond When They Don't Want To
Pick ONE chore you want them to take over right away
For us, it was loading and unloading the dishwasher.
Oh… that dishwasher. Such drama.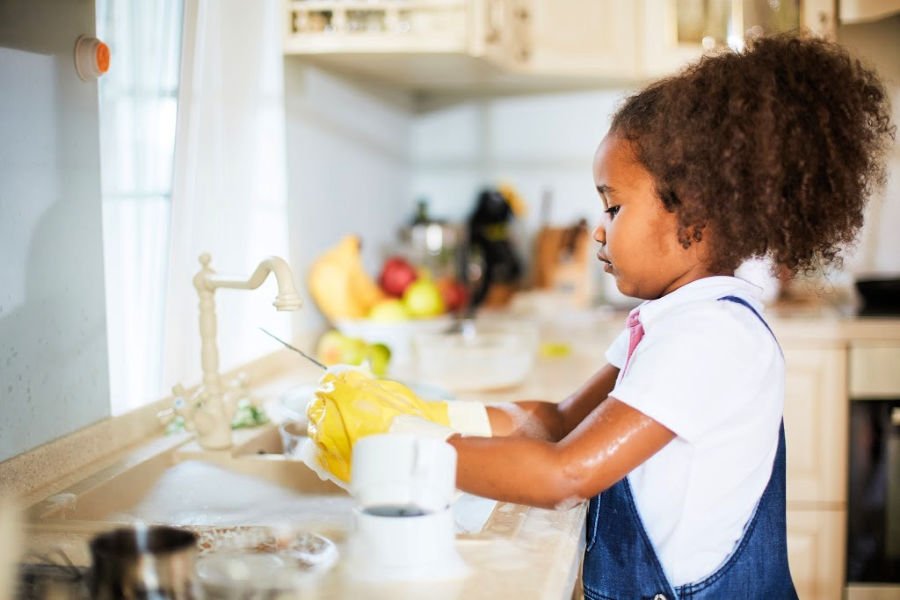 Once you choose the one chore, tell your kids WHY you need the help.
My reasons are:
I want them to know how to load and unload the dishwasher. When they're on their own, its a task they'll need to do themselves.
We belong to a family and we help each other out.
Write that chore in a visible place
The huge benefit of starting with a single chore is that It's much easier to hold your kids accountable for it.
At the end of the day, my brainpower is maxed out. One chore is all I can remember.
So, I take that one chore, write it on our chore board and point when I no longer want to form coherent sentences.
Oh, yes… here is our chore boards.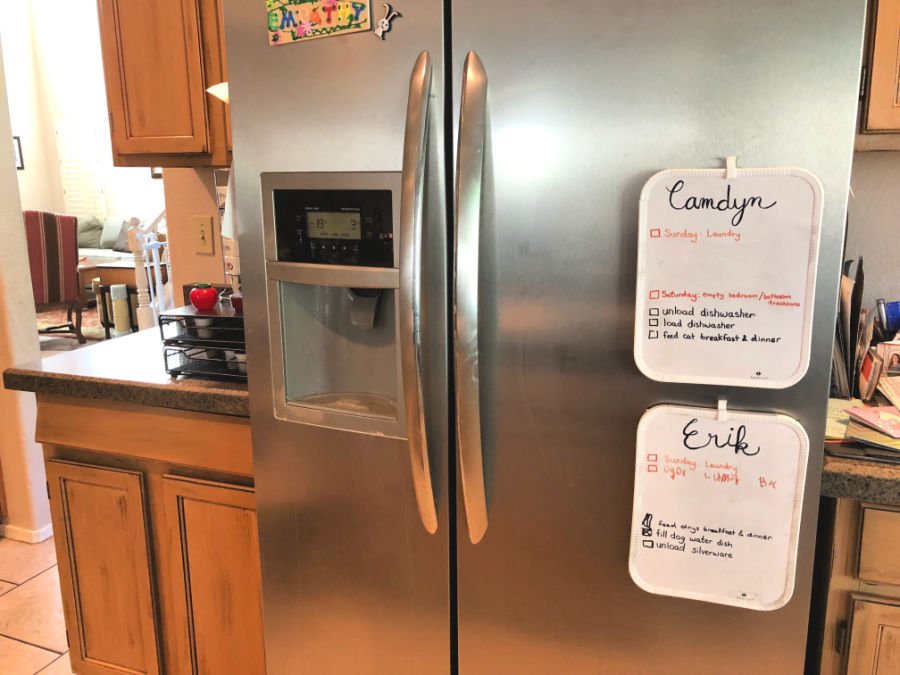 FYI: This post contains affiliate links to products I love and recommend.  It costs you nothing extra if you purchase through my link, but I may get a small commission
They are not "aesthetically pleasing" or multi-colored. They're simply magnetic whiteboards – one for each child- that hang on our fridge.
Everything permanent on the boards I've written in sharpie. It does require a touch-up occasionally because sharpie erases when dry-erase marker writes over it and then you erase.
(Seriously, it's freaky… try it out.)
We started with one chore and added to the list when they mastered that one task.
This chore chart has been up for 4 months and you may notice it doesn't have too many chores on it.
That's ok.
I ask my kids to do little things all the time.
But these are the chores that I make my kids personally responsible for. I back off of these chores.
Once you have that one chore written down, you need to teach them to do it.  First…
Do the chore for them.
I wish that I could tell my kids to do something and they would magically do it perfectly. But no, kids need to be taught each task step-by-step.
Because you have high expectations and you want them to reach those.
Once you introduce the chore, do it and narrate your actions with a play-by-play as they watch
For instance, while unloading the dishwasher say, "first I unload the top rack. I like to stack all the tupperware containers before I go to the cabinet to put them away because it saves me a trip and I can get it done faster."
Super droll stuff. You're imparting your wisdom as best you can and showing how you expect the job to be done.
Will they listen to it all and do it perfectly from then on?
Nope. But, that's why this is a process.
If your kids are anything like mine, you'll hear:
"Mom, we know, we can just do it"
And then they'll do it completely sloppy and wrong.
Stick with going through the whole task and explaining it. Encourage them to ask you questions. Because this is the last time you will EVER do this job alone while they're still at home.
Read: You Can Stop Rewarding Kids for Chores
Watch them as they do it
Now that you've explained it, It's time for them to take over.
Watch them as they unload the dishwasher. Tell them everything they're doing right during the unloading. Offer mostly praise throughout the task.
When they finish, stick to only one suggestion on how to improve next time.
Keep it positive and you'll have an easier time getting your kids to pick up the job.
Watch them a few more times while offering positive comments and then…
Let them free
The job is theirs. Now you back off…
But, oh… this is not the easy part. This is the most difficult step. Because we as parents don't like letting go. We'll still want to offer suggestions, tell our kids how to do it and be involved every step of the way.
We can't do this.
They are not going to be perfect at this job.
Dishes are going to drop on the floor and break.
Siblings will fight and hit each over as they fight over whose turn it is to put the silverware away
When I taught my kids the dishes, it took 3-4 months to get the job drama-free.
According to child psychologists William Stixrund, PhD, and Ned Johnson, authors of The Self Driven Child, many parents mistakingly think that once they release responsibility it will be smooth sailing.
It's not.
There will be an adjustment period where it feels like this will never work and you'll be fighting about chores for the rest of your life.
But, here's the thing. As soon as you assign it to them as their responsibility, you refuse to fight.
Let me say that again, refuse to fight your kids.
When they moan about having to do chores, simply empathize. Say,
"I know how you feel. Dishes aren't fun for me either. But we need clean dishes"
Bring out your stubborn side
You'll need to enforce the chore.
The trick is making the chore a priority over anything else they want to do while keeping it positive.
Impossible, you say?
Here's how you do it.
Approach it from the philosophy that you're on your kids' side. You want them to have fun and enjoy themselves…once they do their chores.
If they want to go to invite a friend over, "Absolutely! Once the dishes are done."
If they want to have screen time, "Oh… the dishes are still sitting out. After those are clear, sure."
If they want your help with a task, "Sure! Once the dishes are done, I'll be right there."
Simply agree to everything (within reason), but add that little stipulation.
Read: The Secret to Get Kids to Pick Up After Themselves
You no longer have to do all the housework
Those dishes on the counter? That's now your kids' responsibility.
Laundry piling up? It's your childrens' job to make sure it gets in the washer.
How much stress does that alleviate from you right now? It's going to happen.
Once you choose one chore, post it visibly, teach your kids how to do it and keep them accountable, you'll finally get your family to help around the house.
Title:
How to get family to help around the house (when they've been doing nothing)
Keywords:
get family to help around the house
Last Updated:
December 12, 2022