It's OK you pushed your child down the waterslide: Encouraging a growth mindset in your kids
We doubt ourselves as parents.  Yes, you may be feeling quite guilty for forcing your child to do something she didn't want to do.  But here's why its actually good for her and encourages her growth mindset.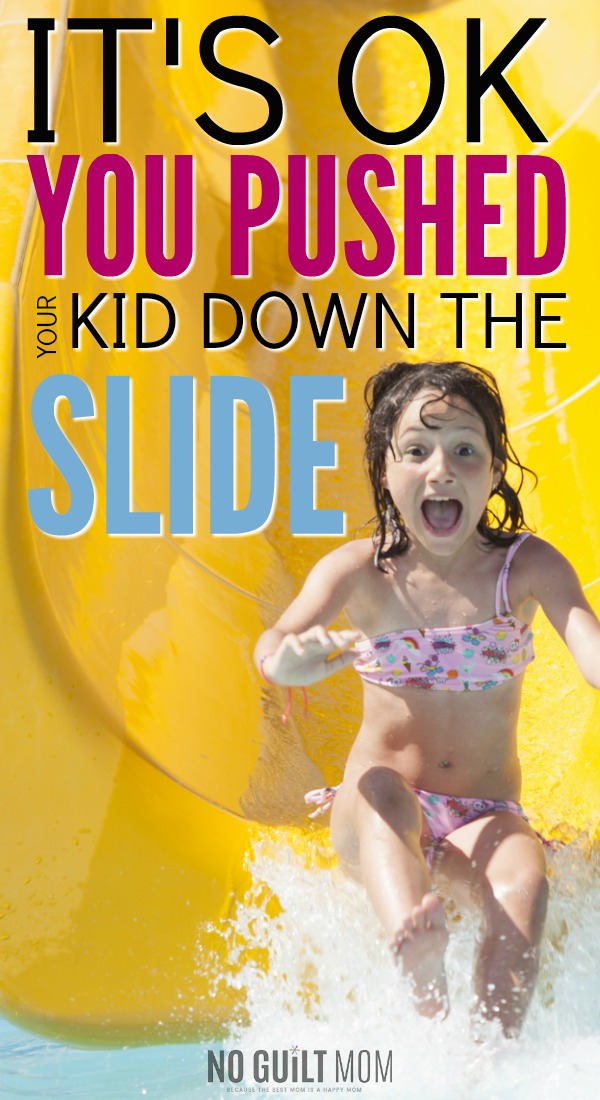 My eight-year-old daughter looked up at me. She frowned and clung to my side.
"Mom, I don't want to do it."
We were at the top of one of the waterslides at the Sunsplash Waterpark here in Phoenix. It was a pretty tame slide, but super high.
The largest waterslide she had attempted before this one was the two-story one at our local pool.
This one – The Hurricane -was easily six-stories.
She had talked about going to Sunsplash for weeks. The ticket for a day admission was $30 per person.  And she wouldn't go down this first slide?!?
At first, I reacted as any rational mom would.
I tried to console her.
"It's OK. Let's just try it."
"NO!" her voice rose, "I don't want to."
Then, I got mad:
"We paid to come here! All your friends are here! And you won't go down this first slide?"
No… mad wasn't helping.
Deep breath.
I went to empathizing. "Ok… I know you're scared. This is the biggest waterslide you have ever been on. But, I'm going down with you and we've picked the slowest one."
And then, the kicker: "If you don't do this now, I promise you will regret it later. You'll see both of your friends having fun and talking about this tomorrow and you'll feel horrible that you didn't try it."
"Just. Try. It."
"Ok," she agreed.
We plopped our two-person raft down in the launch area and settled into the round holes.
"Mom, I'm scared. I don't want to go."
And I shoved off…
On the 30-second ride down, I tensed. Oh my gosh, she is going to hate me at the bottom. I'm the worst mother in the world. She's never going to trust me again.
The waterslide spit us out into the 4-feet deep pool.
Here it comes.
"That was fun! Let's do it again!"
Ummm, what? You were just crying at the top of that slide, begging me to go home and now…
Nevermind.  I'll take it.
Related: How to Motivate Your Child: THIS is why nothing else has worked
What happened?
Thomas Fuller once said, "All things are difficult before they are easy"
The worst thing that we can do as parents is to let our kids give up before they even try.
That's exactly what my daughter wanted to do.
Yes, the waterslide was big, scary and might go very fast.
But, she needed to try it.
Encouraging the growth mindset in kids
FYI: This post contains affiliate links to products I love and recommend.  It costs you nothing extra if you purchase through my link, but I may get a small commission.
Legendary researcher, Carol Dweck, found that there are two types of mindsets in the world: the fixed mindset and the growth mindset.
People with the fixed mindset believe that the qualities they have now never change. They think there is NO WAY they can improve their intelligence, their abilities… or in this case, their bravery.
However, people with the growth mindset think that everything can be improved.
Yes, you can still fail, but failures show an opportunity for growth rather than a definition of one's own abilities.
The good news is that mindset can be changed.
As my daughter stood at the top of that waterslide, I saw her doubting herself. She wasn't willing to take the risk of going down the slide and being completely petrified.
But, that's the only way to change your abilities. You need to take risks.
We as parents know the difference between safe risks and dangerous ones.
Going down the waterslide is a pretty safe risk in my book, so I pushed us down. With that one risk, my daughter's perception of her own courage changed.
What happens when we encourage risks
After that slide, we went on to ride just about every attraction in the waterpark.
But, I had no idea the impact my one push had made until months later.
While in Tucson visiting my family – I, my husband, my sister and my daughter went ziplining.
The course was five lines in all with the last one being one doozy of a ride- jumping off a large tower and then speeding 65 mph toward the finish.
My husband and daughter went after my sister and me. I waited there at the finish, armed with my cell phone to capture the entire experience.
Would she jump?
She amazed many of the spectators. In fact, one 10-year-old boy in our group thought the last zipline was way too scary and opted for a van ride back to the end.
When I asked my daughter what made her jump, she told me:
"I was scared. But, I knew that I would regret it if I didn't do it."
It is more than OK to push your child into doing scary things. Not only does it encourage the development of the growth mindset within them but it also opens up a whole new world of adventure.
You're doing great, mama.
Title:
It's OK you pushed your child down the waterslide: Encouraging a growth mindset in your kids
Keywords:
growth mindset kids
Last Updated:
April 16, 2018