I like to menu plan. Scratch that. I don't LIKE to menu plan, but I feel it is the only way I can keep myself and my family eating healthy as well as not go crazy trying to make meal decisions mid-week. My daughter tends to eat more (and complain less) if she gets input in the meal planning process. So, I created a chalkboard menu that we can use, as a family, to plan meals.
See the simple instructions on how to create this fabulous menu board at East Valley Mom's Blog.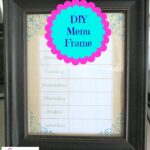 If you are not a crafter, check out our printable menu.