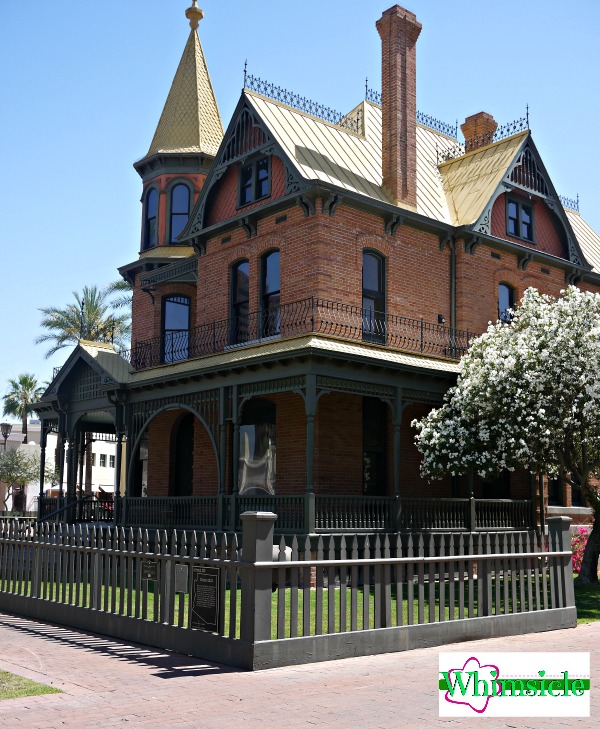 Llama and I are perusing the available Culture Passes at the library. "Mommy, I want to go to the Rosson House."
Why she chose it, I don't know. But, I don't ask questions. I grab the Rosson House card from it's slot and head to the information desk to obtain our two free admissions.
The Rosson House is located in Heritage Park in downtown Phoenix, right near the Arizona Science Center and Pizzaria Bianco. When you arrive, I recommend that you park in the garage off Monroe Street. Your jaw may drop when you see that the price is $13 an hour. Pick your jaw up off the floor because the Rosson House validates and I only paid $1 when I exited the garage an hour and a half later.
We checked into our tour at the gift shop located in the old carriage house next door to the 1895 Victorian manor. We didn't need any reservations. Tours leave every hour, so I recommend arriving about 10 mimutes before the hour to make sure that you don't miss it.

This buggy belonged to the first owner of the house and namesake, Dr. Rosson. When the house was built in 1895, Arizona was not yet a state, only a territory. Dr. Rosson had large political ambitions and needed a house to entertain wealthy donors so he built this Victorian mansion. When the Rossons' eventually moved away, a bar owner bought it and turned it into a boarding house. He divided some of the rooms into fourths so that he could collect 4 separate boarder's rents. The city of Phoenix eventually took it over and restored it into the museum it is today – educating everyone who walks through its doors of the lifestyle these wealthy Arizonans led in the Victorian era.
Our tour started in the foyer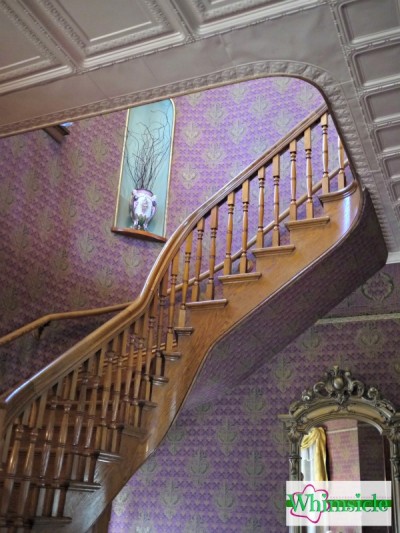 I put my son, Dude, in the Baby Bjorn for this tour because the website advised against strollers. Looking at that staircase, I can see why. The little alcove that the vase sits in has an official name – the coffin notch. In the late-eighteen, early-nineteen hundreds, death was a pretty common thing due to all the horrible diseases that ran rampant. Families used to keep coffins in the attic to be brought down anytime a family member died. That notch was built into the staircase to provide coffin clearance.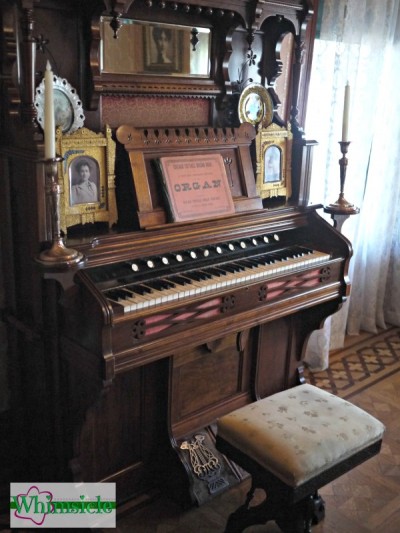 This organ sits in the parlor of the home. We were told by our guide that the parlor was where families would typically hold viewings of a loved one after they died (lots of talk of death on this tour). After this era, people wanted to disassociate the parlor with death so they changed the name of the parlor to the living room. Interesting bit of trivia that could come in handy later on Jeopardy.
Our tour took us through the house, room by room, with our guide explaining what the family used each room for as well as the kind of activities they kept busy with. My daughter's favorite room was the doctor's office where we saw a display of early 20th century medical instruments.
The tour ended with a special exhibition of Victorian undergarments – cheekily titled: "Victorian Secrets." It was here that my daughter heard about corsets for the first time. I could tell she was a little distrurbed. During our car ride home, she asked, "Mommy, did they have to wear those things?"
"That's just what they did then," I replied.
"No. But did they have to??"
"It wasn't a rule. But everyone did it."
She sat back and pondered that one.
Now, whenever she tells someone about the Rosson House, she always mentions the women who wanted a 17 inch waist. Also, that when we all die, they're going to turn our house into a museum and people are going to tour it.
Llama loved the Rosson House. Dude… not so much. The tour lasts about 45-minutes and there is a lot of talking, so I don't recommend it for very young children. Elementary school age and up should like it though.
For more information on the Rosson House, visit the website: Rosson House Museum