How to Keep Your Sanity in the Summer Heat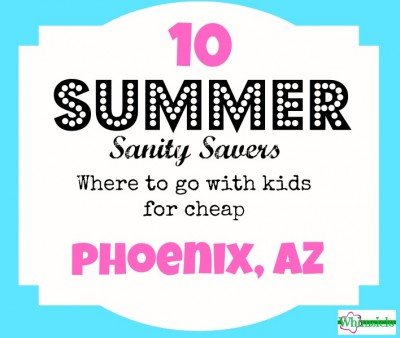 Here in AZ, we get cabin fever in the summer. It's too hot to venture outdoors, so we all hibernate in our little air-conditioned cocoons from June until the end of the September. Unfortunately, this coincides with school summer break and kids get a little stir-crazy when kept indoors for too long. Scratch that, parents go crazy when kids stay indoors for too long.
So how do you keep sane and not transform into a stress-laden, screaming monster? Also, where do you go without melting? We have ten places to visit where you need no reservations or advance planning.
Barefoot Starbucks Drive Thru
Most Starbucks have drive-thrus now which is the most excellent invention ever. My kids and I add a little something extra to the trip by not wearing any shoes, getting in the car and bringing along the dog. Llama usually orders a chocolate milk in the box while I calm my nerves with an Iced Grande Caramel Machiatto. Dude is happy if we give him a straw to play with. Starbucks also gives dogs a little something as well. Many locations have dog biscuits at the drive thru window or they may offer to make your four-legged-family member a '"Puppiccino"- whipped cream in a cup. Not all staff members use that name for it though, but if you ask for whipped cream in a cup for the pup, they will usually happily oblige.
Visit A Fast Food Playground
Just because you go to a fast food playground, doesn't mean that you need to feed your kids fast food. McDonald's has a great coffee drink and smoothie selection. Think of it as getting a nice drink for yourself (unfortunately, no alcohol), sitting peacefully, and watching your kids play on a gigantic, indoor playground. Many of these restaurants also have free wi-fi
Go to the Library
Libraries are pretty underrated these days. The Sunset branch of the Chandler library has a fantastic kid's section with touch-screen computers and a small play area for itty-bitties. Plus, this area also features comfy chairs that I have seen parents kicking back in, reading the library's free selection of magazines while their kids are happily entertained. The library also hosts a ton of cool free activities – everything from puppet theater to science experiments. Check the website for more details.
Go to the Public Pool
Public pools have upgraded since I was a kid. The Hamilton Aquatic Center features two water slides, beach entry, lazy river, diving boards and a kid's playground in the water! Many other pools have splash pads built into the facility. At only $2.25 for adult admission, Kids over 2 cost $1 and kids under 2 being free, the public pool has become quite the deal. Kiwanis Park has a wave pool and is indoors ($7 for adults, $5 for kids)! I recommend going between 1pm and 2pm. That seems to be many family's nap time so the pool isn't quite as busy.
Check out the mall
Chandler Fashion Square has a playground for those under 45 inches tall complete with a baby section for the little ones. There is also an indoor train and mini coin-operated merry-go-round. You can also go visit the animals at the Petfinder center. The Disney store has a free kids giveaway every weekday at 2pm. Barnes and Noble hosts Storytime on Fridays at 10:30AM. National Geographic Kids club is Wednesdays at 10:00AM and every Wednesday at 3:30PM your kids can get free cookies, milk and a craft at Wildflower Bakery. If no event is occurring at the time of your visit, the mall also provides very good people watching.
Get some shopping done
Grocery shopping still need to be completed? Pile your kids into a car cart and have them come along for the ride. Many grocery stores have these carts available, although you may need to search for them. I've trekked across my fair share of parking lots to grab one of these wonders. Home Depot even has car carts if you are home improvement inclined. Also, the Frys on Ray and Ranch Circle in Ahwatukee has a kids play area that is completely supervised. Meaning you can register your kiddos and have them play there while you shop! Megan often drops her kids off and sits in the Starbucks also located in the store. It is also free!


Catch a Morning Movie
Every morning at 9:45am, Harkins shows a kids movie from the previous year at an unbelievably cheap price. This summer, they are running "The Lego Movie," "Despicable Me 2," "Turbo," and many more! You can purchase a season pass or pay $2 a person for an individual movie. Check out Harkins Summer Movie Fun for more details.
Pizza and Games
The pizza isn't exactly gourmet, but the kids like it! Both Peter Piper Pizza and Chuck E. Cheese have abundant air conditioning and enough activities to keep kids happy. Chuck E. Cheese has an excellent check-in system that prevents kids from leaving the facility without a parent. Peter Piper Pizza is hosting Summer Kids Days every Tuesday from 10AM to 12 Noon. For $5.49, kids get 2 slices of pizza, a 12 oz drink, five tokens and a make-and-take craft.
Visit a local museum
We have so many amazing museums in the valley with a ton of special exhibitions happening this summer. Heard Museum has a Lego exhibit right now with a ton of opportunities for hands-on fun. The Children's Museum contains a giant play structure and a multitude of other special interest rooms. Arizona Science Center hosts a ton of amazing science activities plus it's special exhibition on Mummies. Phoenix Art Museum includes a lot of cool kid's activities and has a Hollywood Costume exhibition currently. The best part? All of these museums have a Culture Pass available at your local library. I cheat a little on this one, because a Culture pass does require a little advance planning… not much though! A Culture Pass gives you two free admissions per library card. You are only allowed to check out one culture pass a week and I recommend getting to the library when it opens to get the best selection. Also, some of the special exhibitions are not available on the Culture Pass and require an extra fee.
Here's to keeping your sanity for the rest of the summer!
What summer activities do you recommend to beat the summer heat?
Title:
How to Keep Your Sanity in the Summer Heat
Last Updated:
December 3, 2015