Sometimes as a parent, you just have to laugh.
I mean, no one ever wants to believe that there will be a day where they are trying to figure out if that's poop or chocolate on their shirt! But that's a hard mom humor truth!
And it's why all moms need to laugh!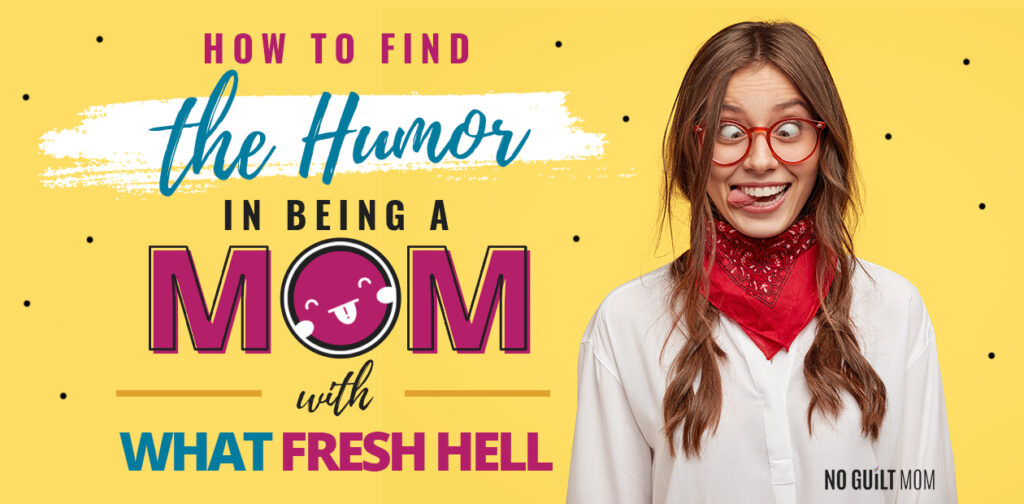 Licensed marriage and family therapist Katie Ziskind says, "Laughing with others has physical and emotional benefits. It releases endorphins and hormones like oxytocin that reduce stress and improve connection." She goes on to add, "Parents need to be able to laugh at themselves to let go and not take life too seriously. If a parent gets overwhelmed and anxious, their child will also take on this anxiety and [become] overwhelmed. If you can laugh at yourself as a parent, you and your child will be much better off!"
That is so true!
Today we welcome Amy Wilson and Margaret Ables, the co-hosts of What Fresh Hell podcast. They're two moms with tons of experience in comedy. Amy wrote a bestselling parenting book, toured the country with a one-woman show called Mother Load, and was a series regular on several sitcoms. Margaret started out in standup, wrote for PBS Kids and MTV, and became a senior writer for Nickelodeon's "Nick Mom." Along the way, they also each became mothers of three children, now aged 8 to 18. Amy likes to use timers to get things done, time blocks, likes spinning and barre and yoga. Margaret can't meal plan and gets overwhelmed cleaning.
We chat about the importance of finding the humor in being a mom, how to deal with the drama queen kiddo, as well as what advice they have for moms struggling to get through the nitty gritty days in motherhood.
Do you listen to the No Guilt Mom podcast on Apple Podcasts?
If so, can you be so kind to leave us an honest review while you're there? We hope that we deserve your ⭐️ ⭐️ ⭐️ ⭐️ ⭐️! Podcast reviews help more people find the No Guilt Mom podcast.
Plus, once you leave a review, email us at [email protected] and let us know. We'll send you a little goodie in the mail 👍 🤩 🥳 😁
If you need a little help with leaving a review, we made a super quick tutorial video to walk you through the steps!
Resources We Shared:
Download the Transcripts HERE
The best mom is a happy mom. To better take care of you, download our No Guilt Mom mindset here . These reminders will help you second guess less, and feel more confidence every day in your parenting.