Snack drawer to use immediately
On most school days, my daughter returns to me a "hangry" beast. The slightest mention of homework before she has a snack is likely to be met with crying and attitude. Now I keep a snack stash available where she can help herself and become a sane human being again. I keep one snack stash in the fridge and one in cupboard. I encourage her to take one from each. I usually keep: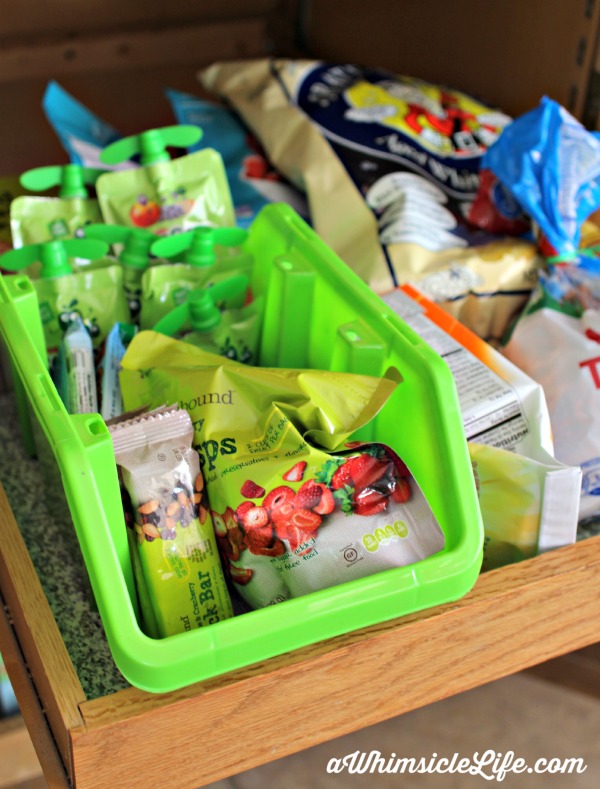 In the Cupboard
granola bars
trail mix
Pirates Booty
Pretzels
Gold Emblem Abound Freeze dried fruit from CVS
Gold Emblem Abound Snack bars from CVS
crackers
Squeezable apple sauce
In the fridge
string cheese
yogurt
clementines
apples
peanut butter
grapes
Use a timer
At the beginning, my daughter looked at her packet of homework and burst into tears. She insisted that it was too long, too hard and she could never finish it. We broke out the timer. I suggested,
"Here, we will set the timer for five minutes. You try to finish as much as you can in five minutes and then take a break. Sound good?"
Then, it becomes a competition. How much can she get done before the timer runs out? I just turned homework into a game. Muah haha.
Take frequent breaks
I suggest timing breaks so that they don't become all out free play. Simply say,
"Ok, let's set the timer and we can play for 5 minutes."
Some kids may have a very difficult time transitioning back to working and that's ok. My daughter did as well. When she got emotional, I simply stepped away while she laid her head on the table. In a few minutes, she picked up her head and got to work.
Use Short Assignments
If the homework still seems a little too daunting, I'll create short assignments for my daughter to complete. For instance, if she has a page of math, spelling and language arts, I say, "just do your spelling and then we can take a break." Or, if there are 10 problems for math, "circle the fifth problem and have your child work up to there, then take a break.
You can transition into this being a more independent activity by asking your child to make their own short goal. Ask them, "How much do you want to do before you take a break?" and have them create their own short assignment. Eventually, your child will be able to take this over.
Small rewards
At the beginning, homework was such a struggle that I offered little rewards for each small assignment my daughter finished. I chose fruit snacks. After each homework page, she got to eat one fruit snack. After a couple of months, she no longer needed the reward to stay motivated. Word of warning though, DON'T USE FRUIT SNACKS. Llama needed 12 cavities filled that year.
Now, let's organize your child to get the work done quickly!