When I was a teacher, I assigned kids homework and expected it finished the following day.  I honestly didn't know what a nightmare homework could be until my daughter started elementary school.
The crying.  The anger.  The emotions!  All over a couple of math problems?  What is this?!?
I used these 10 strategies in my house to stop our homework hassle.  Now after school, my daughter sits at the kitchen table and completes her homework. No drama.  Here's how we did it.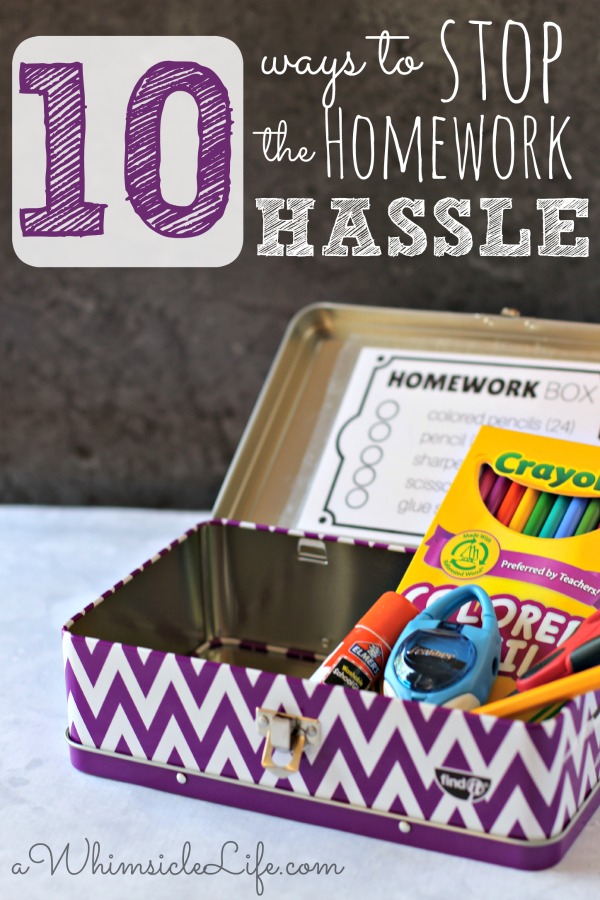 A big thank you to CVS Pharmacy for providing me the school supplies and some of the snacks seen in this post!
Agree on the terms
Kids crave routine and are able to better manage their emotions when they can easily predict the next activity.  Same with homework. In addition to your usual back to school routine, ask your child the following questions and come to a mutual agreement.
When do you want to do your homework?  Everyone is different.  My daughter likes to first have a snack and then start on her homework as soon as she comes from school.
Where do you want to do your homework? Designate a place.
Where do you want to keep your homework supplies? Agree on a specific drawer or shelf where your child can always find a pencil, colored pencils, and scissors.
Where will you put your homework when its done for me to check it? This was a problem for me.  My daughter would leave the table with the contents of her backpack exploded across it.  I had no idea where her homework was or that she was even finished with it.
Have a Distraction Free Homework Area
In our house, it is our kitchen table.  I find that it is central enough for me to help my second grade daughter when she needs it and yet close enough to toys and entertainment for my two year old son.  The most difficult part is keeping this area distraction free.  We can't turn on the TV, play with anything interesting, or do anything fun.  That's life with a six-year-old.  Instead, I pull out paper and crayons for my two-year-old son so can "do homework" too.
The next tip changed our after-school bad moods immediately!