Podcast Episode 135: How to Easily Teach Your Kids to Cook for the Entire Family with Katie Kimball
Cooking is one of those household tasks that never ends. Every day people need to eat. So why not teach your kids to cook?
Unless you are down with ordering takeout every single day or hiring a personal chef- other people in your household will eventually have to help with cooking at some point.
So why not get the kids involved with it right now? Teaching kids how to cook is not only an important life skill, but it teaches your kids so many other skills: math, reading, creativity, and the list goes on!
Plus, they can learn much younger than you probably thought!
In this podcast episode, we're joined by Katie Kimball, the national voice of healthy kids cooking, a two-time TEDx speaker, former teacher, mom of 4 kids, and founder of the Kids Cook Real Food eCourse that teaches kids of all ages how to cook! Her blog Kitchen Stewardship helps families stay healthy without going crazy, and she's on a mission to connect families around healthy food, raise critical thinking skills using the lab of curiosity that is the kitchen, and grow the Kids' Meal Revolution where every child learns to cook.
Katie takes away all those fears you have about teaching the kids to cook… your kitchen getting destroyed, eating nothing but mac and cheese for the foreseeable future, and (gulp) fingers getting cut! So listen up as we share our cooking stories and easy techniques that you can use to help your kids learn to cook for the entire family!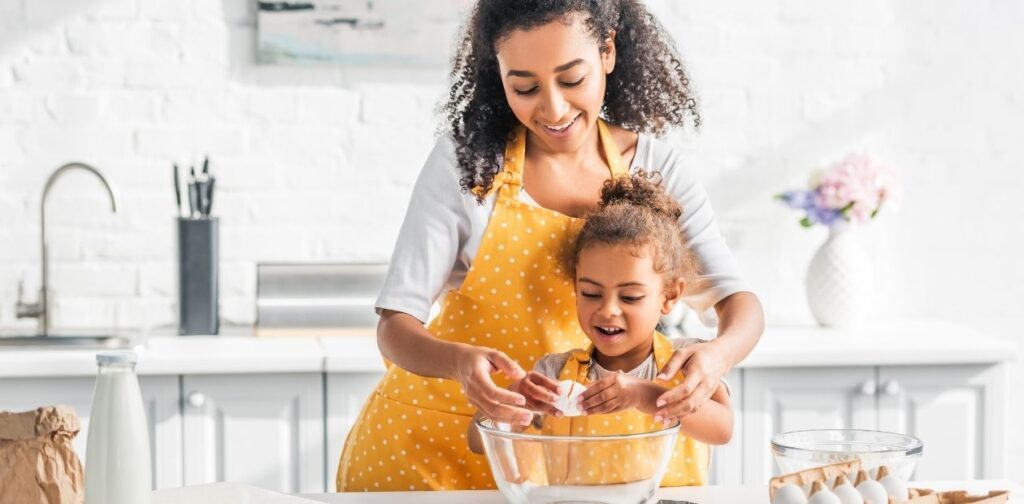 In this episode of the No Guilt Mom podcast you'll learn:
How cooking can actually help build your child's self-confidence.
What life skills can kids learn from cooking.
How to break down cooking so that it's less overwhelming (for you and your kids).
Letting your kids practice and fail at skills will build their independence.
At what age kids can be expected to cook an entire recipe.
What are the 3 "C"s that benefit the whole family when kids learn cooking
Here's a glance at this episode…
[9:57] Where to start off with cooking skills for your kids
[11:38] What a 3-year-old can do in the kitchen
[12:59] What Brie lit on fire as a kid
[13:43] The 3 Step Process for teaching cooking skills
[16:10] When to start your kids using knives
[21:59] How to get your kids to cook more than just grilled cheese
Resources We Shared In This Episode:
Calm & Happy Parenting – Time to get your kids to listen and help out more without the fighting! This is your complete solution to shift the responsibility of "doing everything for everyone" to your family and to give you the kind of relationship you want with your kids and the entire family!
LifeSkillsNow Summer Camp – Free Virtual Summer Camp June 13-17, 2022. Prepare your kids for life with solid skills for living that aren't taught in school!
Kids Cook Real Food– an on-demand e-course where we teach kids how to cook so your family can THRIVE with healthy food.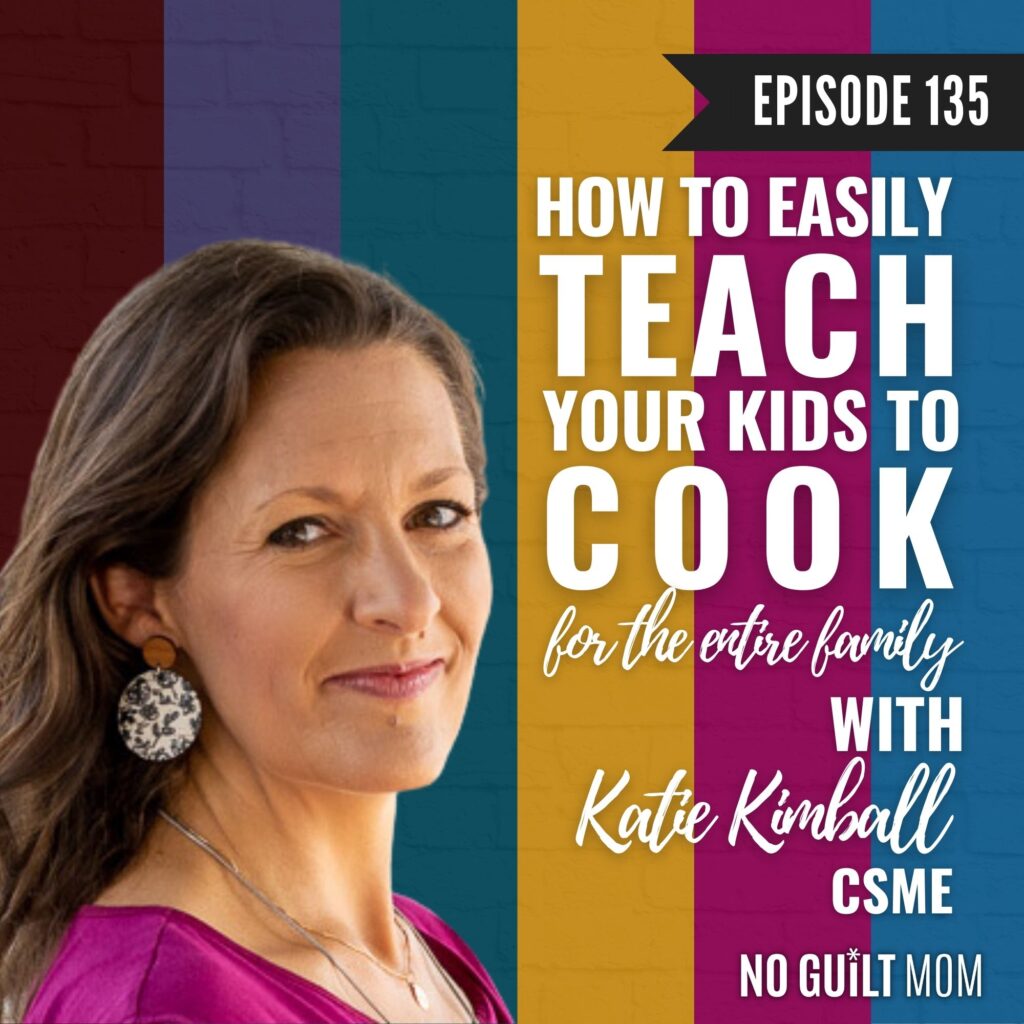 Don't forget to Rate & Review the podcast!
We'd love to hear your thoughts on the podcast! If you could take a moment to Rate & Review the No Guilt Mom Podcast on Apple here we'd be so grateful! Not sure how to do it? We got you covered! Check out this short video we made to show you how to leave a review.
Title:
Podcast Episode 135: How to Easily Teach Your Kids to Cook for the Entire Family with Katie Kimball
Mentions:
kids cooking, life skills, parents teaching life skills, Teach Kids to Cook, teaching kids to cook, when can my kids start cooking
Keywords:
teach kids to cook
Last Updated:
June 1, 2022