This shop has been compensated by Collective Bias, Inc. and its advertiser. All opinions are mine alone. #SendSweetness #CollectiveBias
Looking for the perfect gift for a friend this Valentines Day? Make a batch of these Chocolate Strawberry Butter Bars and show the special people in your life how much you appreciate them.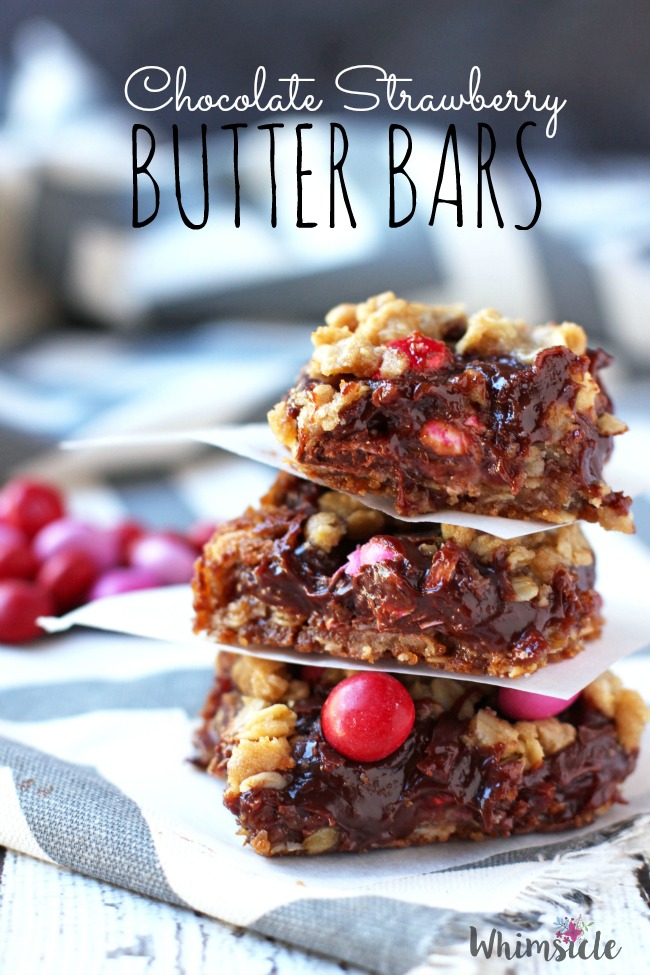 My friend Brie is awesome.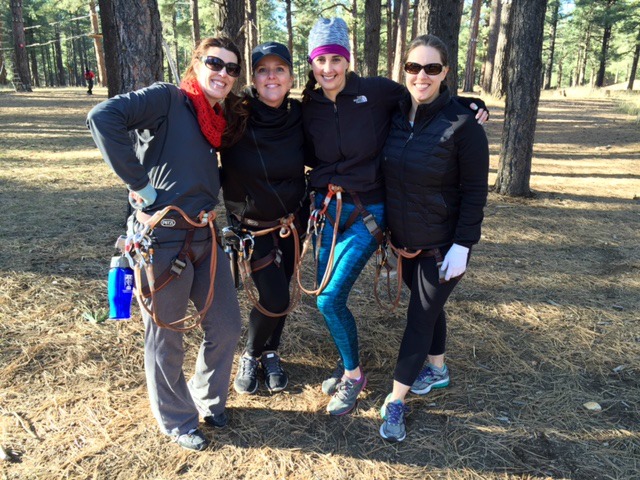 Brie is on the left in the orange scarf. We took this picture at the Flagstaff Extreme Adventure course on a girl's trip. A week after this picture, Brie and her husband went on a long-deserved date: ice skating. Fifteen minutes after lacing up, Brie tripped on her toe pick and shattered her knee cap.
Right down the center of the patella.
Brie is one of the most effervescent and helpful people I know. She usually volunteers for everything and offers to help others in every possible way. Because of this injury, she has been homebound for the past month. She can't drive nor can she even bend her leg to sit comfortably in the car.
I know it kills her.
I met Brie two years ago as we sat across from each other in Art Masterpiece guide training at our kids' school. Both of our daughters were in Kindergarten that year. Each month, the two of us came into the classroom and taught a class of eager 5-year-olds about art.
Throughout that year, Brie became one of my closest friends. We met with our kids at the park so that they could release some energy while we chatted. Now in second grade, our daughters are also besties.
Brie is one of my trusted circle. If my work schedule makes it tricky to pick up my daughter, Brie offers to get her from school.
When people say that "It takes a village to raise a child," Brie is a big part of my village.
Brie needs a pick me up this Valentine's Day. She deserves something decadent and loads of chocolate – because that aids in recovery, right?
Whenever I think Valentines Day and love, I think chocolate covered strawberries. These butter bars elevate the typical chocolate covered strawberry into an extremely decadent and indulgent morsel. And the best part, they feature a new M&M's® flavor: M&M's® Strawberry.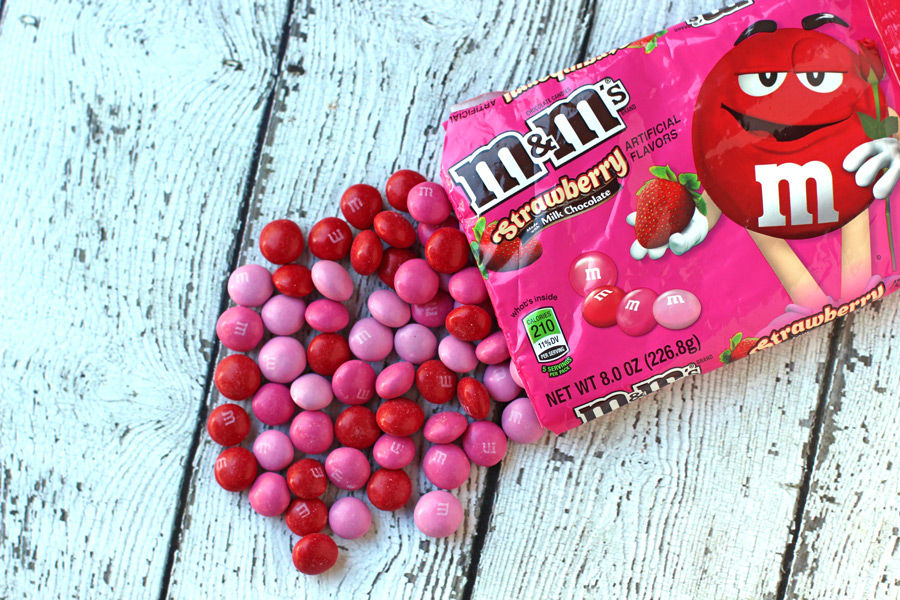 Making Chocolate Strawberry Butter Bars
These bars are beyond delicious! The gooey chocolate pairs with the crunch of M&M's® Strawberry and melts together with an indulgent butter cookie crust.
To make these, mix together melted butter, brown sugar and vanilla in a bowl and then add a mixture of flour, oats, and baking soda. Spread half of this mixture in an 8 X 8 casserole lined with parchment paper. Bake at 350 degrees for 8-10 minutes. Then let cool for 20 minutes.
While it's cooling, make the chocolate layer by melting a bag of chocolate chips with heavy cream.
Spread strawberry preserves over the cooled, baked cookie crust. Sprinkle with 1/4 cup M&M's® Strawberry.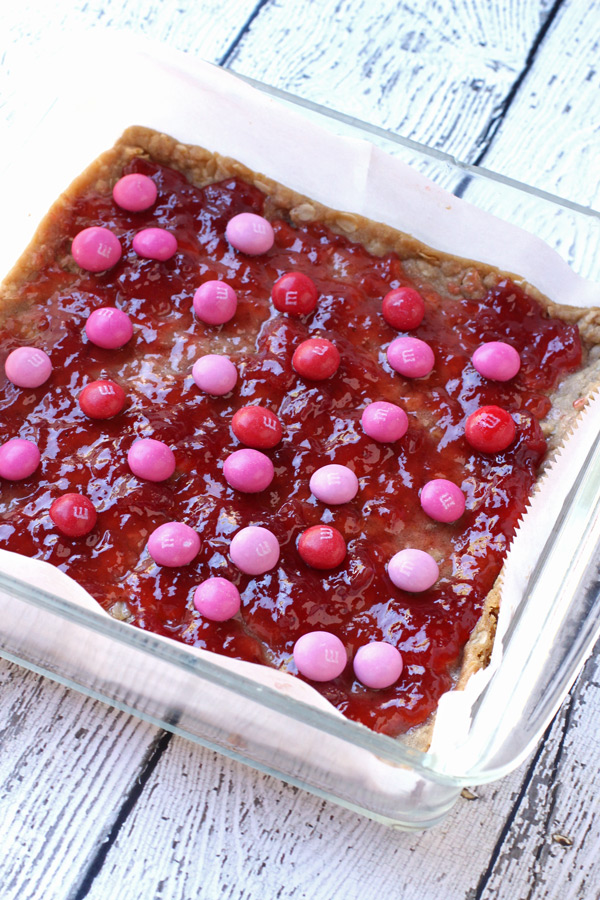 Pour the chocolate sauce over to cover the M&M's® on the crust.
Mix 2/3 cup M&M's® into the reserved flour mixture and sprinkle over the top.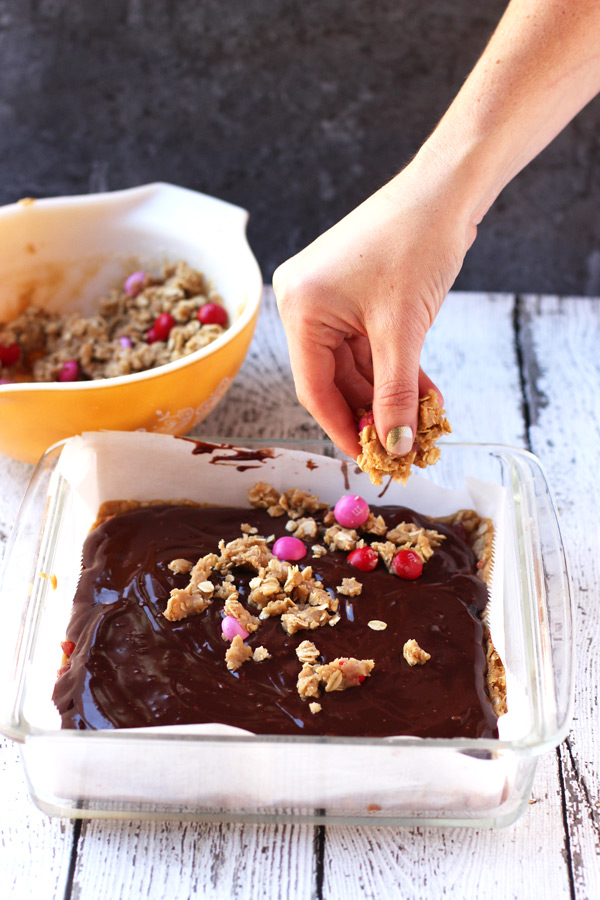 Bake for 15-18 minutes. Remove from the oven when the edges appear set and the middle bubbles.
Allow the bars to cool on the counter for 4 hours or place in the refrigerator to cool faster.
Then cut and dig in.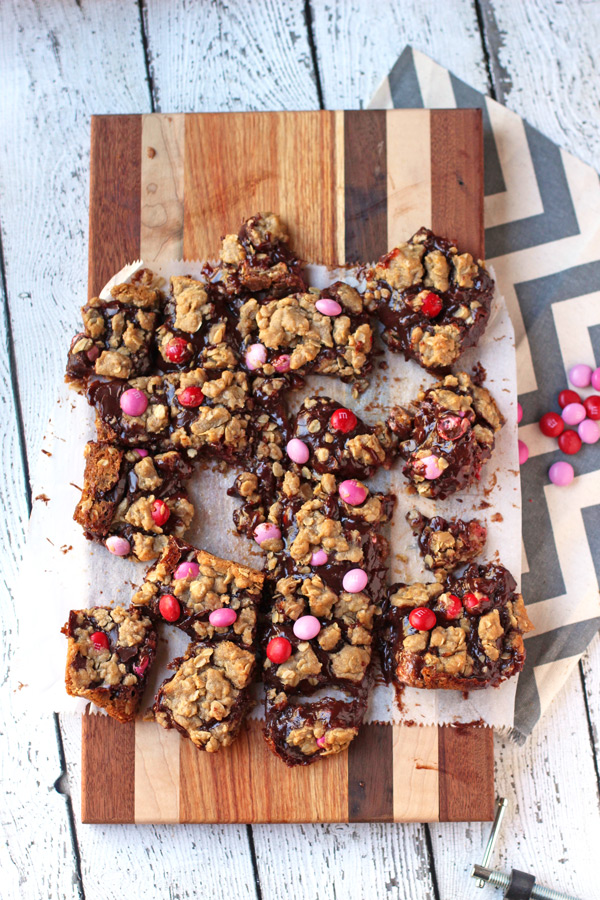 These bars are so popular in our house! I had to pack my gift for Brie quickly before my daughter, mom and I ate too many. These cookie treats along with a box of DOVE® Milk Chocolate Truffle Hearts from Walmart will make the perfect mood brightener for Brie this Valentine's Day.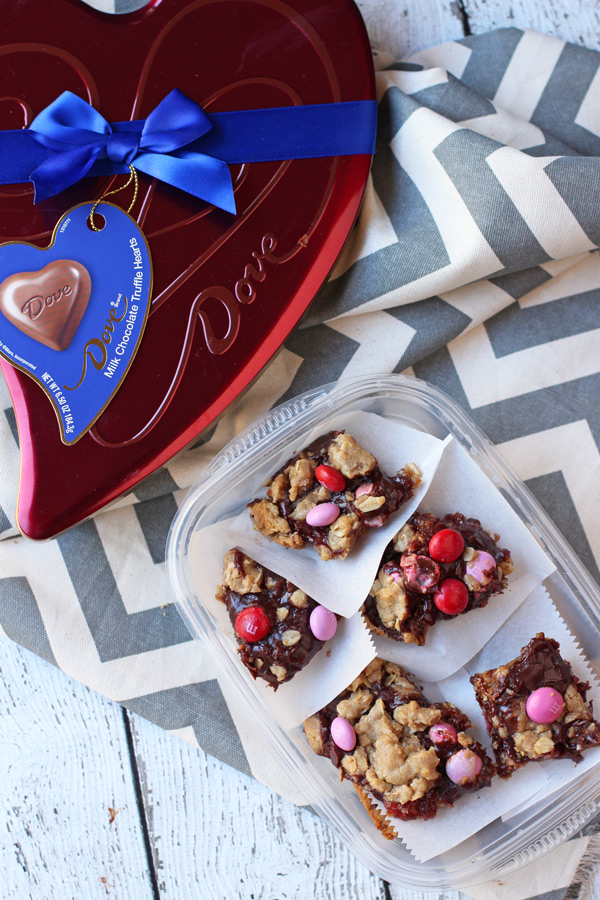 I am so excited to gift this! It will help me show Brie how much I appreciate everything she does – for me and my family. Really great people and good friends are incredibly hard to find and I am so grateful to have her in my life.

Chocolate Strawberry Butter Bars
Ingredients
¾ cup butter, unsalted, melted
¾ cup brown sugar, packed
1 TBS vanilla
1 cup flour
1 cup rolled oats
1 TSP baking soda
1 11.5 oz bag milk chocolate chips
½ cup heavy cream
½ cup strawberry preserves
1 cup M&M's® Strawberry
Instructions
Preheat oven to 350 degrees. Line an 8x8 in. baking dish with parchment paper.
Whisk together melted butter, brown sugar and vanilla.
In a separate bowl, stir together flour, oats and baking soda.
Mix flour mixture into butter mixture.
Press half of the resulting cookie dough mixture into the bottom of the baking dish. Bake for 8-10 minutes until set. Allow to cool.
In the meantime, create the chocolate sauce by melting the chocolate chips with heavy cream in a saucepan over low heat.
Spread strawberry preserves over cooled cookie layer. Sprinkle with ⅓ cup M&M's® Strawberry.
Pour chocolate sauce on top.
Mix ⅔ cup M&M's® Strawberry with remaining cookie dough. Crumble over the top.
Bake for 15-18 minutes until the edges are set and the center bubbles.
Cool on counter for 10 minutes and then refrigerate until cool.
Cut into bars and enjoy.
Who would you like to show appreciation to this Valentine's Day? Find a recipe to make for them with the new M&M's® Strawberry.