Rules for Buying Clothes #1: It Must Fit With My Current Style
Do you know your style?
I call myself geometrically romantic — meaning that I love romantic elements such as lace and drapey fabrics mixed with strong geometric features such as bold stripes, patterns, and shapes. When I try pieces on, the first questions I ask myself are, "Does this fit geometrically romantic?" and "Do I love it!?"
This Lovapella Shasa Shoulder Detail Knit Top I received in my latest fix is very cute. It's a fall olive green with very season-trendy plaid.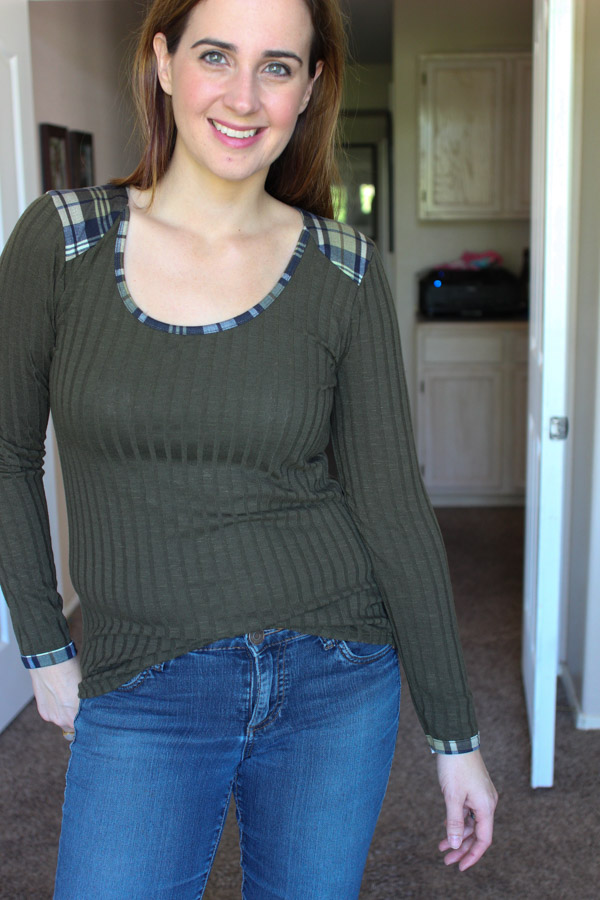 Does it fit my style? No, not really. Back in the bag it goes.
Rules for Buying Clothes #2: It Must Fit
This is a big one!
I always have a problem judging fit at first.
To tell if a garment fits, you need to move around and wear it for a bit.
True fit doesn't show itself when you are standing still and looking in the mirror.
Click To Tweet
Does it ride up on you?
Do you feel any pinching under the armpits?
Is it uncomfortable to sit down?
These are all indicators that something doesn't fit.
I love the style of this Coffeeshop Fauna Faux Suede Moto Jacket. The pale pink color fits perfectly into my romantic vibe.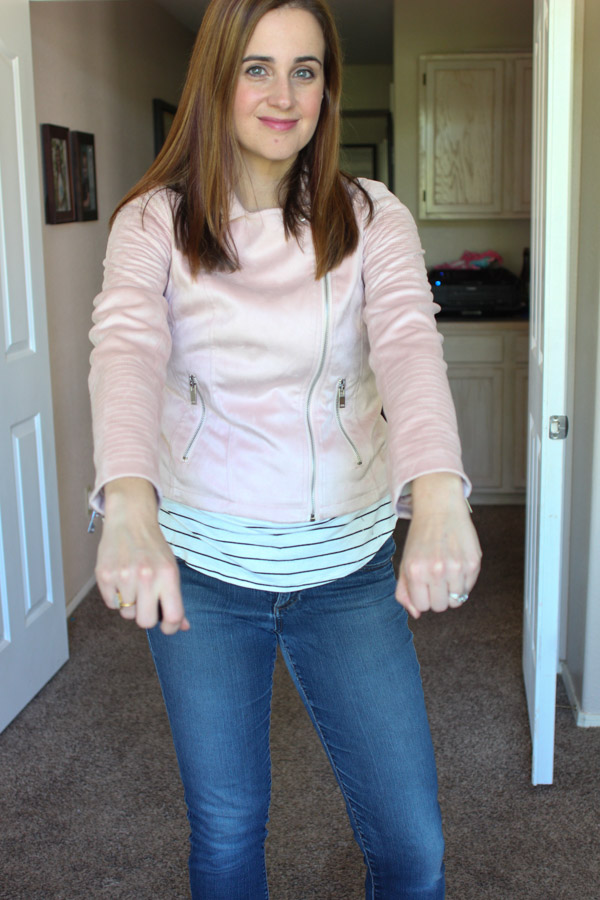 But it doesn't fit!!! The sleeves are much too short and the jacket rides up on me. NOT flattering at all. I would need a size larger to judge if it was worth keeping or not.
These Kut from The Kloth Elyse Printed Slim Straight Leg Pants are gorgeous! They fit me perfectly throughout the thighs and waist. I don't have a good pair of dress pants in my wardrobe either.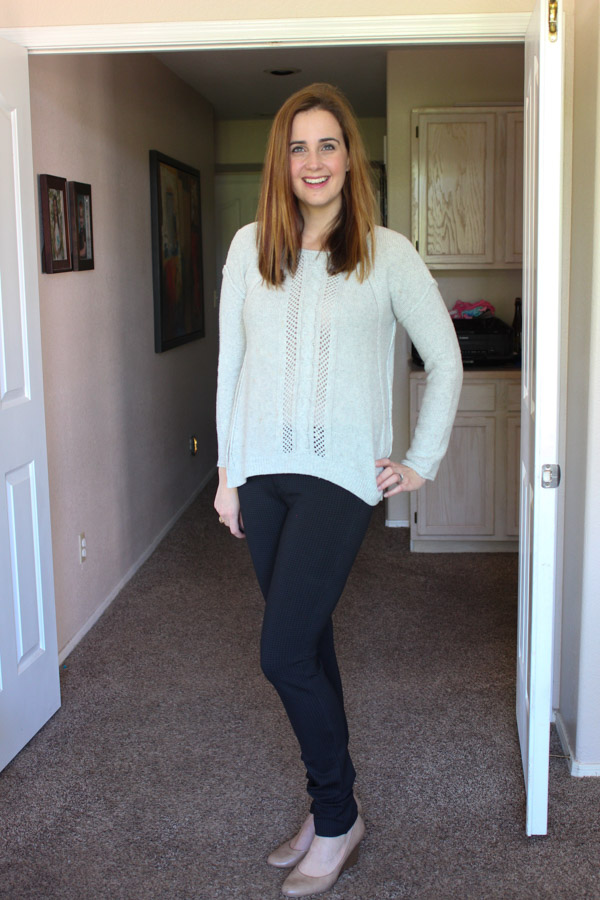 There is just one problem.
The style of this pant is to bunch a little near the ankle. However, these pants have too much extra fabric near the foot and feel a little like a balloon around my ankles!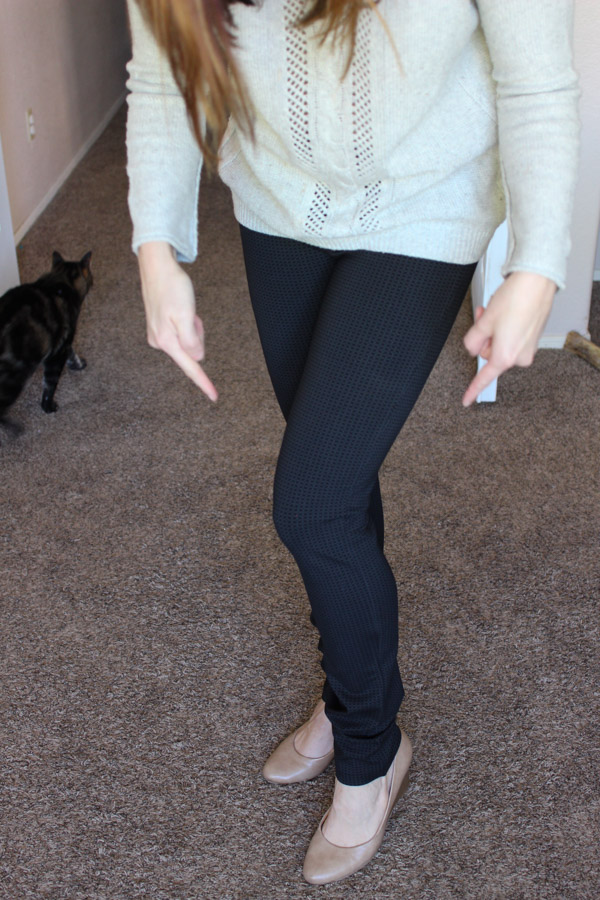 But, that's OK! And here's why. Since they fit me well everywhere else, length is an easy tailor alteration. I kept these.
P.S I got cat-bombed. Keeping it real, folks 😀
Rules for Buying Clothes #3: I Must Feel Comfortable Wearing It
Have you ever bought something that looked great in the store but then the second that you bring it home, you hate it?
Yes? Me, too!
I tried a garment on in the store and it would look fantastic! Friends shopping with me would tell me that it looked amazing, but something just didn't feel right.
Yet, I bought it, thinking it was all in my head.
Then what happened? It never left it's closet hanger because I didn't feel comfortable in it.
Always consult with that little voice that whispers something is not right.
This 41Hawthorn Rebecca Dress is lovely. It's something I would have purchased immediately in the past.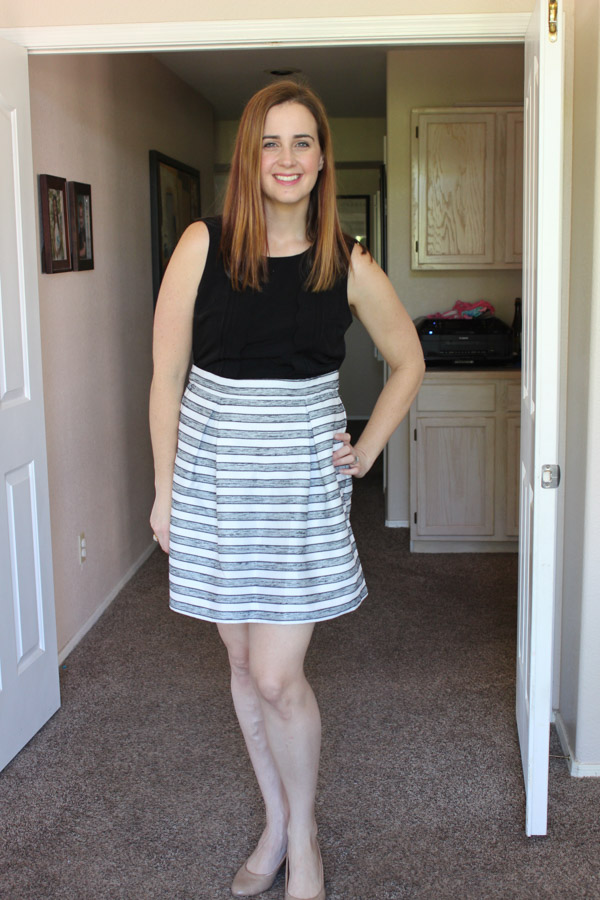 I love the stripes. I love the scalloped edges on the bodice.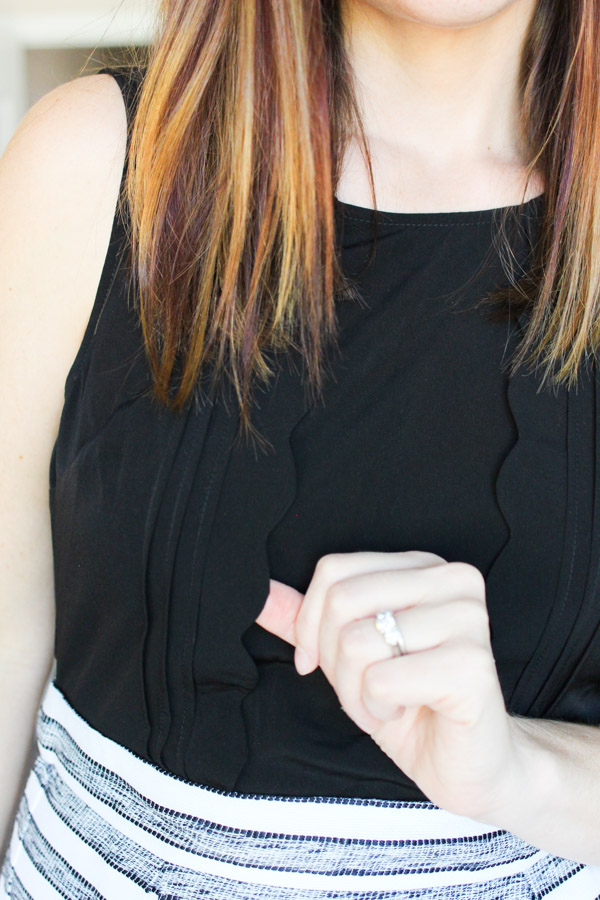 But, I ultimately didn't feel comfortable. If the skirt had been 1 inch longer, it would have been an instant purchase. However, I felt in danger of flashing my underwear whenever I talked to my three-year-old son. So, I sent it back.
These Edyson Leon Corduroy Ankle Zip Skinny Jeans are super cute — look at that zipper!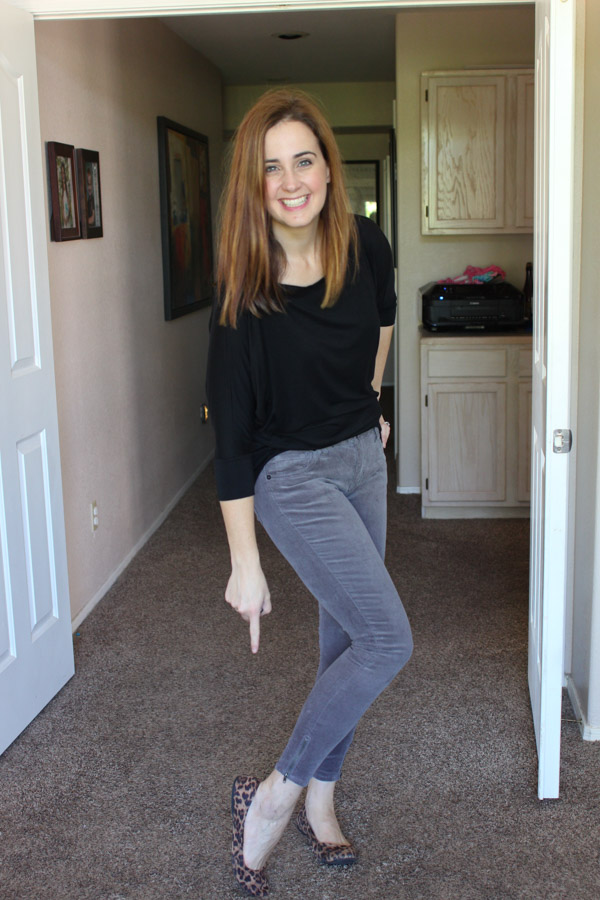 But, then there is the front.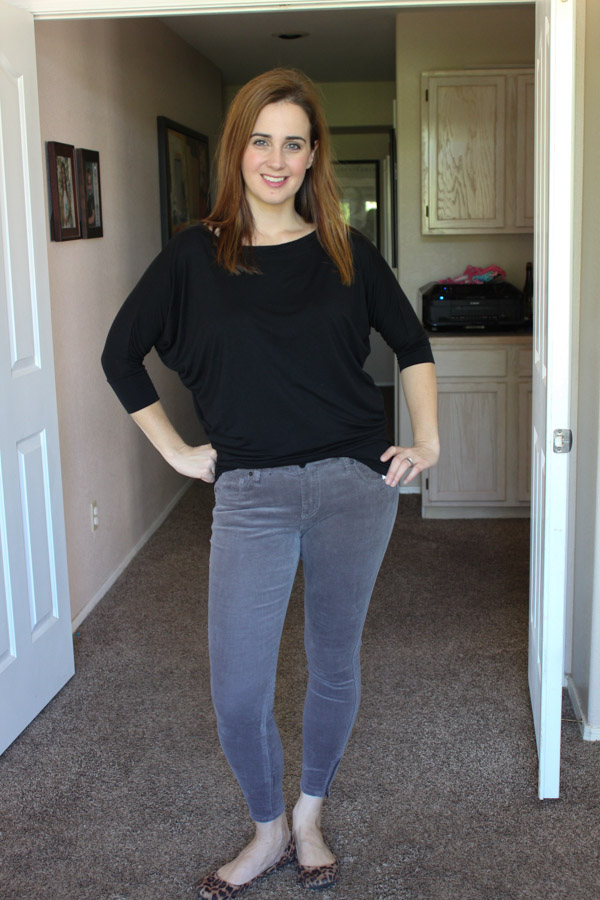 Not only were they too tight for my liking, but I also felt they made my thighs appear larger than they actually were. No bueno. Back they go!
When we go shopping with the clear expectations of how we want our clothes to look, fit and make us feel, we actually buy items we'll use! Keep these three rules in mind next time you shop. Remember that every item must:
Match with your current style
Fit your body
Make you feel comfortable
If you like the idea of shopping at home –like I do — subscribe to Stitch Fix.
Click HERE and take the style quiz now.