Imagine Toys: Family Play Date
My family has a cell phone problem.  Whenever we meet for a family meal the cell phones come out of everyone pockets.  My husband checks his "Words with Friends" game, my brother in law streams the latest Twins baseball game, the rest of us (me included) surreptitiously check Facebook throughout the meal. Meanwhile, my daughter talks animatedly with those of us who don't have a device out.  I decided we were going to have some much needed family time, and give my daughter the undivided attention she craved..
Remember, how as a kid, you could just play after school on the playground for hours and not get bored?  Games like wall ball, 500, Horse, Double Dutch and Kick the Can.  I wanted to recapture some of that childhood fun, introduce my daughter to some of these games, as well as set a good example of active adults.  In order to break free of our phones, I suggested we meet in the park for a Family Play Date. Imagine Toys sent us a KABOOM! Go Out and Play! Essentials Pack, which we took to the park with us.  Inside the backpack are two jump ropes, a frisbee, two packs of sidewalk chalk, a playground ball and a book full of instructions for tons of playground games.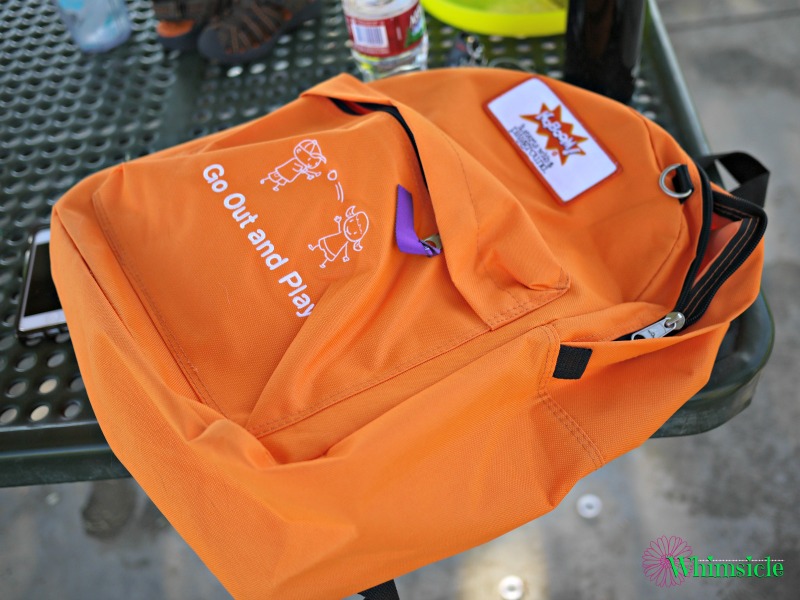 Some of the games we played:
Hopscotch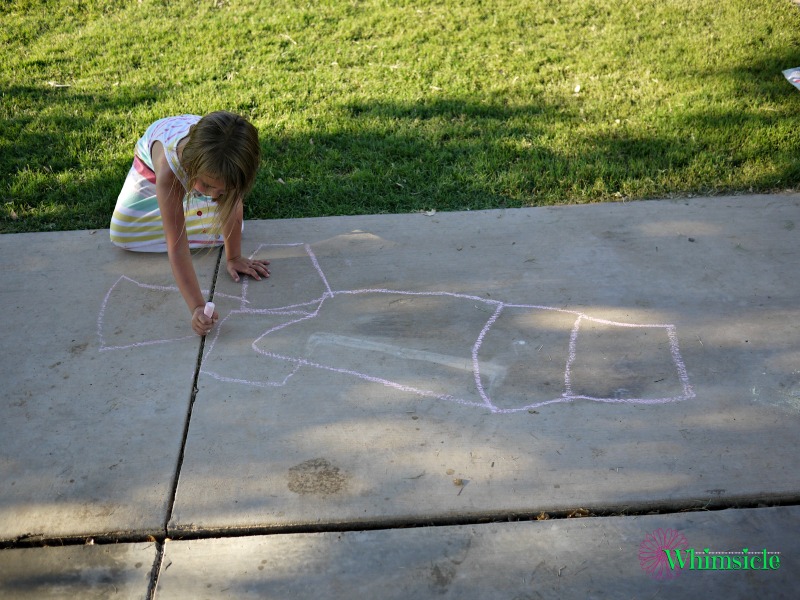 My daughter used the sidewalk chalk in the backpack to draw her hopscotch board.  Suffice to say, we didn't actually use this one.  But she had a fun time drawing it!
Chalk outlines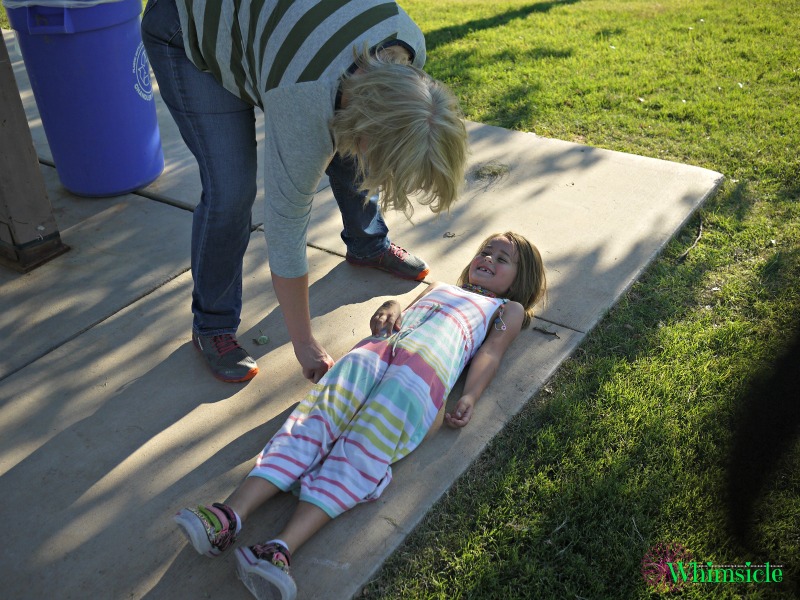 Llama was giggling the entire time her Nana traced around her.
Frisbee Golf
This was my first time playing!  One person picks a target, for example a tree 100 feet away.  That same person then sets a par – the number of throws it should take to hit the target. Each member takes a turn trying to hit a tree.  I went 2 over par in my first throw. Seems like I need to practice more with my frisbee aim.
Double Dutch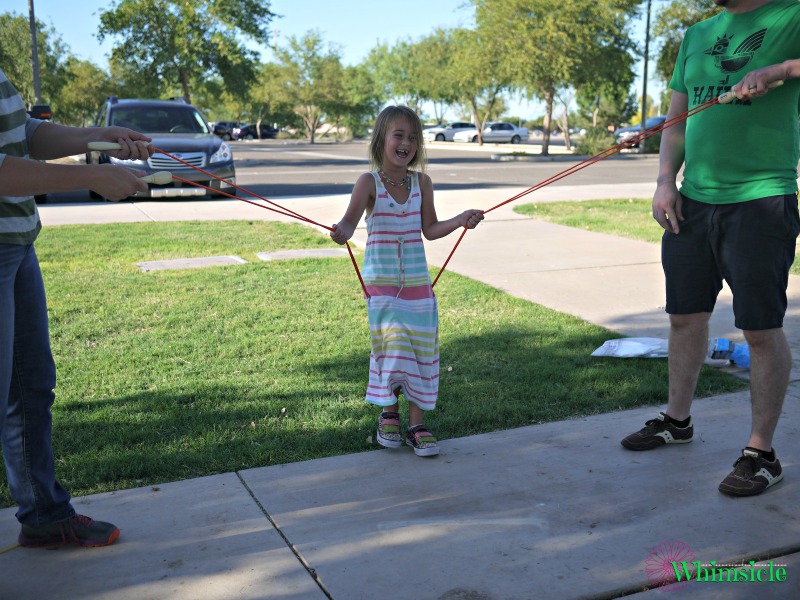 We tried to teach my daughter Double Dutch.  This is what happened.
Regardless, it was fun.
SPUD
First, we defined the boundaries of the playing area.  We chose one person as "It" as everyone else ran.  "It" counted to 10 with his eyes closed.  At 10, all the other players froze.  "It" is then allowed to take 4 giant steps toward any player and throw the ball at them.  If he hits the player, the player gets an "S."  If he misses, It gets an "S".  Anyone who spells SPUD is out of the game.
We had a blast and not a single cell phone appeared for at least an hour.  The KaBoom backpack was incredibly convenient and was the perfect Back to School family activity to reconnect without a ton of work .  At the end, we were all tired and very sweaty.  We finished our night at Village Inn for pie.
Interested in getting your own KaBOOM! Go Out and Play Essentials Pack?  The Essentials pack comes in either purple or orange and offers a lifetime warranty.  Also included is a book, along with other playground essentials: two jump ropes, a high-quality 2-ply rubber 8½" playground ball, two boxes of sidewalk chalk, and a Made in USA plastic flying disc.
Disclosure:  We received a free Kaboom! Go Out and Play Essentials Pack in return for our honest ideas and opinions.  In compensation for this post, we are receiving a $50 gift card to Imagine Toys which we plan on offering to our Whimsicle readers in a giveaway.
Enter to win a $50 Gift Card to Imagine Toys!

What games did you play as a kid?
Title:
Imagine Toys: Family Play Date
Last Updated:
April 12, 2015