Mornings can be crazy! Everyone's rushing around. Kids are crying, parents are threatening to leave everyone behind because they can't be late for work one… more… time.
This is not good. To be frank, it causes stress for everyone and likely leaves your whole family in a bad mood.
READ: How to Stop Yelling at Your Kids When Angry
But it doesn't have to be like this.
I have 4 easy tips to make a morning routine that will work for you AND your kids!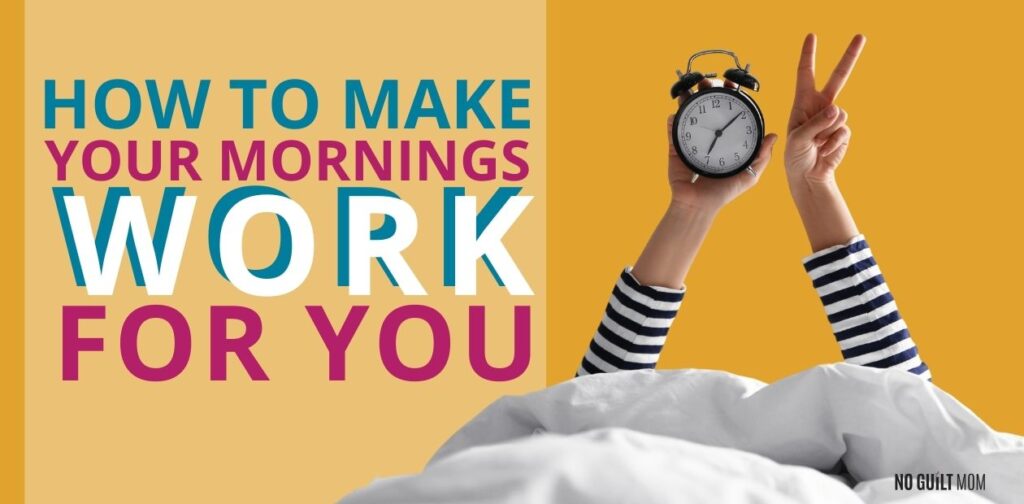 Want to know what they are?
Here you go!
1. Take stock of what needs to be done.
It's best if you can have everyone sit down and make a list together. Have everyone say what they need to do in the morning.
What actually needs to be done in the morning? I mean really. Some things don't really have to be a part of our morning routines when we sit down and think about it.
And don't forget to write down how much time each task takes. This will help you really know if you have enough time to do everything in the morning that is on the list.
2. What can be done the night before?
After making your list of things that have to be done, see what you can complete the night before.
Can you…
Pack backpacks and place them by the door?
Pick out clothes for the next day?
Pack lunches?
Psssst! These are all things that both parents and kids can do the night before to limit that early morning stress.
3. Wake up the right way for you.
How do you wake up in the mornings? Do you wake up easily? Or do you struggle?
Some people set multiple alarms, some only have one. I like using "Routines" on my Alexa that involves lights and music to help me wake up and JoAnn likes to start her day off with a morning exercise routine.
We all have different techniques we have, so explore and discover what works best for you and encourage your kids to figure out what they need in order to wake up fully.
READ: 6 Genius Ways to Wake Up Kids For School without Yelling
4. Let's see it (Visual Aids)!
Visual Aids are so powerful!
They give responsibility to your kids and take the pressure off the parents!
Plus, they can help those of us who forget things when we are stressed.
You can even have a morning routine for each family member posted somewhere they can easily see it. Like the kids bathroom or their bedroom door.
If your kid likes to check things off, you can use a dry erase board and let them check off each task.
Teeth Brushed? Check.
Bed Made? Check.
Lunch packed? Check.
You get the idea.
READ: Reasons I Need Coffee in the Morning
Now that you know 4 easy steps to get your mornings to work for you, I'm going to leave you with this quote:
Change is Hard in the beginning, Messy in the middle and gorgeous at the end. -Robert Sharma
Resources We Shared:
Download the Transcripts HERE
The best mom is a happy mom. To better take care of you, download our No Guilt Mom mindset here . These reminders will help you second guess less, and feel more confidence every day in your parenting.