The blogging conference. Your job is to make connections, generate new leads, and find new business.
I attended MOM 2.0 Summit for the first time a couple of weeks ago and I admit, I was terrified. So many awesome and noteworthy brands… so many ways for me to make a fool of myself. I had no idea what to expect nor how to conduct myself in this sort of environment. Thankfully, MOM 2.0 hosted a newbie session where I asked my burning question, "Walk me through what a conversation with a brand would look like."
Amy Mascott of Teach Mama walked me through it and I used her technique the entire conference. It worked well because I hit every brand, found a few I totally identify with and am now actively pursuing some new partnerships.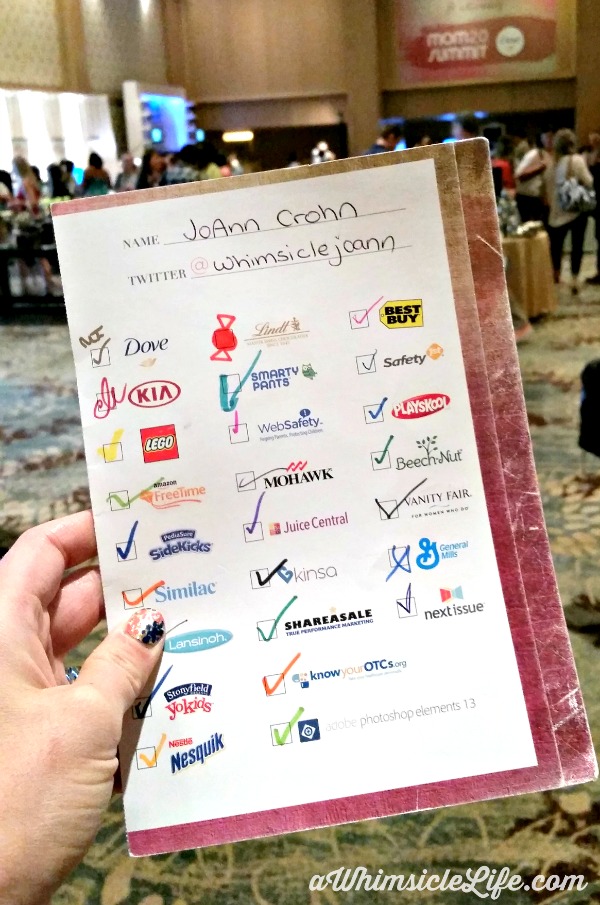 The basics are:
Introduce yourself (be ready to tell about your blog in a short sentence or two if they ask what your blog is about)
Find out as much as you can about the brand
Exchange contact information
Follow up.
Let me walk you through it as well.
I braved the marketplace during the morning keynote session on the first day. When I searched for a brand to approach, I tried to seek out the booths that didn't have a big crowd around them at the time. As soon as I saw someone free, I went for it.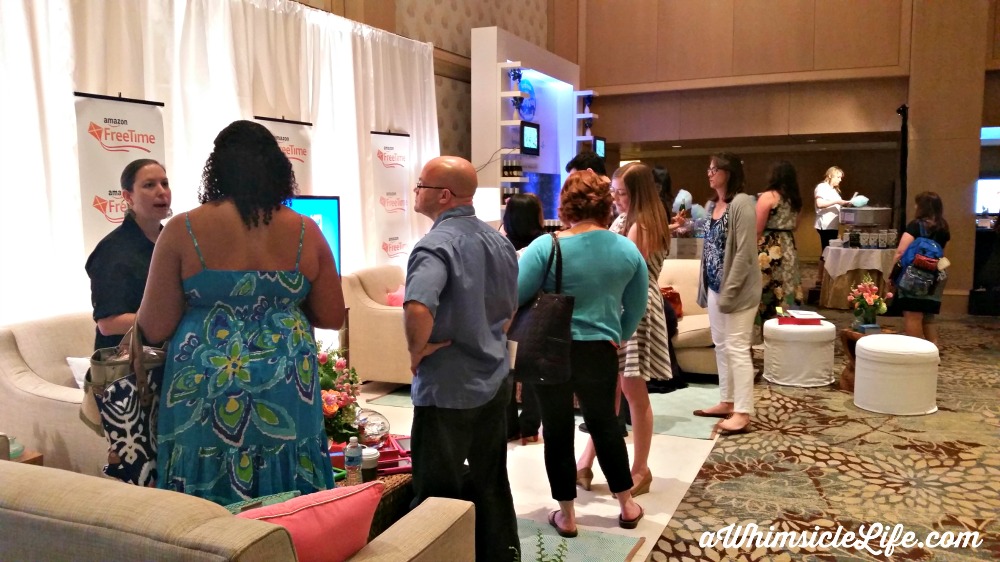 "Hi, I'm JoAnn. I blog at Whimsicle."
"Hi JoAnn, nice to meet you, I'm _____. Have you heard about (insert business here)?"
Usually, I responded with a "No." or a "Yes, I love it".
The brand representative/ PR rep then launched into their prepared pitch about their product. At that time, they gave me a few samples, had me enter a contest, or do some activity. At MOM 2.0, LEGO let us build name badges out of the LEGO bricks, Vanity Fair fitted us for bras, Safety First had us tweet to win Safety First products. Kia let us drive their cars any where we pleased.
If I was genuinely interested in the brand and the representative had not yet discussed how they wanted to work with bloggers, I asked them:
How are you looking to work with bloggers?
They then gave me the rundown of everything available. Some possibilities were:
sponsored posts
reviews of products
blog ambassadorships (write a certain number of posts about the brand)
Then, I asked for a business card and gave them one of mine. I told them it was nice to meet them and then moved onto to the next booth.
At a blogging conference, you are simply gathering information and meeting people face-to-face. As the popular saying goes, "the fortune is in the followup." After the conference, I sent a follow-up email to each of my brand contacts saying that I enjoyed meeting them at MOM 2.0 and told them that I was very interested in working with them. I explained how excited I was about the brand and as an added bonus, included a couple of links to some of my posts that showed what a good fit I was. I wish I had some results to report, but everything is still in progress.
As you can see, the entire process is pretty straightforward with no added mystery. Simply try and introduce yourself to as many people as possible, learn as much as possible, exchange contact information and follow-up.
I had nothing to fear.