Let's go beyond how do I start a blog? Instead, how will I structure a blog? How will I know what to do next? Here's how you can become a blogger, make money and grow your site into an actual career.
For your convenience, I've included my affiliate links in this post. If you click and purchase Elite Blog Academy through my link, you pay nothing extra but I may get a small commission. I wholeheartedly recommend everything I link to. All opinions are my own.

Bloggers…you think…Must be nice.
They get free stuff, get paid to go on trips, can work anywhere they want…
Gosh, you keep saying, I don't know how they do it, but man, wouldn't it be awesome??
Let me interrupt for just a second.
You can do it. With the right direction and persistence, you can absolutely make blogging your career.
I didn't know what I was doing in the beginning either.
My Story
I started this site in the hopes of providing Phoenix parents a place where they could find reviews of places to take their kids in the city.
You might notice, it's nothing like that now.
At the time, my son was under a year old, my daughter was 5 and I was scared to leave my house.
I didn't know if the Heard Museum with the awesome LEGO exhibit had activities for both my 1-year-old and 5-year-old.
I had no clue if young kids would actually enjoy the Hall of Flame Fire Museum.
So, I made it my mission to find out.
However, once I started the blog, I ran into a problem.
How did I grow it to outside the Phoenix area?
I knew that other women had incredibly successful blogs that brought in a full-time income for their families. Including one, Ruth Soukop of Living Well Spending Lee, who also created an e-course detailing her rise to success: Elite Blog Academy.
Truthfully, Elite Blog Academy is a whole lot of money. Enrolling is something you need to seriously consider, debate and mull over.
If you see your blog as a hobby, I wouldn't recommend it.
However, if you want to grow your site into a serious, legitimate business – look at it as a necessary investment.
EBA only opens once per year and that's coming up on Monday, March 5th and will close on Friday, March 9th.
Oh, how I debated Elite Blog Academy when I first enrolled.
I had never spent that amount of money on a project for myself before!
But in the first 3 months, I tripled my page views to my site.
You may be wondering the same questions I did:
What if it wasn't worth it?
What if I became no better off than how I was before?
Isn't there enough free information out there on Pinterest for me to make it work?
Maybe, you have these same thoughts and wonder whether you will enroll. Let's tackle them one by one.
Is EBA worth it?
In one word, yes.
In another, it's complicated.
EBA is not worth it for you if:
You don't have the time to commit to an online course right now. Life gets busy. Think of EBA like a college course. If you don't have time to enroll in a class at the local community college, you don't have the hours to put into Elite Blog Academy and be successful.
That's ok! If now is not the right time, possibly next year will be.
You think there's a blogging secret that EBA will unlock. I thought this way too, so trust me, you're not alone.
There is no magical key.
No hidden warlock.
No big aha that will take your bank account from $5 to $50,000 – oh, how I wish there was. However, there is a best business practice that you need to consistently implement to earn an income from blogging.
EBA will provide you with that framework and guide you as you work to complete it.
If you have what it takes to become a successful blogger, take this free blogging assessment.

Enrolling will put you into debt. Don't do it. Don't go into debt to enroll in a course. So many other people may tell you that it's worth it and you'll make your investment back in the first six months…. and that may be true. However, being in debt will have you operating from a fear-based mentality. In that frame of mind, you will not make the best business decisions for your blog.
Wait until next year or sign up for the EBA payment plan if you're positive you'll have the money in the next few months but don't have it now.
In the meantime, use this free resource, The Secret Blueprint for Blogging Success. Remember, there is no killer secret, but this will get you started on solid blogging practice.
Let's talk about the good. Elite Blog Academy is for you if:
You want to start your blog right. Creating a new blog isn't about reinventing the wheel. Every site has it similarities and there are blogging best practices. You want to learn these to get the best start (or revise) the best you possibly can.
You want to reach a larger audience. You know
You are tired of following all the advice on the internet. It's getting you nowhere. Plus, it tends to contradict itself. Some sites tell you its best to write everyday. Others that you should only write one major post a week.
You're ready to up your skills as a blogger and want to learn from one of the best of the business.
You crave a community of like-minded people in your industry. Oh my goodness, so many blogging groups go negative so fast. Either they're complaining about a blogger who "stole" one of their images or it's whining about the newest Pinterest algorithm. The Elite Blog Academy facebook group is nothing like that. It's a safe place where problem-solving happens and other bloggers HELPING each other – instead of criticizing.
What if I don't improve?
That is a possibility.
The course isn't a magic bullet where you can complete one lesson and expect immediate results.
But…. BUT…
If you do all the lessons and implement everything, you can definitely expect results.
I had amazing results when I first joined.
In fact, I'm still growing since I joined the High-Level Mastermind for EBA. My goal in the next few months is to hit 100,000 page views per month.
Since January, I grown from 28,000 to 50,000…so I'm on the right track.
Isn't there enough free information on Pinterest for me to use?
Here's the problem.
Yes, there is a lot of info about building a blog online, but…
The information tends to be contradictory.
What happens is you sit there, hands poised on your black silver Mac keyboard, waiting for inspiration to come and NOTHING HAPPENS.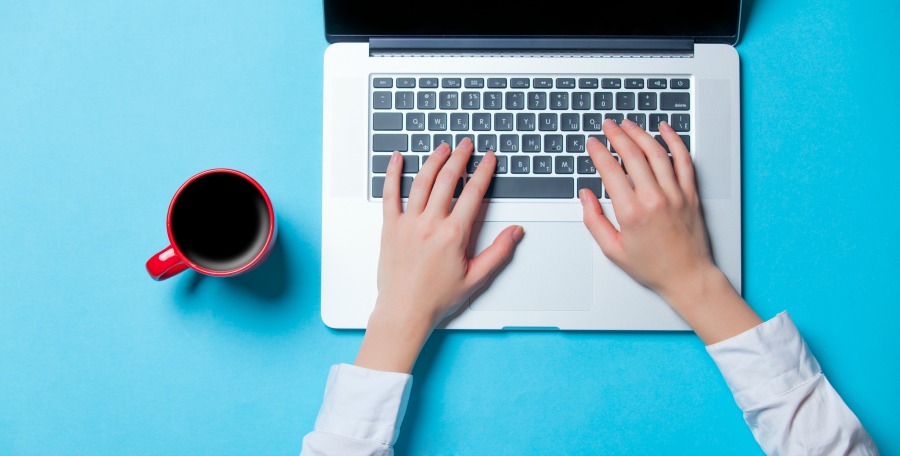 Should I write about my dog? My kids? What will people want to read the most? What will be the best? What am I most passionate about?
AHHH!! Analysis paralysis you familiar foe!!
Elite Blog Academy is a step-by-step process that instructs you
how to create awesome content
how to structure your blog
how to monetize
how to write
You will not sit there staring wondering if what you are doing is the best use of your time, because EBA tells you exactly what you need to do when.
Through the course assignments, you actually build your blog.
The Hard Part
How are you feeling? You may be saying, "Sure, JoAnn… this all sounds great. I love THE IDEA of writing in coffee shops, only one problem."
I CAN'T WRITE.
Pssst… come a little closer, I'll tell you a secret.
That's what stopped me at the beginning too.
I told myself constantly, "I can't write. I can't write."
Now, look at this site with over 400 posts that (shocker) I wrote!
I was completely wrong and you are too.
Plus, let me let you in on another doozie. Even though I've written 400 posts, I still have that fear every time I sit down at a keyboard. I procrastinate and avoid, afraid that my last post is my final piece of inspired work. That I simply won't have any more good ideas.
But then I sit. Start a very bare outline and suddenly, one line turns into a sentence.
And that turns into a few lines.
Before I know it, I'm typing as fast as my fingers will fumble across the keys.
If you can talk, you can write. Writing can be a stream of consciousness spew of language.
Sounds a lot less elegant, right?
With the first module, Refine Your Message, you not only master the basic structure of your blog but you also learn how to write really awesome content.
Throw out that English class 5 paragraph essay. That's not how most people write for the internet.
In fact, if you see here, I only write with 1-2 sentences per paragraph.
Break the rules. Write what you want and go after that coffee shop dream.
Join the EBA Community
This is your time. You can do this.
If you want to start a blog, I can't recommend a better program than Elite Blog Academy.
Truly, if you are ready, you can find no better investment of your time and money.
And if you have any more questions, I'm only an email away at [email protected]
Elite Blog Academy opens for enrollment Monday, March 5th and closes down on Monday, March 9th.
Get on the Elite Blog Academy Waiting List Here.