How to increase your email conversions with a quiz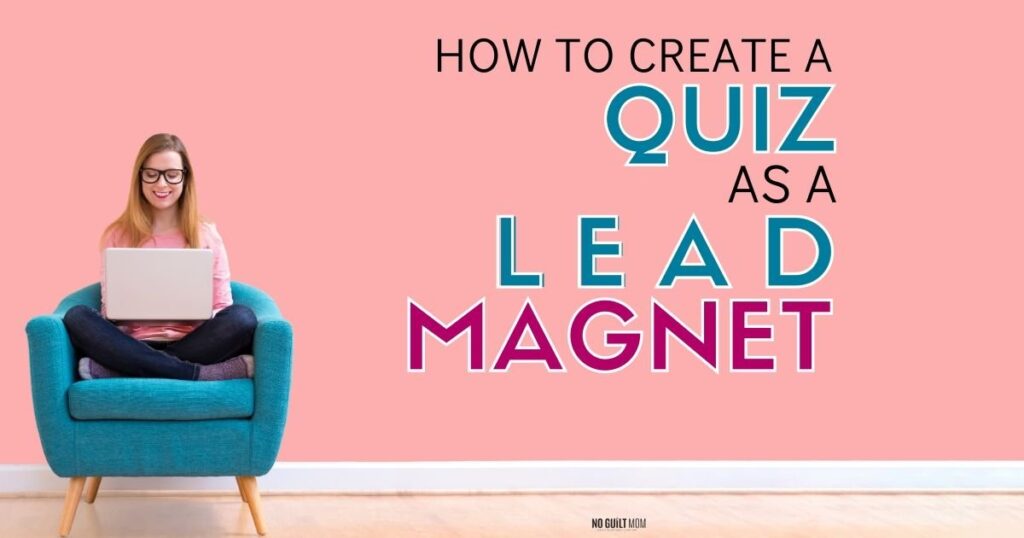 FYI: This post contains affiliate links to products I love and recommend. It costs you nothing extra if you purchase through my link, but I may get a small commission.
I struggled with email opt-ins.
No matter what I did, they were hard to come by. The hours of making a download, trying to figure out exactly what people wanted and then… making it pretty.
All the work made me quit before I even began.
While I eventually figured it out, I always thought… "man, wouldn't a quiz be fun?"
That was three years ago. The universe works in mysterious ways because not long after that Interact emailed me asking if I wanted to try out their quiz software.
Was it an automatic, lead-generating machine?
No. It took a lot of trial and error until I got my offer right.
But now, I have a quiz on my site that is a high converting lead magnet, a great diagnostic tool and brings in people who go on to purchase our products – which is the goal.
Let me take you through my entire process. Here's a full run-down of how to create an opt-in quiz using Interact.
Brainstorming the Quiz
When thinking of possible opt-ins, I think backward from what I want our customer's final action to be.
For this quiz, we wanted to attract people who might be interested in buying Homework 911 or Homework Mastery down the road.
People who read my book, Drama Free Homework, tell me they love the section on kid's homework personalities. They say, "Yes! I have a perfectionist." or "It was so helpful finding out how to help their individual personality."
Bingo! That's how we found our quiz topic.
We created a quiz to help people find that personality and then direct them to the appropriate resources for help. Each question we wrote was mapped to a personality type.
Making quiz creation less overwhelming
There are a ton of moving parts and decisions in creating a quiz. You need:
the questions
the multiple-choice answers
pictures for each question (if you choose to use them)
result pages for each result
choosing a font
choosing an order
It can be a lot.
We used one of Interact's templates. They are pre-created quizzes ordered by conversion rate and separated into niches. These are just a few of the niches available: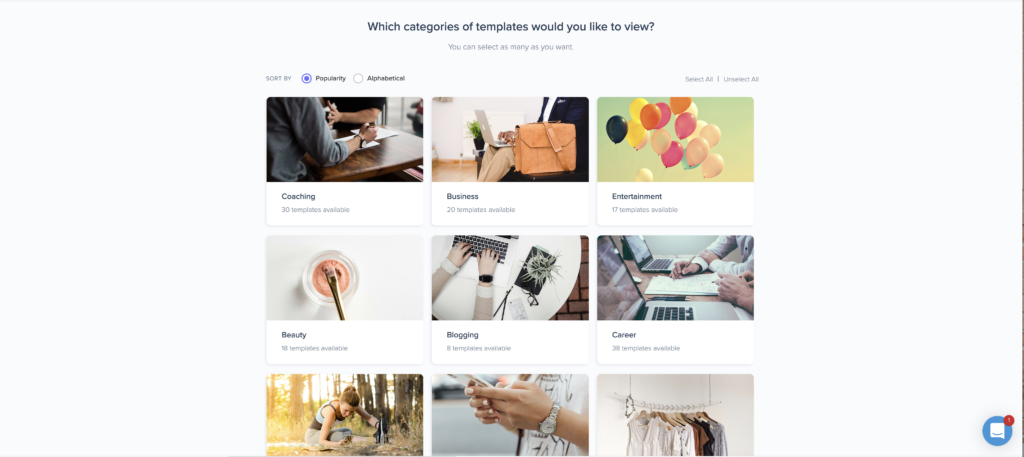 We chose one in parenting and family and then edited from there.
The template gave us a step-by-step method to follow. All we had to d was plug in the question and the photo. The template then prompted us for the next steps.
It also made it super easy to correlate an answer with a result since you can already see an example.
Picking a cover & quiz title
The cover page of a quiz is where many people make the decision: do I use my limited time on this or not?
We knew we wanted to give parents their child's homework personality result, but also realized that a quiz title about that may not attract people.
We thought: What do parents want for their kids?
Ultimately, they want to know how to help their children succeed.
We focused on the benefit they get from taking a quiz instead of the actual result and titled it: "How can you BEST help your kids in homework?"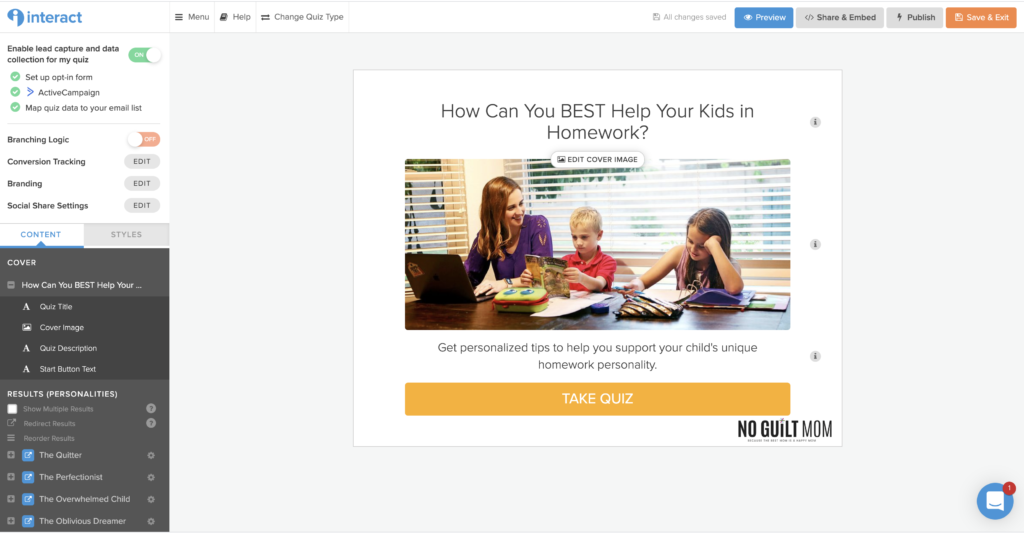 Deciding on the questions
Since we clearly knew our personality results, coming up with the questions was easy. We took specific attributes from each personality and created a yes/no question from it.
Our test is 10 questions. While that might sound long, I found – through Interact's analytics – that once people answered the first two questions, they stayed through to the end.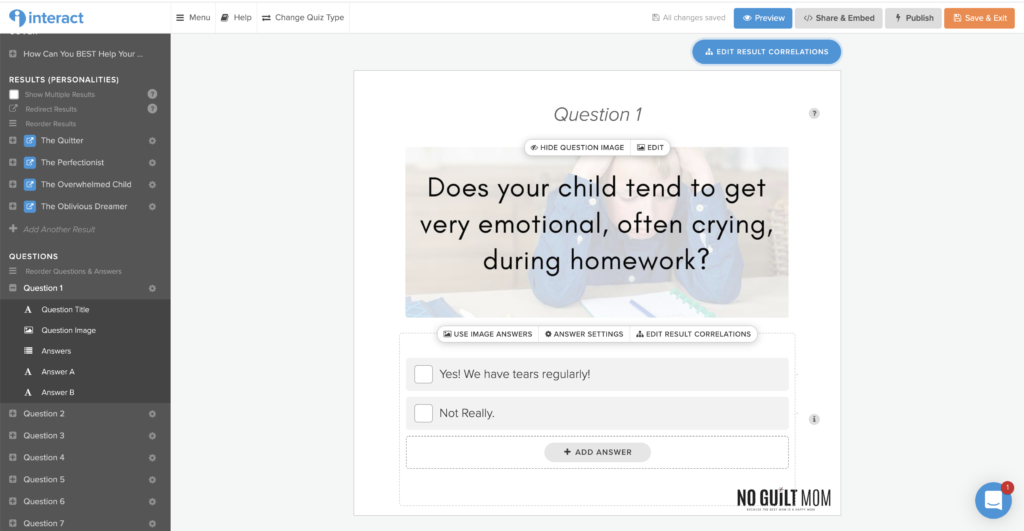 Getting to the results
The results are always the best part of a quiz.
As I mentioned above, we wanted this quiz to attract people with homework drama and give them actionable tips to alleviate that struggle.
While Interact has a simple results page to use, we chose to autoredirect to a personalized page when quiz-takers got to the result.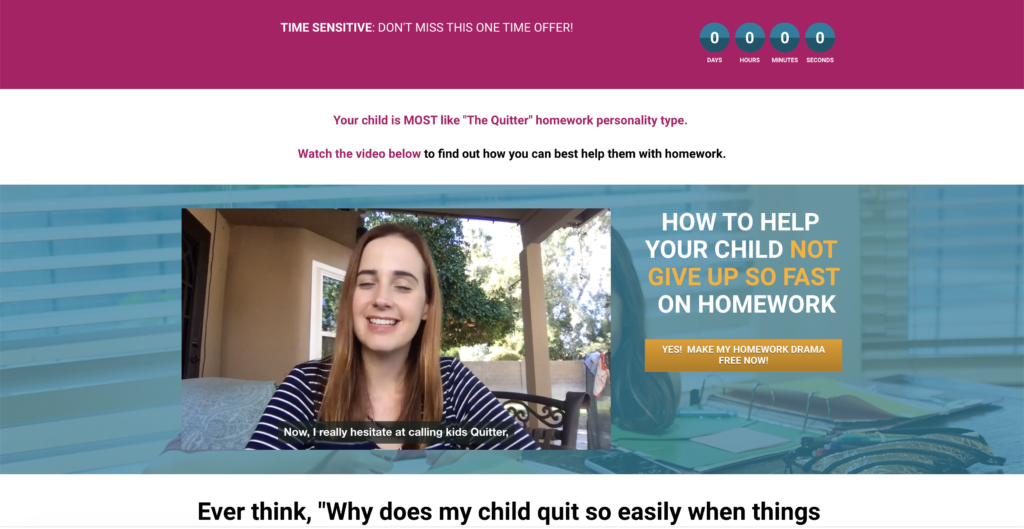 The big benefit: We offer their results in a personalized video from me – I made four different videos – and immediately offer a chance to buy my book.
Even though I have a sales offer on the results page, I also made sure to give people enough actionable advice on the page so that they wouldn't feel duped by taking the quiz.
However, we're a business. We don't get to stay around and keep serving people if we never ask for the sale.
Don't be afraid to put an offer on your results page.
Mapping it to your email list
There are many people who decide now is not the right time to buy – and that's ok. Those are the ones we keep and nurture on our email list.
We connected the quiz easily to our mail system (Active Campaign) and tagged people with their quiz result.
You can see below that I add everyone to our master list but then I start them in a specific automation sequence named for their quiz result.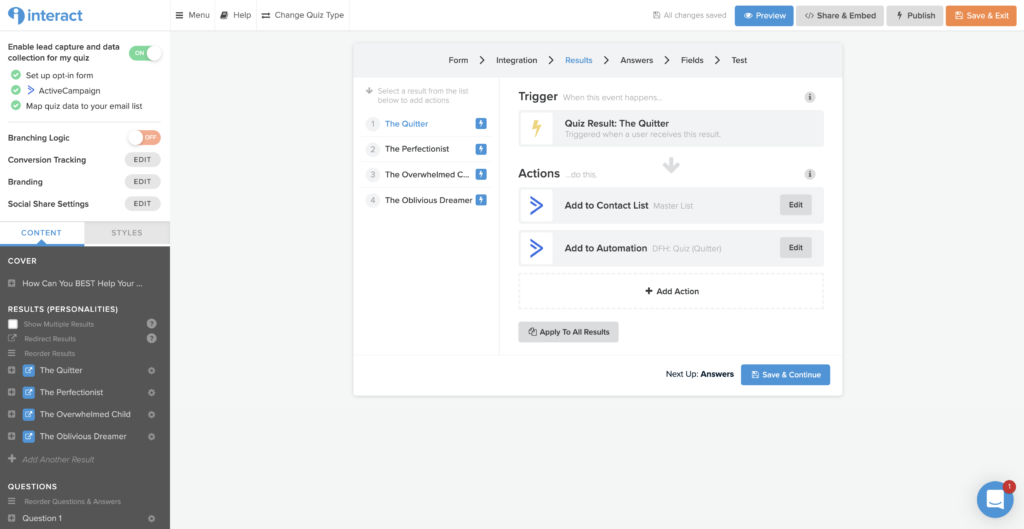 The first email they get from me is their results again as well as some extra freebies to make homework time (and parenting easier).
Website implementation
The quiz now lives on our website as an exit-intent. When people try to leave, it pops up a full screen asking if they would like to take the quiz.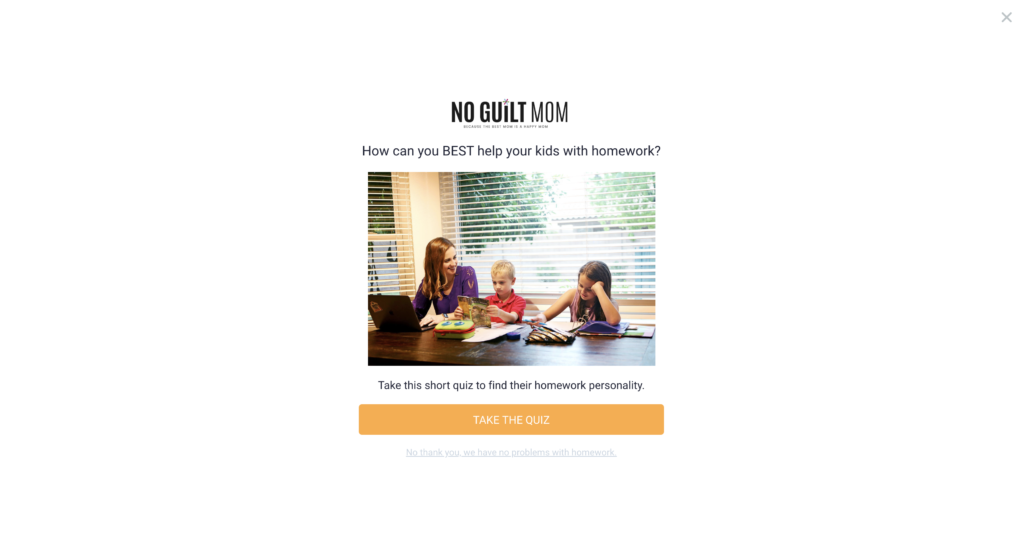 How it worked
This quiz has been running since last October, however, I've tested a few versions.
I used a Facebook ad for a little bit, but couldn't make it profitable – so that's back to the drawing board.
Here are the results for my quiz in its current form as an exit-intent on No Guilt Mom: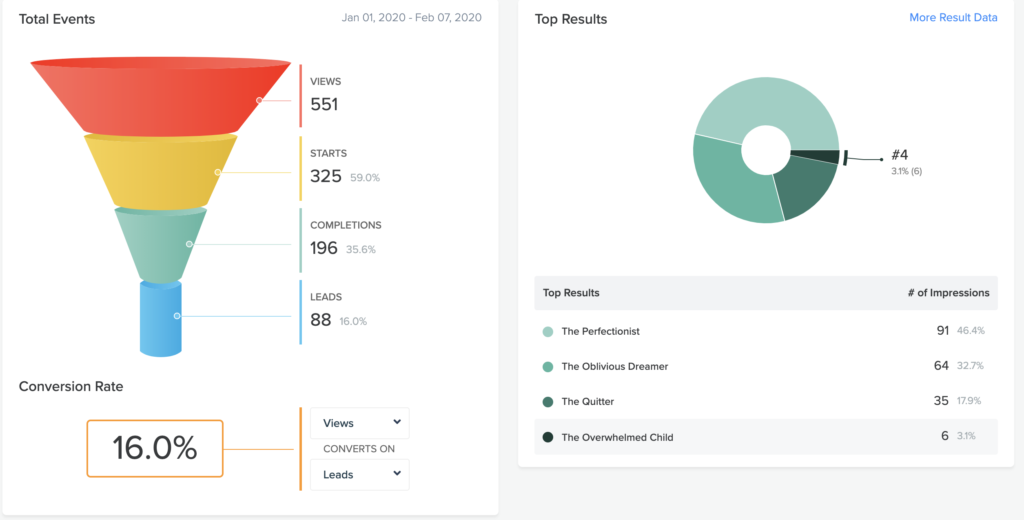 The quiz has a 16% lead conversion which I'm happy about because people don't have to opt-in to get their results. They choose to. I give people there results whether or not they they decide to join my mailing list.
You can see the quiz has 196 completions and of those, a little less than half choose to give their email address.
I recommend giving people a choice because not only is it GDPR compliant, but it also gives you better-qualified leads. The ones who give their email addresses free of conditions are MUCH MORE LIKELY to open my email.
What do I think of quizzes as lead magnets?
Personally, I love quizzes as part of my overall strategy. While their conversion rate isn't as high as say, a quick PDF checklist, they bring in a different type of person.
Someone who maybe isn't into checklists and PDF downloads.
Plus, quizzes are an awesome tool. If someone is having an issue with their child, I love suggesting that they take the quiz on my site. It helps filter out of the noise too-much-information and narrow it down into the best next steps.
If you're thinking of trying out a quiz, I want you to keep in mind two things:
Make sure you create it with your end goal in mind. You want to attract people who will hopefully buy one of your products. Have a clear reason for creating your quiz. Simply "building your email list" will be worthless to you.
Have a clear next step when people get their results. You want to take away their frustration and give them something they can try or a quick insight that will help them.
If you can say yes to both, create your quiz! Let me know how it goes for you.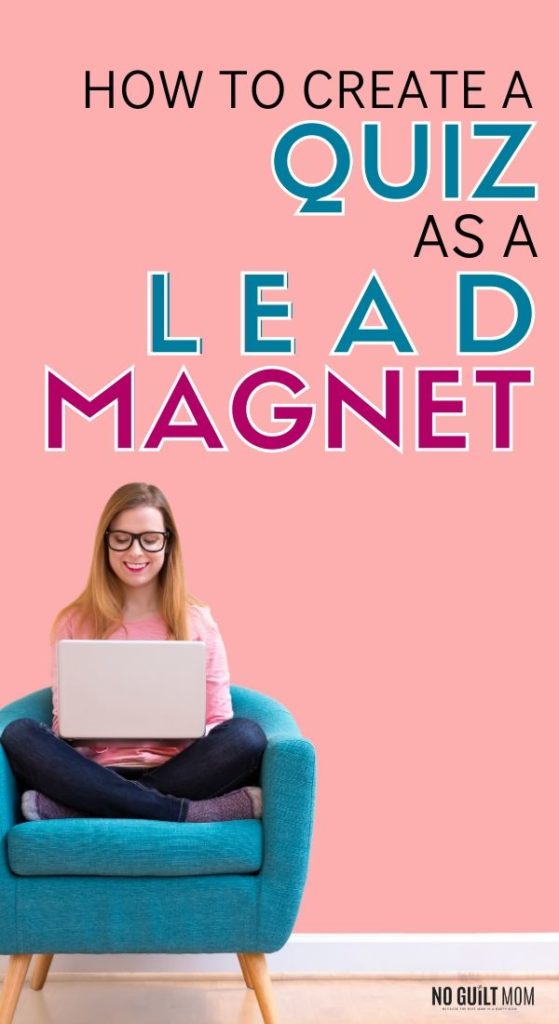 Title:
How to increase your email conversions with a quiz
Keywords:
create a quiz as a lead magnet
Last Updated:
February 10, 2020