Struggling with making your blog work for you?  Know that you are not alone.
Welcome to my monthly income reports where I give the real story of building a successful blogging business!  It's not immediate page views and cash flow.  But if you use the right strategy and surround yourself with successful bloggers, it will happen.
Here's my blogging life in October.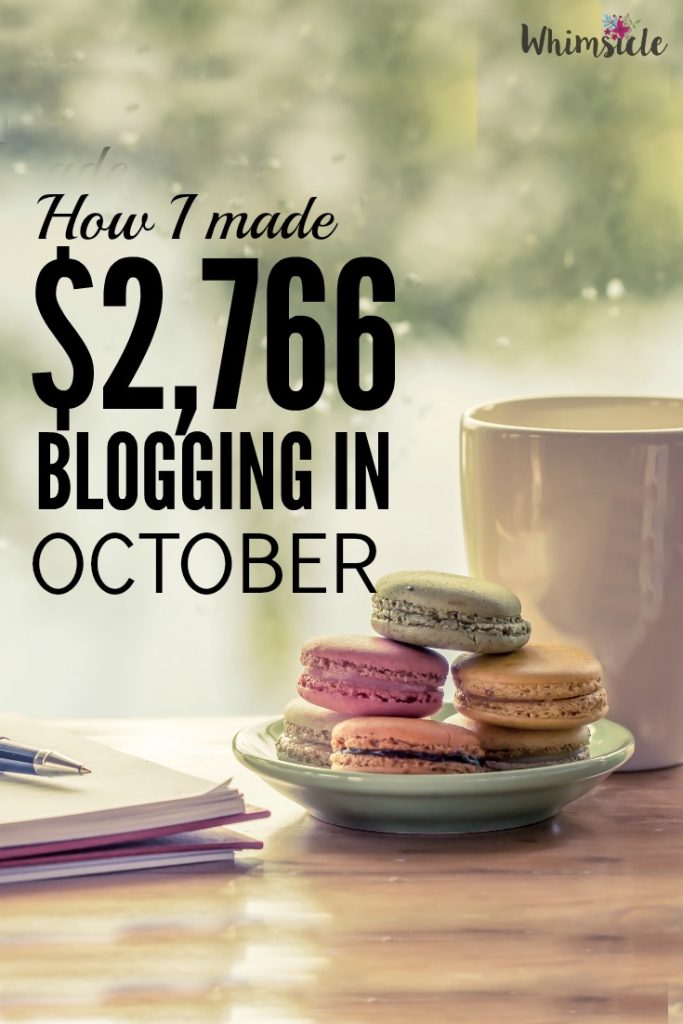 October Strategy: Email
When I first started blogging two years ago, I had no clue what to do with email.  I thought I would put a little subscribe bar at the top of the home page and the email addresses would start rolling in.
Man, I wish it were that easy.  Building an email list takes a little more strategy than that.
An email list is a constant work in progress. We are never done.  At it's most basic, we bloggers gain e-mail subscribers by:
Creating a free opt-in that readers want.
Placing that free opt-in in a place that your readers will see it.
Convincing your readers that they need your opt-in.
Making it simple to get your opt-in.
Whimsicle has four main opt-ins on the site right now.  Each is geared toward a specific type of audience.
Don't let these overwhelm you.  I created them within a 6-month time span.
Don't feel like you need all these different opt-ins right now.  Start with one.  This is just to give you a taste of how mine are performing. They are:
In October, I added approximately 340 people to my email list.   But here's the thing, I have no idea where they all came from!  Which post did a lot of people opt-in on?  Is one of my opt-ins more effective than the others? I don't really know!
I'll be playing with my setup in November and hopefully have some new tricks to share with you in the next income report.
Emailing on a Schedule
The huge benefit of email is that we can form a trusted relationship with subscribers.  Most people don't visit our blogs every day, but they do look in their inbox.
To strengthen my relationship, I've set a schedule to email each of my lists.  My style email goes out on Tuesdays, Parenting on Wednesdays and Blogging on Thursdays.
Pssst… If you want to get on my blogging email list, enroll in my FREE e-course Six Secrets All Successful Bloggers Know.  (Look!  It's an opt-in!) I'll email you one secret each week along with actionable steps and videos that you can use to immediately apply each secret to your blogging business.
Even though I just made a blatant plea to sign up, these secrets are gold.  Before I learned these, my blog struggled under 5,000 page views a month.   Seriously, do it!
Why send out emails at all?
It helps build trustworthiness so that when a product comes out or e-course becomes available that you think your readers will love, they will be more likely to trust your opinion if you've consistently sent them valuable content.
Go forth and send out tons of value!
Now that you know my strategy, let's get on to the page views and income.