Blog Page Views in October

October brought A LOT of people to the site. Most of these views are to Boo Bags: An Awesome Halloween Tradition. They peaked right around Halloween and then sadly disappeared on November 1st.
The mysterious part of this increase is that I have NO CLUE where the traffic came from. Usually, I can pinpoint referrals to a specific pin or a huge Facebook page sharing my content, but take a look at my referrals (who sent me traffic) from October.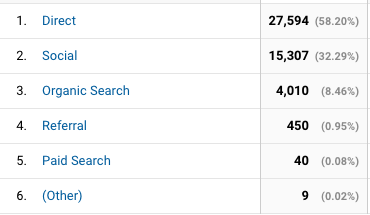 27,594 users came directly to my site – meaning they typed in the exact web address. Most of those direct users went straight to the Boo Bags post.
Now, it was a sponsored post with Walmart so it's possible that my site was somehow on a flyer in the store.
Don't get me wrong, I LOVE this traffic.
I just wish I knew where it came from so I can scale up my marketing efforts in that area.
Now, for the money! Wondering how you can make more money as a blogger? Here's where I make mine (and what I spend it on).
Income
Ad Revenue 178.28
First, a little disclaimer. The numbers I use on these revenue reports are when the money hits my bank account. Even though my page views increased this month, this ad revenue is money earned from August.
Affiliate Income 162.85
Mostly Stitch Fix with a little bit of Amazon.
Sponsored Posts 2075.6
Freelance: $350
Total Income: $2766.73
Expenses
Advertising 103.10
Facebook ads to promote the 14 Wardrobe Essentials opt-in.
Oh my gosh, can I just say that Facebook ads are an art! I was paying $4.35 per conversion. That means I paid $4.35 for every person who signed up for my list!!! Yikes!! I ended those ads fast.
Through my Elite Blog Academy VIP Mastermind group, I've learned the art of Facebook advertising. I still have a lot of room to improve, but I lowered the conversion on that same opt-in to $1.13.
If you have not yet taken Elite Blog Academy, I HIGHLY recommend signing up for the waiting list HERE. It will be the best money you have ever spent on your blog.
Bank Charges 14.63
Paypal… (shakes fist at bank fees)
Legal & Professional Fees 614.98
I bought a ticket to the Converted 2017 conference!!! Who's coming with me?
Office Expenses 10.78
My Quickbooks subscription. It's how I keep track of all my income and make the numbers of these income reports a cinch.
Rent or Lease 45.67
Nope, I don't have my own office. This is my mail box at the UPS Store. I pay for three months at a time.
Subcontractors 125.00
My wonderful VA who schedules Pinterest for Whimsicle.
Supplies 50.46
Items I use in post photographs such as ingredients for recipes or props.
Tools 468.55
In mid-September, I received a rather disconcerting email from Adwords saying that I could no longer run ads because Google found malware on my site.
Cue freak out here.
Since my site is a big source of income, I invested in much higher security from Sucuri. For $299 every six months, they regularly scan my site for malware, fix and debug any malware issues and protect Whimsicle behind a firewall. They've been a dream to work with and have made everything so easy!
My other tools are Canva for Work, Adobe Photoshop, Adobe Lightroom and MassPlanner for my Instagram account.
Travel Meals 50.00
Total Expenses: 1,483.17
Profit this month: 1,283.56
Always a good month when it ends in green!
You can do this, too! If you are completely stuck in your blog (or want to start one!), make sure to sign up for the sign up for the Six Secrets All Successful Bloggers Know. By the end of six weeks, you'll have a better grip on your business and know how to improve page views, increase reader engagement and be on the road to supporting yourself through your own website.
See you next month!