What's in a Stitch Fix box?
For Stitch Fix #5, I requested a sundress and some colorful shorts.
Unfortunately, they were out of stock on all shorts, so my stylist sent me three dresses and two tops to play with instead.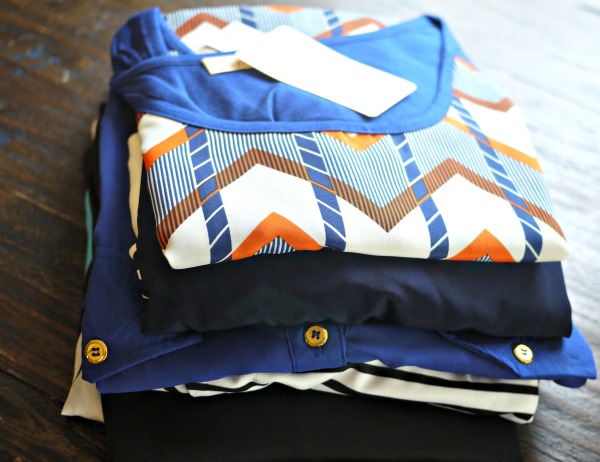 HOW EASY IS THIS? TRY STITCH FIX HERE
Here is what I received this month.
Piece #1: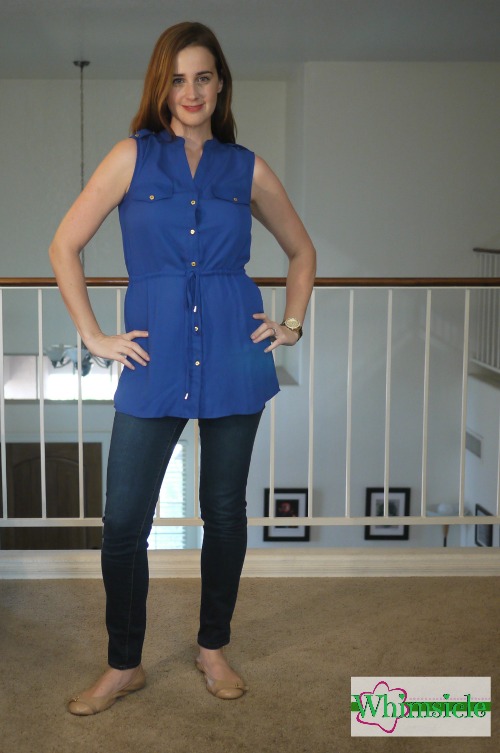 Top: Papermoon Ryker Button Front Tie Waist Tunic, $48, Stitch Fix
I loved the color of this. The collar and shoulders were fantastic as well: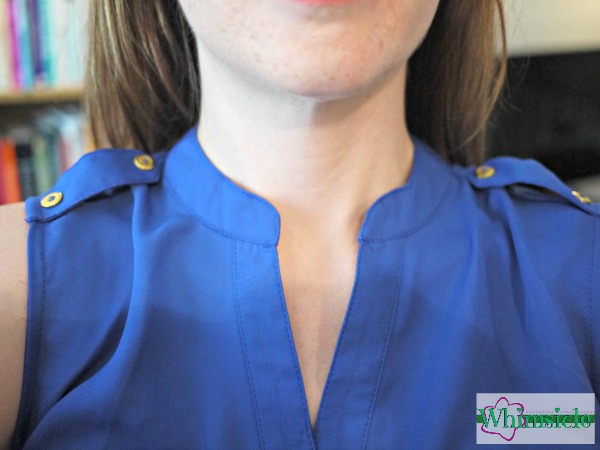 I didn't keep it though. The front buttons right near my bust line gapped open. Also, the garment puckered a little near my armpits, which was not flattering.
When I showed these pictures to my friend, Megan, she said it looks like a maternity top – and I have to agree. I think its the front tie that makes it more suitable for a preggo tunic.
Piece #2
Top: Pomelo Priya Graphic Chevron Print Mixed Material Tank, $54, Stitch Fix
Jeans: Kut from the Kloth, Stitch Fix #4
I love this top! The front is a blousy, rayon material while the back is made of blue jersey fabric.
It fit me so well and the pattern is very eye-catching without being overwhelming.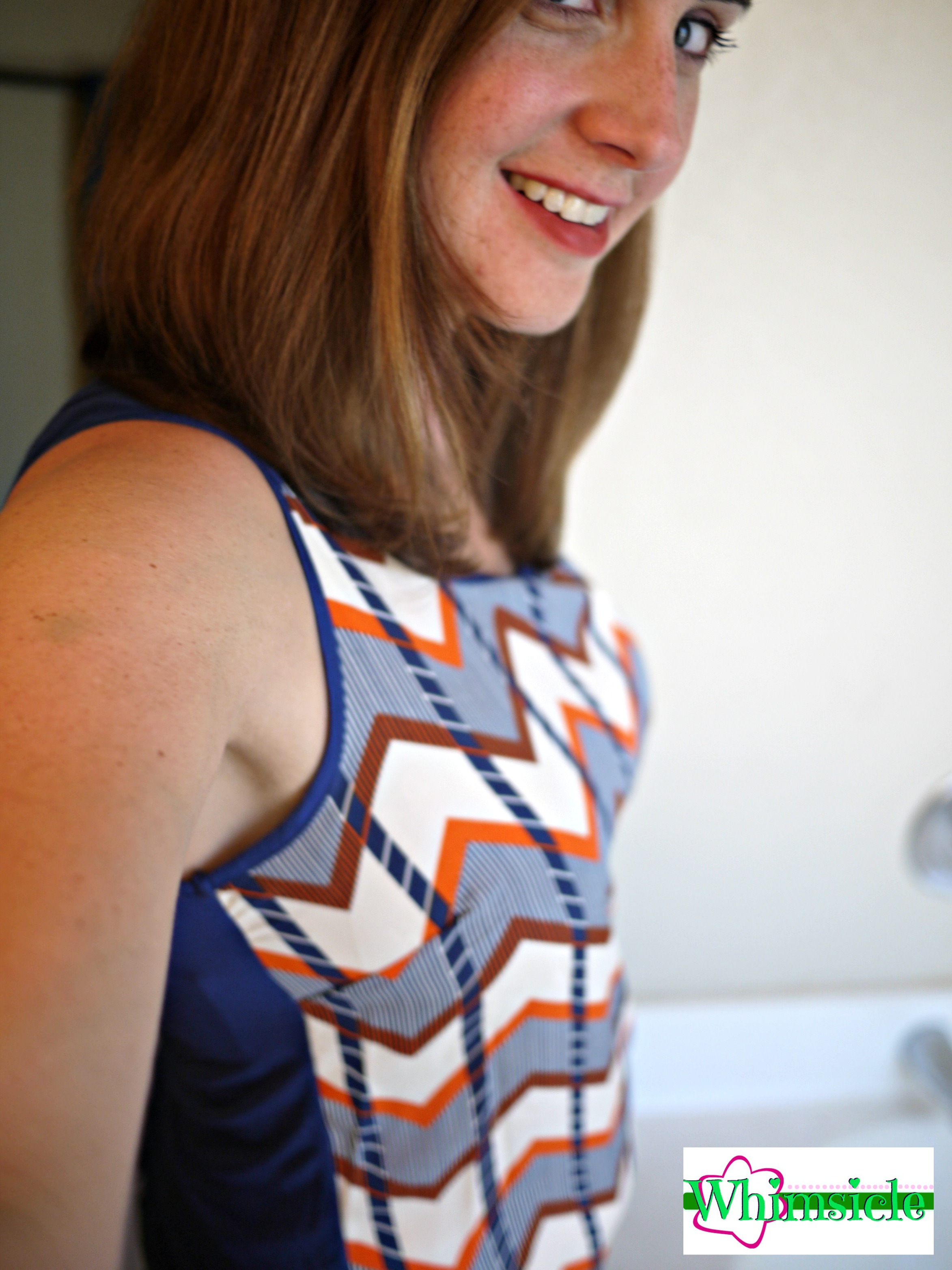 It was a definite keeper!
HOW MUCH FUN WOULD IT BE FOR YOU TO DO THIS? GET YOUR FIRST BOX HERE!
Piece #3: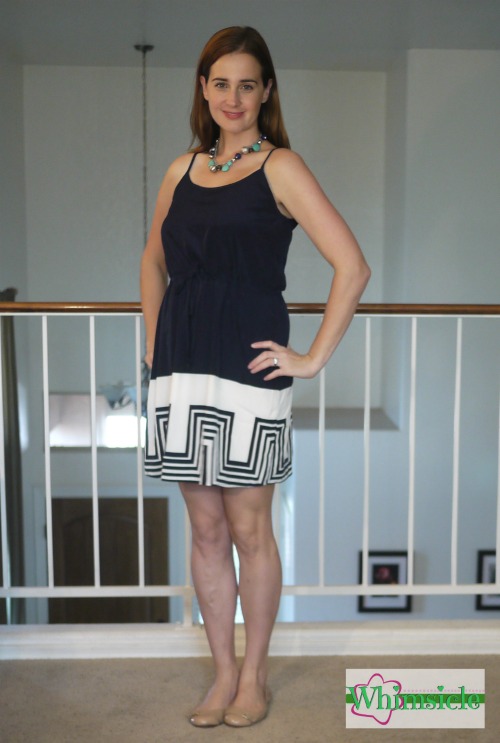 Dress: Pixley Shelley Spaghetti Tank Dress, $78, Stitch Fix.
I was so excited to try this dress on but disappointed with the results. The horizontal white color block combined with
The horizontal white color block combined with the length of the hemline, made me appear short. Plus, the dress was a little droopy around the middle. I decided to pass.
I decided to pass.
Piece 4:
Dress: Pomelo Clarice Multi Stripe Knit Fit and Flare Dress, $74, Stitch Fix
Necklace: Express
I really liked the look of this dress out of the box as well. I think the problem here is hemline.
The dress would be more flattering if it were a touch longer. I would like it to hit me just above the knees instead of 4 inches above.
I passed on this as well.
Piece #5
Dress: Pomelo Harriet Chevron Print Detail Dress, $64, Stitch Fix
I loved the print and bright colors! I was so hoping that I would love this dress on as well. It looks beautiful in the picture, but did not feel wonderful on.
I had trouble zipping it up in the back because the zipper kept catching on the fabric.
While I liked it, I didn't love it and I'm trying to keep all my clothing purchases limited to items that I love and want to wear again and again.
I sent this back as well.
All in all, I found one amazing top in this Stitch Fix and I am totally ok with that!
If I bought the entire box every time, I would quickly go broke.
Instead, I tried a lot of pieces I would probably pass up in the store. In doing so, I am able to better articulate my own style and what I like and don't like about clothing.
READY TO GIVE IT A TRY? GET YOUR OWN STITCH FIX!