Halloween is an amazing sugar-filled holiday. However, as a parent, it is sometimes a little disconcerting just thinking about how much candy your child will consume.  What do you do with leftover Halloween candy?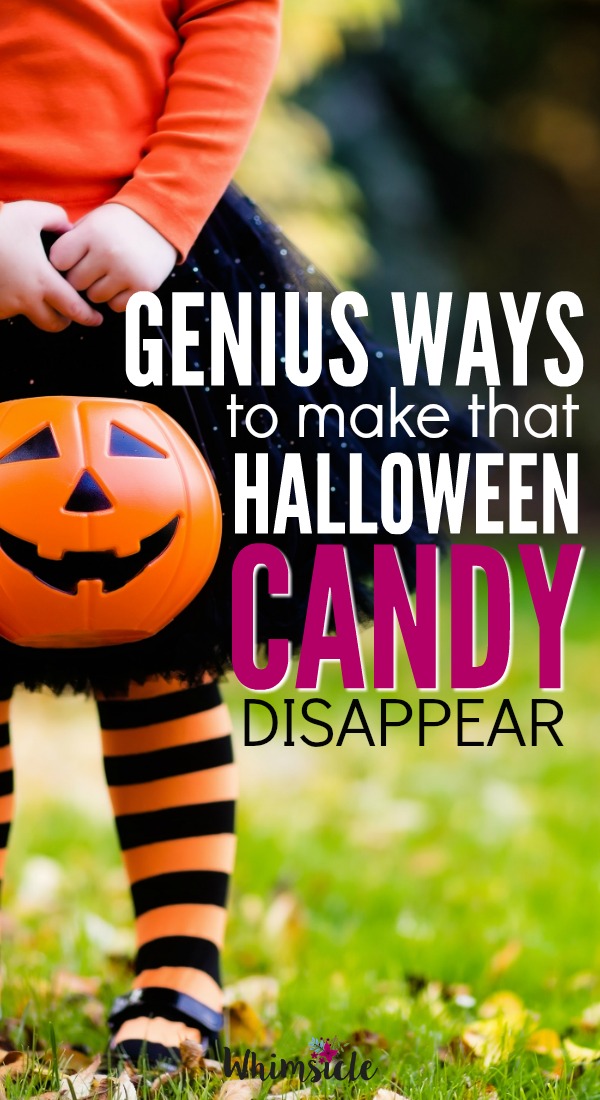 Last Halloween, my then four-year-old daughter dragged her bag of candy through the front door. Twizzlers, Milky Way, Snickers, Nerds, Smarties, chocolate, gummies.. basically, a bag full of happiness. And stomach aches. Two thoughts popped into my head when I realized the size of her candy booty:
1. I don't want my four-year-old to eat this much candy.
2. I'm going to eat all this candy.
Both were problems. Luckily, days before Halloween I stumbled onto a genius idea.
The Switch Witch
Think of the Switch Witch as Halloween's version of the Tooth Fairy.  On Halloween night, I gave my daughter a Ziploc sandwich bag and had her pick out her favorite pieces of candy – ones that she wanted to keep and eat later.  She could choose anything she liked, but it all had to fit in the bag.  The rest of the candy, she left out for the Switch Witch.
You see, the Switch Witch has a cat who loves Halloween candy.  Every Halloween night, the Switch Witch flies around switching bags of candy for a toy or special gift.  My daughter loved this idea and WILLINGLY gave up the majority of her Halloween candy to the Switch Witch.  There is even a cute little poem we used when we introduced the Switch Witch to her.
For the toy, I simply visited Ross's toy section and purchased a $5 jewelery making kit.  My daughter woke up the morning after Halloween as excited as she is on Christmas morning.  She raced down the stairs, anxious to see what the Switch Witch brought her.  She never once lamented the loss of her big bag of candy.
What to Do With The Leftover Candy
So many places accept Halloween candy.  Here are a few ideas:
1. Office Break rooms – This is what we did.  My husband simply took it to work, put it in the break room and magically all the candy disappeared.
2.  Use it in Thanksgiving dessert recipes – Take the chocolates and use it in a Snickers Apple Salad, make some Chocolate Peanut Butter 7 layer bars or some Payday Caramel Corn.
3. Donate it to troops overseas.  Operation Shoebox accepts candy donations year round.
The Switch Witch has become a Halloween tradition in our house.  It has helped curb candy consumption for everyone.  Especially me.
How do you get rid of your Halloween candy?