How to Keep Kitchen Counters Clear
Don't look.  Ok, take a peek.  See that pile of paper on your kitchen counter?  In it, you'll find your kid's papers from school, past due bills, maybe even a check or two.  Looking at that counter brings up all those feelings of overwhelm you so try to avoid.  Why?  You try so hard to keep it organized, but without fail it always manages to look like that.  Here's how to keep kitchen counters clear without using a blowtorch.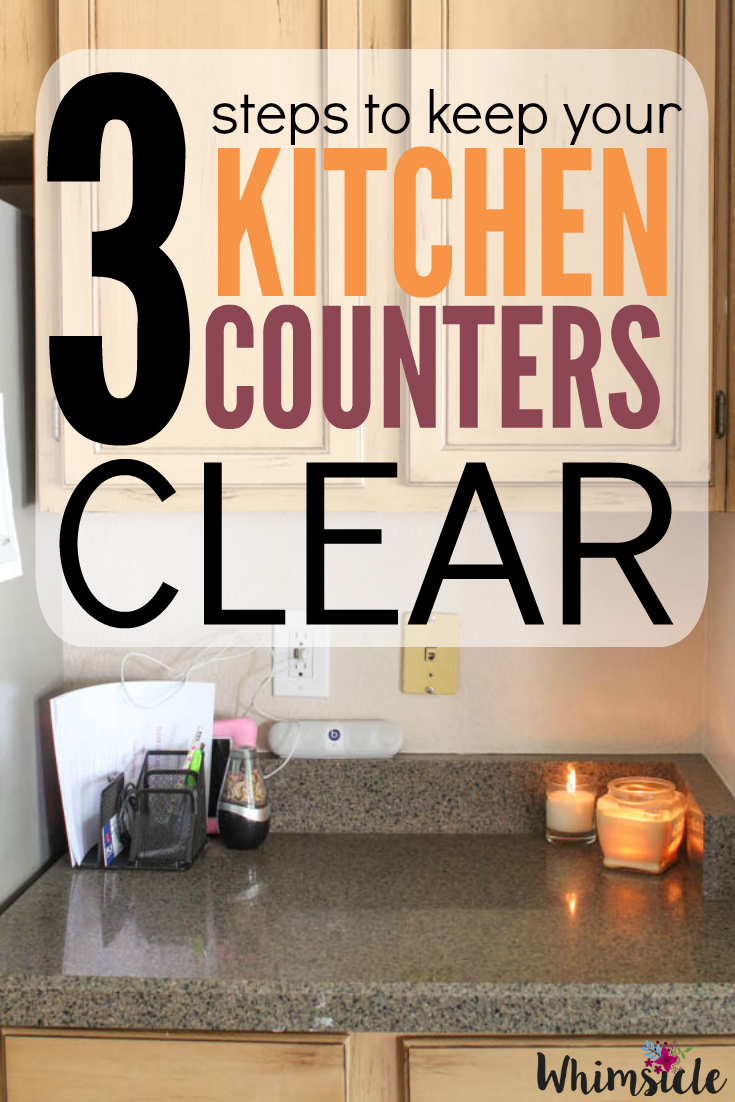 I am not the neatest person in the world.
Truth is that a lot of stuff overwhelms me.  Clutter, stacks of papers, coupons… if I have something in my hand and I don't have a clue what to do with it, onto the kitchen counter it goes.  And then… well, it looks something like this: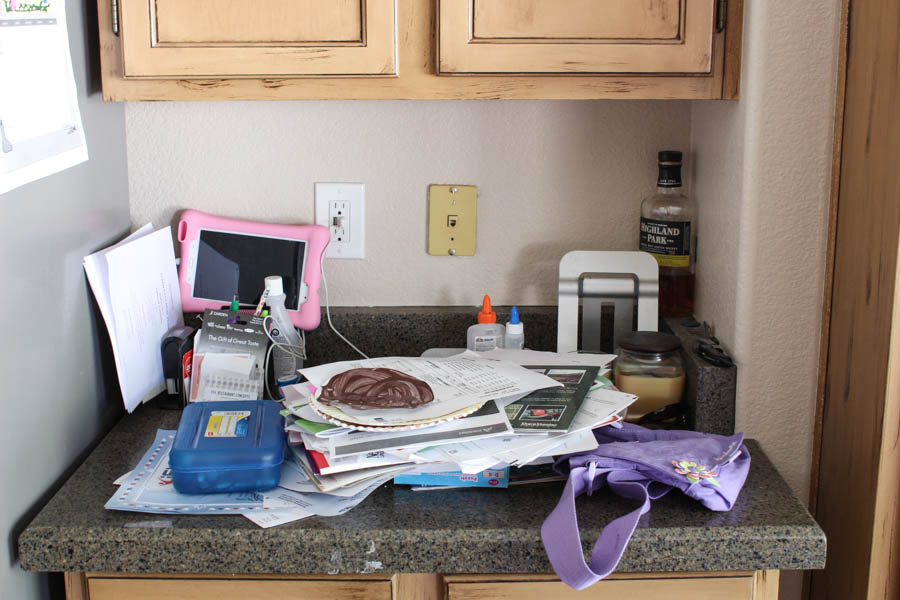 Yes, that is my kitchen counter.
Actually, funny story.
When we moved into our new house three years ago, we were still under water in our old house.  Instead of selling it, we kept it as a rental property.  Thankfully, we hit the renter jackpot and have had the same renters for the past three years – a really awesome couple.
So awesome in fact, that I get texts like this.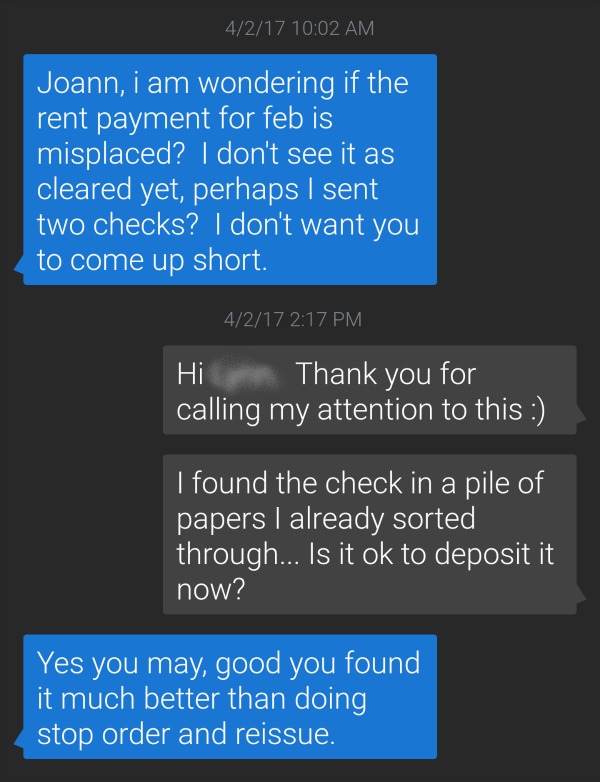 Yep, do you see how I cover up that one.  I did indeed find that rent check – from 2 months ago – on my kitchen counter under a pile of stuff.  It was actually partying with another check that we needed to deposit in the bank.
My disorganization is losing me money – quite literally.
So, it's time to finally put some organizational rules into place.
By the way, if you struggle with decluttering as much as I do, make sure to grab my free guide.  I like to think I am non-organizationally inclined.  These are the exact checklists I used to get rid of "all the stuff" in 10 areas of my home.
Got it? Yes!  Now, let's tackle those papers on the kitchen counter:
Creating a Kid Box
No parent likes to throw away their kids work.  But, we usually have these lofty goal about putting all the pieces in a photo album or hanging them on the wall.
Of course, we never have time for that.  So on the kitchen counter they go.
In the book, Unstuffed, Ruth Soukop suggests that you take a cardboard box and place it on the top shelf of your child's closet.  Every school paper and artwork from the year, goes in the box.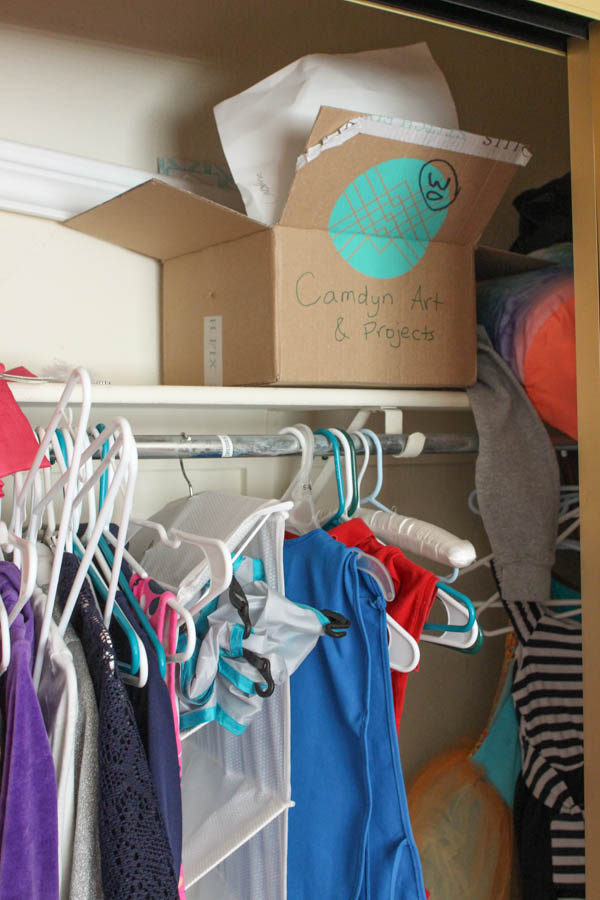 Of course, I'm going to use all those Stitch Fix boxes I have laying around!
At the end of the year, grab a photo album and have your child pick out the pieces from the year that she would like to keep.  Every thing else gets recycled.
Only Get Your Mail Twice a Week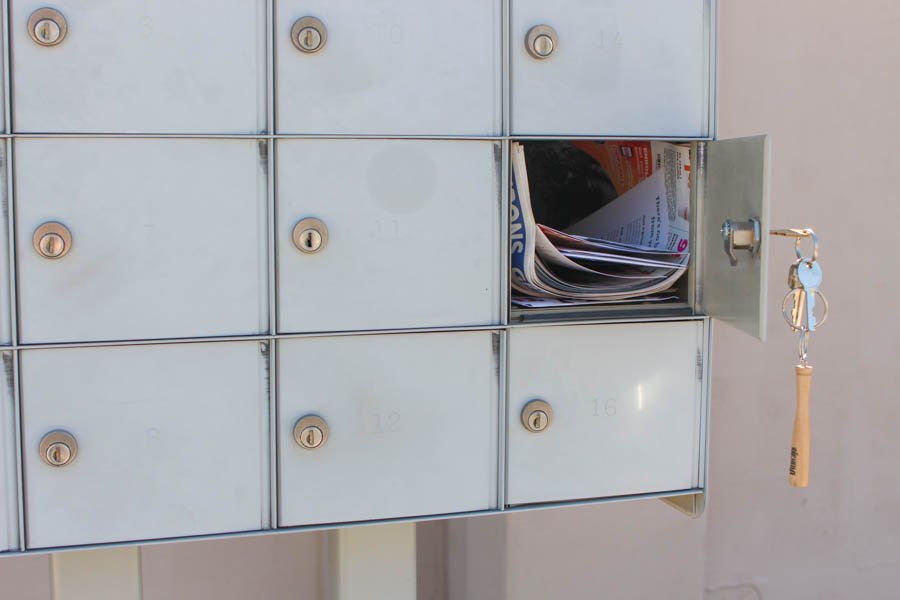 Bills and checks… these are the two items that you cannot afford to lose in a paper pile.
Instead of paying these daily, batch your tasks by only collecting the mail from the mailbox twice a week.  As soon as you sort through the pile, immediately pay all bill and put all checks in your wallet.
Use an Organizer for Short Term Document storage
You don't need anything fancy here – just something to place an item that you'll need in the short term.  Perhaps a pair of baseball tickets or a gift card you'll use that night.
We cook from a freezer meal plan in my house. My husband tracks all his meals on My Fitness Pal and likes to keep the recipe packet around when he enters the info.  This recipe packet is the only item that we keep in this tray.
Make a family rule: Nothing on the Counter
Nothing belongs on your kitchen counter.  It is now a clean work space that can be used and then immediately cleaned.
If the kid's place anything on that counter, they need to immediately put the items away or risk them being thrown in the trash.
Oh yes, now's the time to be mean.  Don't worry – being mean like this is kind of fun.
With a few pro-active steps, you can keep your kitchen counter organized and never misplace a bill or check again.  Will you always be perfect?  No way!  But at least this method will keep the chaos at bay.
Title:
How to Keep Kitchen Counters Clear
Keywords:
how to keep kitchen counters clear
Last Updated:
May 19, 2017