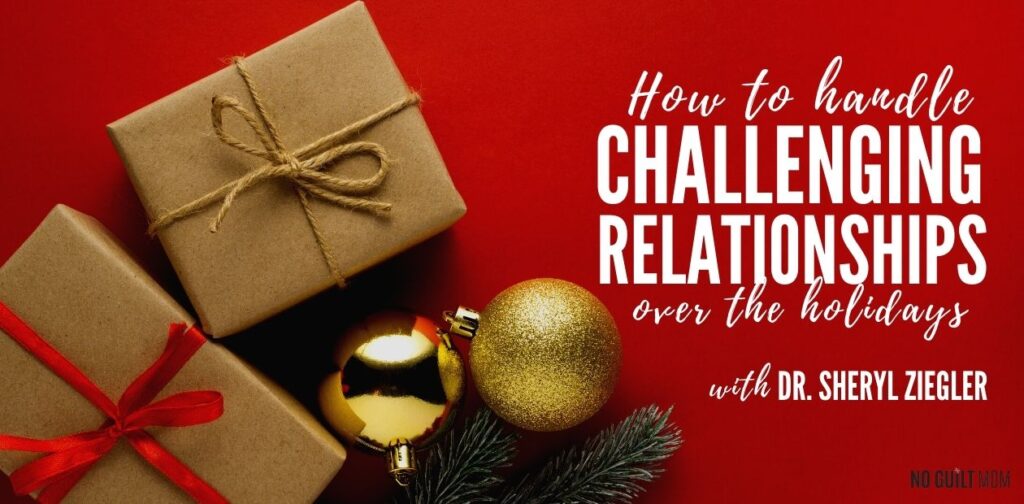 Do you feel so stressed out just thinking about the holidays and your family?
Maybe you have one family member who wants the entire family together.
But, then you have the brother who insists that every family member wear a mask at all times.
…and maybe your aunt believes that the extra carbon dioxide from the mask is worse than the actual disease but it's ok, she'll just sit alone… outside… all by herself.
And then your kids who don't understand why they can't see Grandma and their cousins.
Every holiday season can be stressful when dealing with loved ones, but this one seems especially tumultuous due to so many factors.
READ: How to recover from mom burnout (without taking a bubble bath)
We are so excited to be welcoming back Dr. Sheryl Ziegler to our podcast! She offers us real support on how we can navigate these difficult times with our loved ones and come out stronger on the other side. We discuss everything from how to have real conversations, while honoring what makes us love one another. As well as how to bring on the games and fun times and maybe not bring on so much wine! 😉
Dr. Ziegler holds a Doctorate of Psychology and is a Registered Play Therapist, Author of Mommy Burnout™, TEDx Speaker, Podcast Host of Dr. Sheryl's Podcouch, Media Contributor, Consultant and Entrepreneur. Her mission is to create a community and have a greater influence on the mental health crisis currently facing this country.
READ: Managing Sibling Fights (Without Being the Ref)
Resources We Shared:
No Guilt Mom (JoAnn's Birthday Week)
The best mom is a happy mom. To better take care of you, download our No Guilt Mom mindset here . These reminders will help you second guess less, and feel more confidence every day in your parenting.
Title:
How to Handle Challenging Relationships Over the Holidays
Mentions:
burnout, Dr. Sherly Ziegler, family gatherings, holidays, how to handle stressful situations at home, mommy burnout, reduce family stress, steps for handling difficult relationships, stressful holidays, ways to cope with family stress
Keywords:
challenging relationships
Last Updated:
November 30, 2020