Ever feel like you need to honor every request from your kids? They're only young once that little voice says, of course, you should WANT to spend every minute with them. But, saying YES only makes you feel burnt out and resentful – the typical overwhelmed mom.
Here's the fix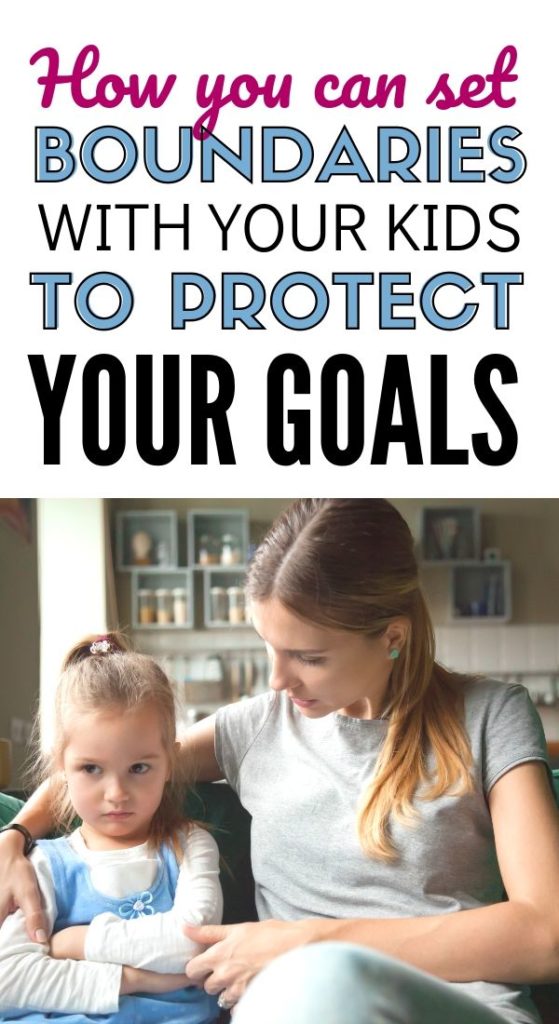 I've just been in the car for the past hour.

Picking my kids up from school. Taking my daughter to dance class. Driving my son home.

At home, I made a quick pot of spaghetti and garlic bread and put all the cooked food into the oven. Then I ran back out the door to pick up my daughter and drive home.

This is insanity.

Remember when as a kid we used to look so forward to adulthood? How has being an adult become this massive feeling of failure as an overwhelmed mom?

I'm not running my life that way.
Read: How to Be a Happy Mom: 3 Ways to Find Your Fun Again
Afternoons like this make me so cranky. I literally want to assume the fetal position on my living room sofa and rock back-and-forth.

We hear how we should rest and relax. How we should make time for ourselves and our own goals, else we can't make time for others.

You know, oxygen mask for yourself first and then the person next to you.

Yet, it NEVER works out like that. Why?

Maybe it's the expectations you have.
You're drowning in the fear of saying "no".
FYI: This post contains affiliate links to products I love and recommend. It costs you nothing extra if you purchase through my link, but I may get a small commission
My friend and mentor, Ruth Soukup, wrote an amazing book called "Do it Scared: Finding the Courage to Face Your Fears, Overcome Adversity and Create a Life You Love."

I've known Ruth going on 3 years now and many of the things she discusses I've heard a lot. But one thing in this book brought it all together:

Knowing my fear archetype. (There's a quick test you can take that will help you find yours, too.)

I'm a people pleaser. Deep down, I knew this, but I had no idea the impact it had on my life.

Are you a people pleaser?
In Do it Scared, Ruth lays out every way that the People Pleaser shows up in my day-to-day.

She writes, "The people pleaser:

Derives self-worth from the approval of others, and
Has trouble saying no and setting boundaries."
Ding! Ding! Me running around like a crazy person comes from:

Refusing to set boundaries on the number of extracurricular activities my daughter can do, as well as,
my insistence that everyone approves of dinner and can eat when they're hungry.
These values are so ingrained in me that I think they're normal. You might say the same.

"Of course you have to cook dinner JoAnn, how else will your family eat?"

But, I don't need to be the one to make it.

We could easily pick it up on those crazy nights. I can also cut my daughter way back on dance. She doesn't need 5 hours a week at 10-years-old.

Knowing that I'm a people pleaser has made me realize that I DON'T need to do it all. In fact, that people pleasing tendency is holding me back.

What can I do? What can you do if you feel the same?
Get Clear on Your Priorities
The reason I get so overwhelmed is that I say "Yes" to everyone, thinking that it's my duty to make them happy. But it's not.

I'm only happy if I make my own goals a priority.

Take today for instance.

My five-year-old son had a Kindergarten celebration in his class. At the end, he looked up at me and pleaded,

"Please, can you take me home early?"

I said No. I said No to my baby. How could I do this?

I do this through planning.
Plan Your Goals into Your Week
Chapter 17 in Do It Scared leads you through creating your action plan. It's the process I use to plan daily.
Read: How a Planner can Keep You Sane
When friends ask how I get so much done, it's this.

I take huge goals and then I create my plan for the week based on those. Planning my week on Sunday (or let's be honest, Monday morning) helps me say "No" to so much because my time is already accounted for.

Here's the process (and you can find all these forms in Do It Scared or get the planner and post-its in the Living Well Shop.)

First, I do a brain dump of everything I want to accomplish in a week. Sometimes, my list is long and other times not so much.

I do this in my notebook. It's not pretty. It's not perfect. But it gets the job done.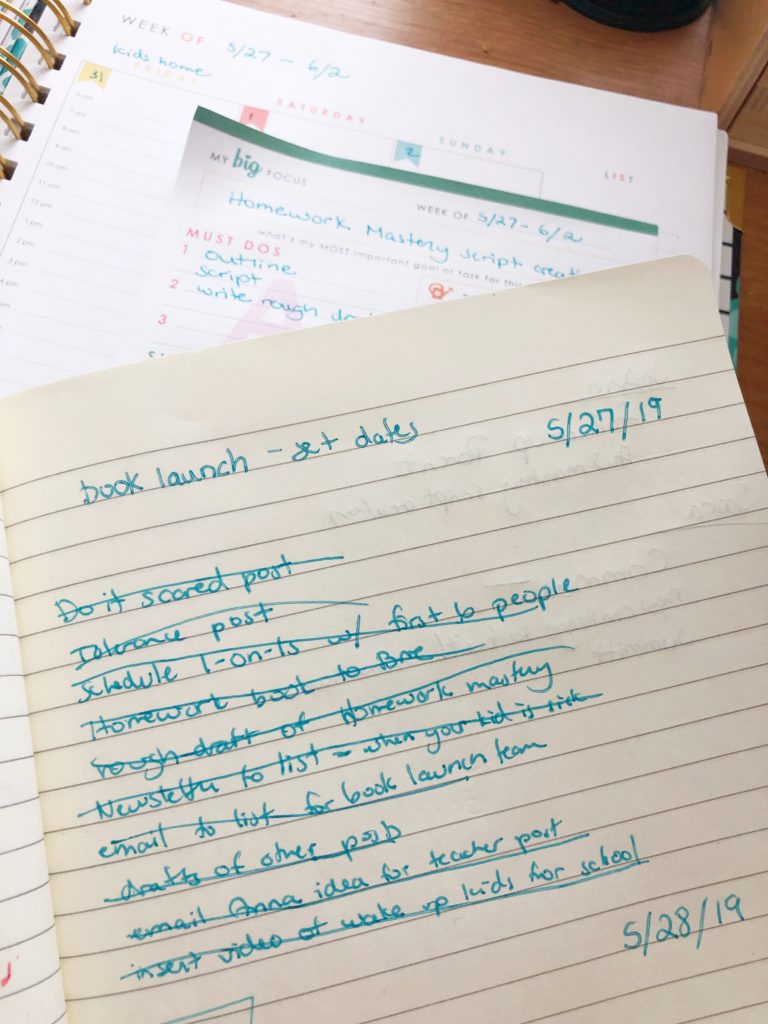 Those items are crossed out not because I did them. Instead, I prioritized and sorted the tasks here: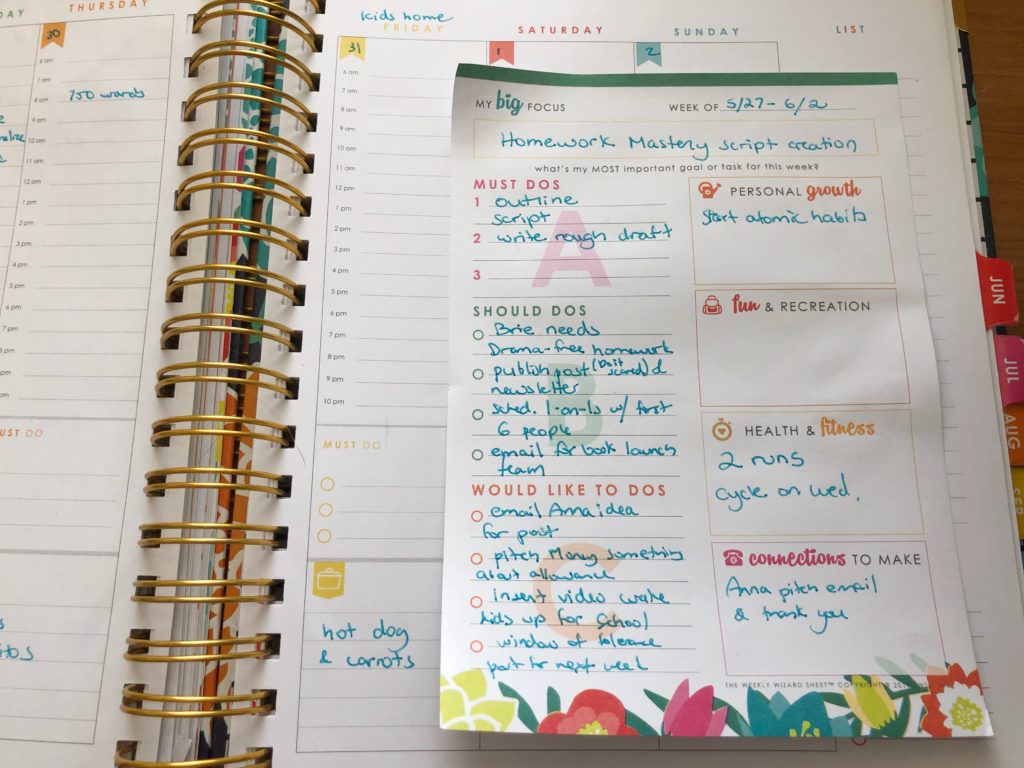 How do I prioritize? Well, that all relates to my big goal for the week. This week, I want to create a rough draft for my new course for kids called, "Homework Mastery".

Every task relating to that goal becomes a Must Do – an 'A' task.

Other tasks that I need to do like:
Writing this post
Writing my newsletter, and
Scheduling coaching 1-on-1s.
Are should do's – 'B' tasks. Yes, they'll get done, but they aren't pertinent to my big goal.

Everything else becomes a Would like to Do – a 'C' task.

Time Block Your Schedule
You can see what today looks like: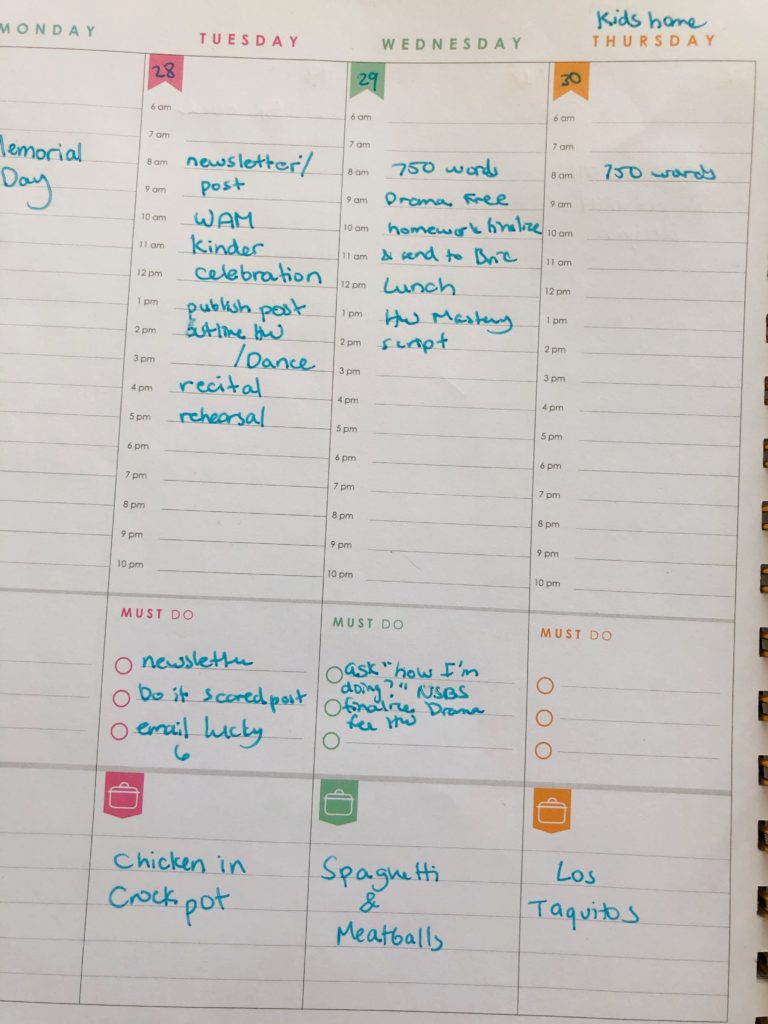 I have tasks scheduled for after the Kindergarten Celebration. When my son asked to come home early, I didn't have to go through all my people-pleasing instant responses like, "Oh, I can move things around," and "Nothing's set in stone."

My day is planned. It's packed. I can't take my son home just to make him happy.

Planning ahead of time for your goals makes 'No's" much easier.
What You Can Do Now
Because of Do it Scared, I know my default tendency of wanting to make others happy over myself. I'm aware it leads to burnout.

I now take steps to prevent resentment and no longer feel like I have to do everything to make my family happy.

Now, it's your turn. Go get your copy of "Do It Scared" here.

Then, I want you to come back and tell me what your fear archetype is. If you know already, comment below.