Have bored kids at home? Truth is, it's good for them! But we still feel guilty and don't know how to respond. Here's the one magic phrase you can use forever.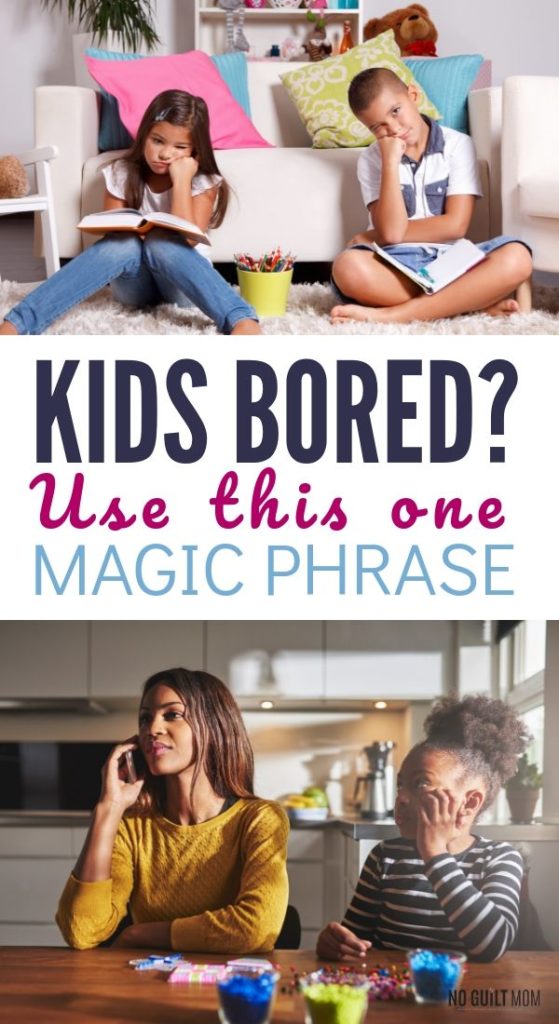 Why do we feel so guilty when our kids say they're bored?

I'm typing on my computer when my son wanders into the office.

"Mom, I'm bored."

Immediately, I clench up. My gosh, I shouldn't be working this much. Why don't I have something for him to do?

If I was a good mom, I would have a busy box or planned activities.
If I was a good mom, he would never be bored.

I stop myself. This is ridiculous.

My son's entertainment is not my responsibility. Your child's entertainment is not your responsibility.

What can we do instead when our kids tell us that they're bored? How can we feel better about our parenting choices?
Read: 3 Steps to Neverending Summer Activities for Older Kids
Disconnect from our kids
FYI: This post contains affiliate links to products I love and recommend. It costs you nothing extra if you purchase through my link, but I may get a small commission
In their book, The Yes Brain, Dr. Daniel Siegel and Tina Payne Bryson, Ph.D. discuss how some parents are connected to their kids in an unhealthy way. They call it linkage without differentiation.

Here's what happens. Your child experiences a setback: maybe its that someone hit him in Kidcare at the gym or perhaps he's bored.

You then feel that setback as your own and so you make yourself personally responsible for fixing it.

That child that hit yours? Oh, she better watch out, because here comes Mama Bear.

Now while some people may think this is protecting their child, it's not.

What it's doing is sending a clear message that your child can't solve his own problems and he needs you to step in.

It's normal to feel the need to protect our kids, but we also need to know when to step back.

The bored comment is the perfect practice.
READ: 6 Positive Discipline Steps that will Change your Kid's Behavior
Next time, your child says she's bored
You can say, "It's OK to be bored."
Actually, it's better than OK, according to a recent study, boredom encourages creativity.
My dad had a common retort when I told him I was bored. He'd respond, "That makes sense, you're a boring person."

Ouch. That one stung. But, it also meant I NEVER told him I was bored. Ever.

Instead, I figured out my own activities. It served me well throughout childhood and as an adult.

I learned that my boredom is MY responsibility.

Now, I do not recommend you use that phrase my father used. While it worked on me, it also felt deeply personal and I don't think that's the way to get through to most kids.

Instead, you can say, "It's good to be bored. You grow your brain when you're bored."

I say this to my own kids. Then, I turn around and walk away.
What to do when they push back
This was not easy the first time I said it. In fact, my son started to cry and say something like, "I don't want to grow my brain!".

There will be crying.
There will be complaining.

That's all ok.

When a child tells me he's bored, that's not a reason to ask him to leave the room.
But oh, when he starts to complain for no reason, that is.

Usually with a, "your screaming is hurting my ears. Please go to another room until you can come back and talk to me."

Do I still feel guilty?
Oh yes, that never changes. I want to run after my son and hold him until he stops crying.

I feel personally responsible for his sadness. That's why I…
Give it some time
10 minutes is my goal. When my son starts crying over a limit I set and all that guilt starts to pile up, I set my timer for 10 minutes.

And I wait.

If my son isn't done crying in 10 minutes, I go check on him. However, usually, he's done crying in 5.

He comes back to me, apologizes for making a fuss and then goes to find something else to do.
Bored kids at home are not your responsibility
Your child's boredom is not your personal responsibility to fix. As a parent, you want to give your child those opportunities to grapple with boredom and then find the best solution.

Some say kids get in trouble when they're bored. They may. It's all about testing limits and seeing what's acceptable and what's not.

But letting your kids be bored makes you a good parent. Not a bad one.