Here we go!!  My monthly reflection of everything I did, how much I got paid and my successes and struggles as a fairly newish blogger.  For those who are new to my income reports, welcome!  I've been blogging for a year and a half and I am now starting to see results!  This month focuses on what NOT to do on Pinterest, an alternative traffic source and embracing sponsored posts.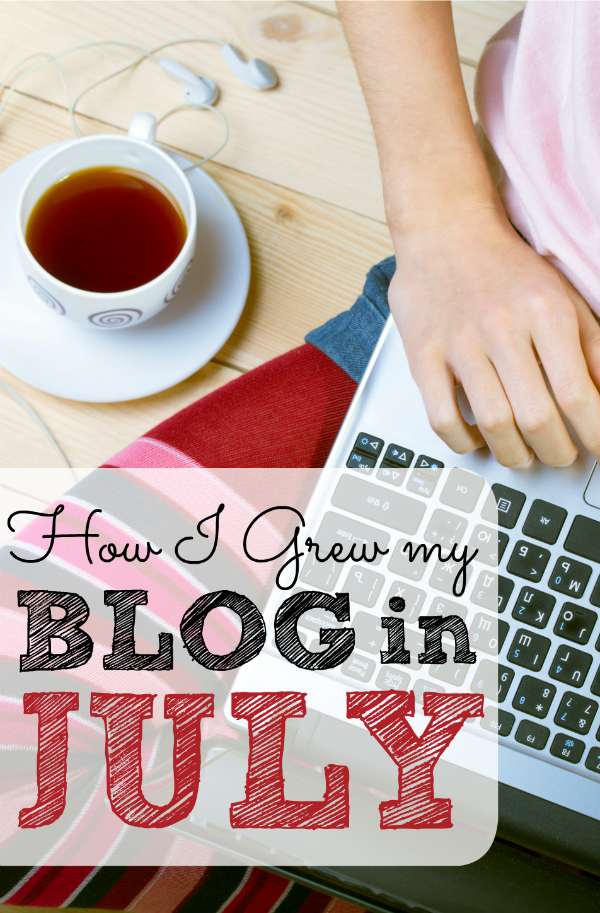 Spamming Pinterest
At the end of this month, I noticed that my traffic coming in from Pinterest had increased significantly. Within a week, I went from seeing 600 pageviews a day on my site to over 1,000.  I did my happy dance, patted myself on the back, and went on working.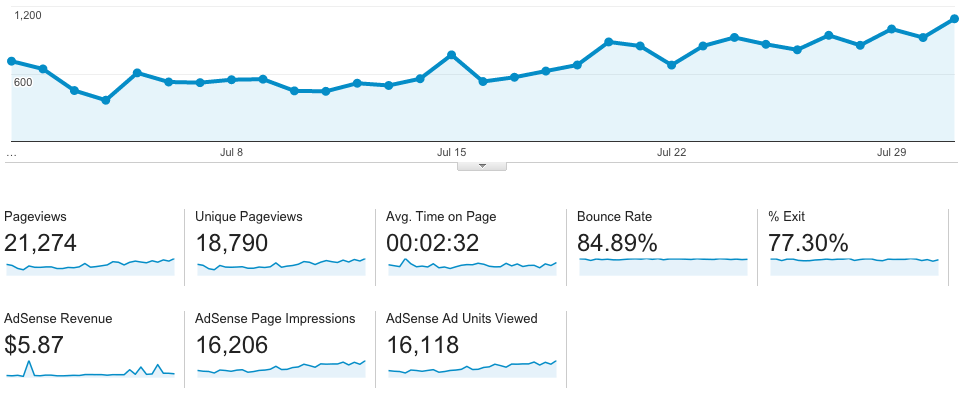 Then, a blogging friend of mine messaged me about reducing the number of pins I was adding to some of the boards we both belonged too.  What?  I thought.  I have Board Booster only set to pin at most 3 pins a day, that's not too much.
However, I found the issue. You see, I switched to Board Booster campaigns around July 22.  Instead of creating a separate secret board for every collaborative group board I belonged to on Pinterest, now I simply group like boards together and tell BoardBooster to pull pins from one board designated for that category.  For example, I belong to a lot of parenting boards on Pinterest.  I tell Board Booster what these boards are and then point it to a secret board on my account where I have all of my parenting pins saved.  I also have a campaign for "kids activities" and "Beauty, style, relaxation".
What I didn't account for is how many of my boards fit into one or more categories.  As a result, some collaborative boards were getting blasted with 9 pins a day.  Oops.  That is spamming and thank goodness my friend let me know else I would have found myself reported and kicked off a few boards.
I adjusted the pin count for the the collaborative boards that overlap, stopped my spamming but also saw my page views drop as well.  Huge lesson here: the more I pin on Pinterest, the more traffic I get.  My new non-spammy plan is to join more high-quality Pinterest collaborative boards.
FoodGawker
Oh, Food gawker, you elusive beast!  I had a bit of a love hate relationship with Food Gawker before this month.  They always rejected me.  I submitted photo after photo of delicious looking food and they always said no.
Until this month when I got 2 photos accepted!  These are the ones:
These two pictures made a huge impact on my page views of these two recipes.  I received close to 100 pageviews just from Food Gawker for these two posts.  I also saw an increase in Pinterest pins of these two as well as Tumbler users linking to me.
So how did I get accepted?  For me it was a question of backgrounds and light.  Both pictures above are taken on a vinyl backdrop from Swanky Prints.  I also made to sure to reflect the light coming in from my kitchen window with a piece of white foam board so that both sides of the subject were lit.  You can see a little peek into my setup in this pic.
Sponsored Posts
Just when I said last month that I was going to back off sponsored posts, they lured me back in.  Honestly, a few great ones popped up and I just couldn't say no because I loved both the brands and the message.
This month marked a new turn in my sponsored posts in that I got my first offers from PR companies instead of an intermediary such as Social Fabric or Find Your Influence (which are both fantastic by the way!).  Working directly with the brand's PR firm has been amazing!  Even more incredible is that I've been hired for a succession of posts instead of just 1.  The payout is larger and I'm loving being able to work creatively while promoting a brand.
So the big question is, how did I get these?  Truthfully, I can't say exactly.  I know that attending MOM 2.0 put me on Similac's radar.  I met Similac in the Marketplace during the conference, handed over my business card and honestly didn't think anything was going to happen.  Similac is such a huge company and I admired their Sisterhood of Motherhood campaign so much that I thought I wasn't quite into that league yet.  Imagine my surprise 2 months later when I received an email inviting me to be a partner in the campaign!  Goes to show, don't think you are ever too small and keep putting yourself out there.
Now, for the money:
Income
Stitch Fix affiliate: $20
POGO Pass: $15
Sponsored Posts: $275
Adsense: $5.96
BlogHer: $22.57
Total Income: $338.53
Total Expenses
AppSumo – Scrivener: $20
Starbucks (giveaway): $10
UPS Store (shipping for giveaway): $12.48
BoardBooster: $8.99
Dollar Photo Club: $10
Facebook Ad: $10.64
Total Expenses: $72.11
Profit: $266.42
Whoo hoo!!  Back in the black.  You may have noticed that I picked up Scrivener in my expenses.  I'm planning to do a of couple e-books.  More on those hopefully next month.